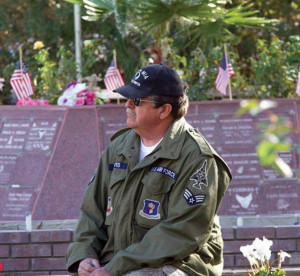 Voices
I'm going to take some liberties with this week's column to give a heads up about an upcoming program here at Aerotech News.
Many of you know we have a video program that we post on our Facebook pages, that shares stories of citizen soldiers from across all generations. Each weekday, you can log on and enjoy frank conversations about all things military, the backgrounds of individuals, what they are up to now, and how their service to country has changed their lives.
My gift has been to serve as a conduit between past and future generations. I enjoy the chance to share what I consider the very best of America in its citizen soldiers.
Before taking on this project at my new home here at Aerotech, I had a talk radio program for many years which had the same mission and purpose. It informed and entertained us here in the Antelope Valley and across the country via live streaming and, of course, the airwaves. Thanks to an invitation from Aerotech management, I have been given this opportunity to expand my program into new markets via the world of the internet.
Last week at an impromptu production meeting, we discussed the subject of Memorial Day and what we could do to honor those that have served our country and have passed on. Well, one of the great treasures I have from my radio days are all my interviews over the years with veterans who are no longer with us.
We decided that for this Memorial Day, we will step back into time and revisit some of these interviews. World War II, Korea and Vietnam veterans from around the Antelope Valley will share their stories with us all.
For many of you, this will be the first time to hear these great patriots as they tell about their life experiences — their light-hearted moments, as well as the tears and struggles of everyday life in uniform.
I am gathering archive material for a trio of veterans that will best help us remember the sacrifices on this upcoming Memorial Day weekend and the generations that are no longer with us. If all goes to plan, this will be the first of many opportunities we'll take to revisit the voices that are now silent, so that their memories will live on for future generations.
Keep an eye out, and of course please enjoy AV Veterans Talk every weekday on our Aerotech News Facebook pages. All programs are available for your viewing pleasure at any time, under the "Videos" tab on Facebook or on our Aerotech News YouTube channel.
Thanks for letting me promote our special Memorial Day broadcasts. I hope they bring value to this very special holiday later this month for all of you, as we remember our nation's best.
Next issue, it's back to Bob digging deeper into the "hanger talk" — looking for the stories that edify and entertain. I would like to take this moment to thank you all for the great responses to what I'm privileged to do here on these pages every month, and I hope you enjoy the online offerings as well.
Until then, its blue skies and Bob out!