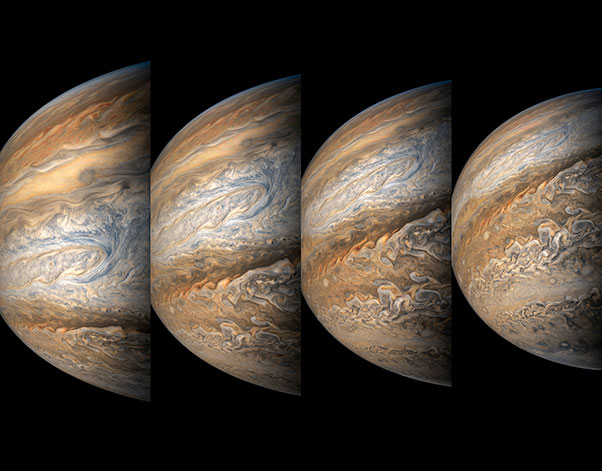 This series of enhanced-color images shows Jupiter up close and personal, as NASA's Juno spacecraft performed its eighth flyby of the gas giant planet. The images were obtained by JunoCam.
From left to right, the sequence of images taken on Sept. 1, 2017 from 3:03 p.m. to 3:11 p.m., PDT. At the times the images were taken, the spacecraft ranged from 7,545 to 14,234 miles from the tops of the clouds of the planet at a latitude range of -28.5406 to -44.4912 degrees.
Points of Interest include "Dalmatian Zone/Eye of Odin," "Dark Eye/STB Ghost East End," "Coolest Place on Jupiter," and "Renslow/Hurricane Rachel." The final image in the series on the right shows Jupiter's south pole coming into view.
JunoCam's raw images are available for the public to peruse and process into image products at www.missionjuno.swri.edu/junocam. More information about Juno is at https://www.nasa.gov/juno and http://missionjuno.swri.edu.