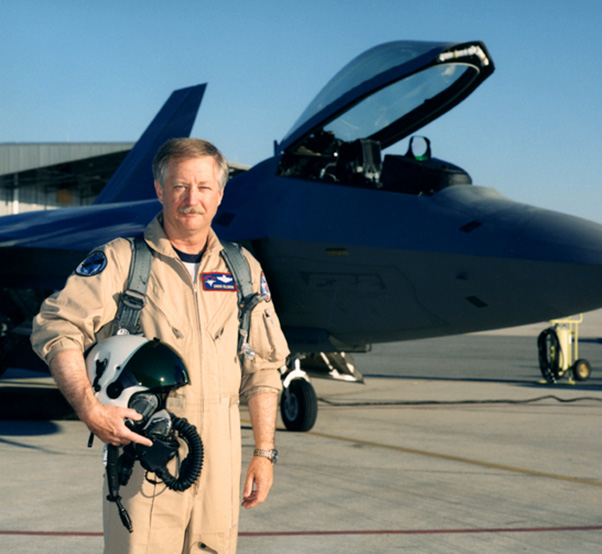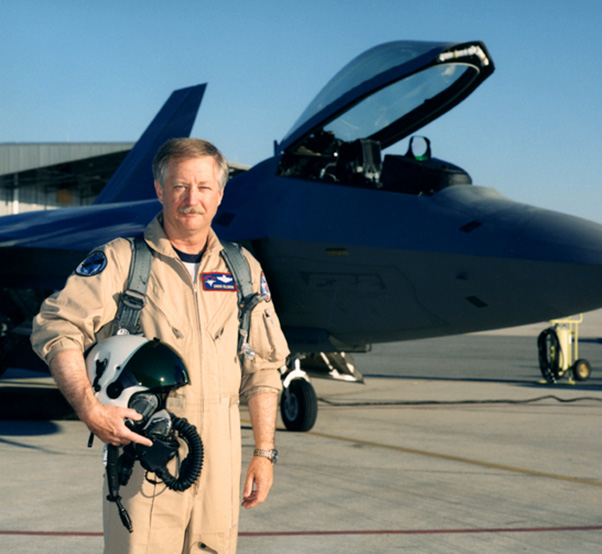 Chuck Killberg first soloed as a college student in 1964, beginning an aviation career spanning more than 50 years.
He joined the U.S. Air Force in 1971, flew F-4 combat missions in Southeast Asia in 1973, and was an F-4 and F-15 instructor and Functional Check Pilot in West Germany and the United States.
In 1982, he attended USAF Test Pilot School at Edwards Air Force Base, and was then assigned as Ops Officer and test pilot for F-16 Low Altitude Navigation and Targeting, Infra-red for Night (LANTIRN). He returned to the Test Pilot School as Ops Officer/Instructor from 1986 to 1987, and afterwards was director and chief test pilot for F-15E development flight testing until his retirement as a lieutenant colonel in 1991.
Killberg was Boeing's chief F-22 test pilot from 1991 until 2002. In 1998 he became the fifth F-22 program pilot, and was lead pilot on aircraft 4003, the third Engineering & Manufacturing Development Raptor.
From 1998-2002 he completed more than 100 test missions, including the first AIM-9 Sidewinder launch. From 1996-2006 he was also Chief of Flight Ops for Boeing Integrated Defense Systems in Seattle, Wash., managing and testing the 757 F-22 Avionics Flying Testbed, as well as 737-based Airborne Early Warning & Control aircraft.
From 2006-2009 Chuck directed and conducted C-17 and KC-767 production and developmental flight tests in Long Beach, Calif., and Wichita, Kansas. He then returned to Seattle as director and chief test pilot for all Boeing Commercial and Military flight operations until his retirement in 2015.
During his career, Killberg accumulated nearly 10,000 flying hours in various fighter, transport, tanker and commercial aircraft, including the F-4, F-15, F-16, F-22, A-37, U-6, T-33, B-737, B-757, B-767, B-777 and B-787 aircraft.