David P. Cooley, LtCol (USAF, retired)
Dave "Cools" Cooley was born Feb. 15, 1960, at RAF Mildenhall in England.
He was a 1982 graduate of the United States Air Force Academy where he met his wife Sheyla. He began his flying career as an operational F-111 pilot.
Cools first became involved with test flying in 1989 as an F-111 Operational Test & Evaluation pilot, conducting operational testing of new weapons and systems for the F-111.
Cools was then selected to represent the United States as the Air Force exchange officer at the Empire Test Pilot School in the United Kingdom, graduating in 1992.
He was then assigned to the 445th Flight Test Squadron at Edwards Air Force Base where he conducted F-15 tests to include avionics and missile tests. He was also the chief pilot for the U.S. Coast Guard RU-38 utility aircraft flight test program to include a "first flight."
From 1996 to 1998, Cooley was the branch chief at Air Combat Command for Operational Test and Evaluation where he tackled complex issues involving test methodologies between operational and developmental testing. He also provided test plan guidance and direction to various programs.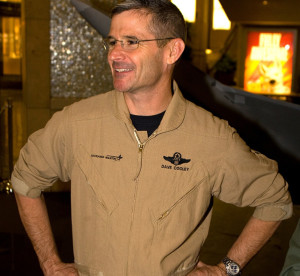 In 1998, Cools was selected to be the operations officer for the 410th Flight Test Squadron at Air Force Plant 42 in Palmdale responsible for developmental flight testing of the F-117. He conducted initial separation and integration tests of new weapons and systems for the F-117 to include a new digital brake system as well as numerous classified programs.
From 2000 to 2003, Cooley served as the vice commandant for the USAF Test Pilot School at Edwards, responsible for day-to-day operations of all aspects of the school as well as mentoring students as a full-time instructor pilot.
After retiring from the Air Force in 2003, Cooley was hired by Lockheed Martin as the F-117 chief test pilot. He conducted weapons separation and integration testing, avionics development and numerous classified test programs.
In September 2007, 'Cools' was selected as an F-22 test pilot assigned to the F-22 Combined Test Force at Edwards. He was qualified and conducted tests in all phases of F-22 flight testing. As the chief of Standardization and Evaluation, and an integral part of the F-22 operations team, 'Cools' led the unit to success achieving an "Outstanding" rating during a recent inspection.
David died in an F-22 crash on March 25, 2009, during a test mission just north of Edwards Air Force Base. He was 49 years old. He was survived by his wife Sheyla Cooley, three sons, Paul, Mark and Aaron Cooley, his father and step mother, William and Peggy Cooley, one brother, Bill Cooley, two sisters, Susan Pfalzer and her husband Mike, Cathy Baker and her fiancé John Balch.
Cooley was an Associate Fellow of the Society of Experimental Test Pilots and served on the Society's membership committee. He had a positive outlook on life — inspired by his quiet but fervent faith — that was very infectious. He was a consummate professional, a true leader and inspired everyone with which he worked or socialized.