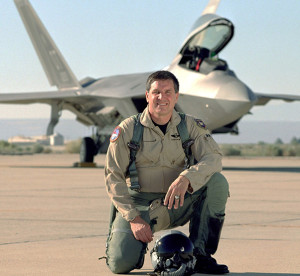 Jim Brown graduated "With Distinction" from the Virginia Military Institute in 1976 with a bachelor's degree in Civil Engineering, earned a Master of Science in Management from Troy University, and completed graduate study in Mechanical Engineering with California State University–Fresno.
Following two European tours flying the F-4 and F-5, he was selected to attend the USAF Test Pilot School at Edwards Air Force Base where he graduated with Class 86A in December 1986 Following graduation he tested the A-7, F-15 Eagle, F-117 and F-22.
In 1994 he was hired by the Lockheed Skunk Works as an Experimental Test Pilot in the F-117 Stealth Fighter.
While on the F-117, he tested software, avionics and weapons improvements. Many of these improvements saw service in Operation Joint Endeavor over Bosnia and Operation Iraqi Freedom, the second Gulf War. As the chief test pilot, after flying the Stealth for eight years with over more than 900 flight hours, he went on to test the F-22 eventually becoming the Raptor chief test pilot.
In January 2016, he retired from Lockheed Martin and joined the National Test Pilot School at the Mojave Air and Space Port as the chief operations officer and test pilot instructor.
JB is a Fellow and Past President of the Society of Experimental Test Pilots and is a Fellow of the Royal Aeronautical Society. He has logged more than 9,260 flight hours in 150 different models of aircraft and is the world's highest time Stealth Fighter pilot.