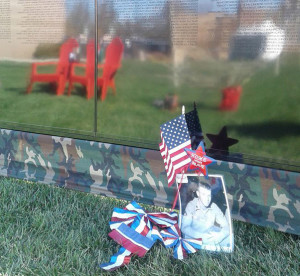 A crowd of several hundred veterans and patriots turned out Nov. 11 for the Veterans Day ceremony at the AV Wall, at Marie Kerr Park in Palmdale.
This year's celebration commemorated the 35 anniversary of the dedication of the original Vietnam Veterans Memorial in Washington, D.C.
The crowd was welcomed by Mike Bertell, president and outpost leader of Point Man Antelope Valley. Point Man, a non-profit veteran service organization, is the designated "guardian" of the AV Wall, responsible for its maintenance, storage and display. Presentation of the Colors was performed by the Highland High School CA-944 AF JROTC Cadet Group.
Keynote speaker for the event was Dennis Anderson, local veterans advocate and clinical therapist specializing in veterans mental health issues. A U.S. Army veteran, he served in Cold War Europe and traveled to Iraq as an embedded journalist in 2003. As a reporter for United Press International in 1982, he reported on the dedication of the Vietnam War Memorial. In his remarks, Anderson noted that Veterans Day is a day to honor all those who have served. He recalled the day that the Vietnam Memorial in Washington was dedicated was, "a day like this. It was this beautiful – there were just another 150,000 of you out there on the Washington Mall."
Anderson recalled some of the controversy surrounding the construction of the Memorial: the black granite design was considered by some to be too funereal and somber; designer Maya Ying Lin, a college student, was thought to be too young and lacking in experience to design such a major project. But in the end, as Anderson said, the soul of the Memorial came to be not the design itself (which is now widely recognized for its artistic beauty), but the names inscribed on it — originally 57,939, currently 58,318 as additional personnel have lost their lives as a direct result of wounds suffered in the conflict. "Some of them are your relatives. Some of them were your friends. Some of them were people who, through a matter of timing, did not get to come home, so that we could all be here this morning. And how lovely is that?" Anderson said, eliciting applause as a response.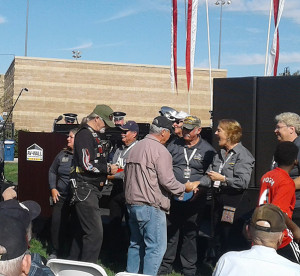 A portion of Anderson's address also paid tribute to Bob Evans, a Vietnam veteran, Bronze Star recipient and AV resident, who was involved with the AV Wall project from its inception. A volunteer and fixture at AV Wall displays over the years, Evan passed away this past April and is missed by many in the local veterans' community.
Following Anderson's address, 50 Anniversary commemorative Vietnam lapel pins were distributed to all Vietnam-era veterans in attendance.
The ceremony was brightened by the musical talents of The Guardian Brass, who provided introductory music and the National Anthem. The lively quintet also played a spirited DOD Armed Forces Medley, accompanied by hand-clapping and singing from the crowd. Event emcee Stacia Nemeth encouraging service members to stand during the portion of the medley featuring the anthem from their branch of service.
The Wall will be on display in Phelan, Calif., on Memorial Day weekend 2018 and will be in Tempe, Ariz., for Veterans Day 2018. It returns to Marie Kerr in 2019 for Veterans Day, marking its 10 anniversary.