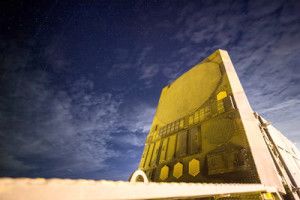 Delegations from eight countries recently watched a live fire test of the newest suite of upgrades to Raytheon's Patriot™ Air and Missile Defense System at White Sands Missile Range, N.M.
U.S. Army soldiers conducted the test using Post Deployment Build 8, or PDB-8, to fire two Patriot interceptor missiles against two tactical ballistic missile targets.
"The success of this test is proof that investment by the 14-nation Global Patriot partnership are paying off," said Tom Laliberty, vice president of Integrated Air and Missile Defense at Raytheon's Integrated Defense Systems business. "Through sustained investment we will continually modernize and enhance Global Patriot to keep it ahead of the constantly evolving threat."
PDB-8 is slated for fielding with the U.S. Army and other Patriot partners later this year.  It offers:
* Enhanced capability against a variety of threats.
* An improved Identification Friend or Foe capability.
* Improved radar search capability.
* Improved target detection and identification.
* A redesigned Fire Solution Computer, which enables Patriot to take advantage of the PAC-3 MSE missile capabilities.
* An Enhanced Weapons Control Computer which provides up to 50 percent additional processing power for software enhancements to address evolving threats.
Raytheon's Global Patriot Solutions is the most advanced, tactical air and missile defense system in the world, providing protection against a full range of advanced threats, including aircraft, tactical ballistic missiles, cruise missiles and unmanned aerial vehicles.
The 14 Patriot Nations are: the United States, the Netherlands, Germany, Japan, Israel, Saudi Arabia, Kuwait, Taiwan, Greece, Spain, South Korea, United Arab Emirates, Qatar and Romania.