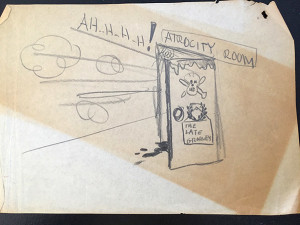 The recent headline was "The WWII Holiday in Russia that is practically unknown in America," and I realized almost immediately that it must have been VE Day, victory in Europe. It had to be.
The day that the Allies brought the Nazi regime to its knees is hardly remembered in America. We lost nearly 300,000 troops in combat, but the cost to the Red Army was 8.5 to 10.5 million, according to War Department records.
The final and unconditional surrender instruments recorded by the Allies and the Nazi provisional government that were signed following Adolf Hitler's suicide in the bunker happened May 8, 1945, in Berlin. And, those documents formalized the documents signed a day earlier in Rheims, France.
In Moscow, during the first week of May it is marked simply as "Victory Day." After the 20 million dead of the Soviet Union, it was blessed relief. And relief for all others who could perhaps look forward to living their lives out.
So, it was over, my father wrote to my mother, from the great Allied HQ in London.
Histories of the day note that a million people turned out in the streets of London. My father was there, taking photographs, and being photographed.
Tech. Cpl. Carl Richard Anderson belonged to a Signal Corps film outfit, the 3908th Pictorial Service Unit, that processed most of the still photography and much of the combat film footage shot by Americans during the war, according to the Stars and Stripes.
 Tech. Cpl. Anderson was there for the joy, the relief and the pandemonium of victory and survival.
The histories also relate that similar celebrations flooded the streets, of course, of Paris, but also Washington, D.C., Moscow, and even Los Angeles, my home city where my mother and grandparents must have been overwhelmed with that same joy and relief that my father would most likely make it home in one piece.
My grandmother — my father's mother — Hattie Turley, would have experienced the relief, possibly more acutely than even the other relatives. A woman of sturdy Scots-Irish, plain-spoken Methodist stock, she lost her brother, Joseph Otto Turley, who lay in a field hospital, his life bleeding out, as the surrender documents of the First World War took effect, fatally wounded on Nov. 11, 1918, and dying a day later.
Our grand uncle Otto died right after the World War I Armistice plunged similar crowds of revelers into the streets of London, Paris, and yes, even far away Los Angeles. In Hattie Turley Anderson's war-wounded family, her brother Otto was killed, his brother Tom, was seriously wounded, and yet a third brother, Jess, was slightly wounded, and marched in to occupy Germany after the Armistice of World War I.
Hattie's son, my father, Carl, finished his war a survivor, and a new father, to return home to the infant son he had yet to see. It was a G.I. homecoming.
By the end of World War II in Europe, my dad, the Signal Corps corporal, experienced in many ways what the people's historian, Studs Terkel, wrote of as "The Good War." He didn't weather the hails of steel and fire on the landing beaches of D-Day or fight for his life and limbs in the frozen Ardennes during the Battle of the Bulge, or any of the harrowing and terrifying fighting that came before and after those cataclysmic contests.
The Russians observe Victory ay, as one said, "like your own Thanksgiving," because for them what they knew as "The Great Patriotic War" was so much more apocalyptic. The estimates are general, but where the United States — according to War Department records – lost 291,000 killed in World War II combat, the Russian people lost 20 to 30 million people (with 8-10.6 million of them troop deaths).
This happened to the Soviet Union in less than four years of conflict that erupted when Hitler unleashed Operation Barbarossa, sending his legions east as he had planned, to eradicate Bolshevism and subjugate vast territories he conceived of as "lebensraum," or "living space" for a master race of "Aryan people" he saw as plantation masters to the globe. It was a personal psychosis gone global. In other words, the kind of thing we worry about today, a time of fear of terrorists, loose nukes and loose cannon demagogues exporting hatred of "the other."
So, my father was one of the survivors,  one of the millions of Americans in uniform who came home to build the world we know. Carl R. Anderson was 31 years old when the bombs of the Empire of Japan fell on Pearl Harbor on Dec. 7, 1941. Newlywed to my mother Charlotte, before being called up, he made himself available to be drafted, and because he had a high-end technical skill honed in Hollywood, he was spared the infantry, and joined others in the special Signal Corps pictorial unit.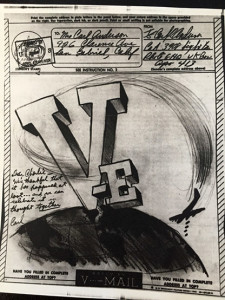 All of this shared family history welled up before me like old film as I was cleaning out a garage and came across a dusty box with contents I did not know existed.
 
The box and its contents moved to my overstuffed garage from my parents' belongings more than 20 years ago following their deaths. My father's box served as a reminder that men, and women, in our family, served in some ways in most of the wars America fought since the Revolution. Few of us ever served more than a single hitch. Drafted or enlisted as volunteers, we have been the cardinal citizen soldiers, fulfilling some period of duty, and returning to civilian life in the event we survived.
The box, which was stuffed with black-and-white still photographs, newspapers and correspondence, also offered up pieces of my father's semi-secret history of his part in history's greatest conflict.
Tech. Cpl. Anderson played a small part, but his preserved record yielded the puzzle pieces of fact about the extreme dangers and hazards of uniformed service in any era of conflict. The box and its contents also contained the correspondence and yearning of a gentle man who loved his wife, and a baby boy he had yet to see, my older brother who was born on Dec. 25, Christmas Day.
My father faced some of the hazards experienced by all the other G.I.s of Tom Brokaw's described "Greatest Generation." He shipped to Europe in convoy in seas that remained a hunting ground for Nazi U-boats. But he made it safely ashore with hundreds of thousands of troops arriving for their part in the liberation of Europe just as the D-Day invasion launched.
When my father and the other members of his unit arrived in southern England on June 7, a day into the D-Day landings, the Allied headquarters city of London was again menaced from the skies by Nazi attack.
 It was called the "Second Blitz," and sometimes "The Baby Blitz," because the damage and death was less than the Luftwaffe bomb tonnage dropped nearly four years earlier during the Battle of Britain in 1940.
But the Second Blitz, like the first one, was lethal and unnerving — the hail of explosives from the sky delivered by the so-called "Vengeance Weapons," the V-1 "Buzz Bombs," and the much more dangerous V-2s, the world's first ballistic missiles. The V-2s, a rocket-powered flying bomb, sometimes called a "Doodle Bug," were essentially the world's first cruise missiles.
The V-2s could destroy an entire block of London Town. They were all the more terrifying because people did not know what they were, or how they arrived. Real estate simply blew up. Their existence was a military secret whose knowledge was denied to the general public subjected to their lethality. My father and his friends in the Signal Corps film unit divined a little more because they processed the films gathered for the bomb damage assessment teams. My father's only personal photo showing battle damage was from a V-bomb, not sure whether it was V-1 or V-2.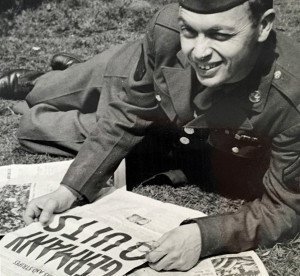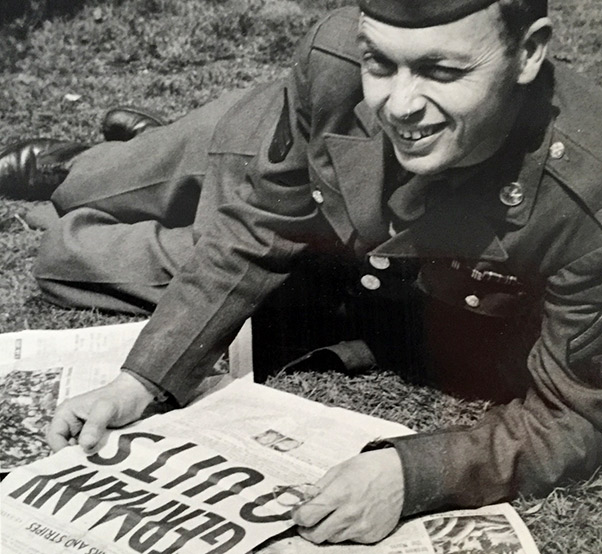 I simply forgot about my father's early Army photographs, basic training, marksmanship, the dreaded "KP," kitchen police — scouring pots and pans. Of his still photographs in Europe during the war, I knew little or nothing. I knew more about his 16 mm films. He had been culled from the ranks of Columbia Pictures, the fiefdom run by Hollywood's most parsimonious and least-loved mogul, Harry Cohn. At Christmas 1944, a short, typed note signed by Cohn noted at "Everyone at Columbia was thinking about him." Cohn, about 15 years later, would end my father's Hollywood employment a few months short of pension.
As a child, I saw the film my father shot personally in wartime England and Wales. None of it focused on war, damage, or lethality. He said he was not interested in such things. In his hundreds of stills there were pictures of weddings, his younger unit buddies marrying fair English girls, the "war brides." Also, there were photos of pub evenings, and a trip to Aberdeen, Scotland, where he donned tartan and kilt.
His ancillary role in the 3908th was "official unit cartoonist," and his cartoons recorded the unit's progress from basic training, "across the water," to England, and then to the Continent. He was honorably discharged on Oct. 17, 1945, awarded the American Campaign, Europe-Middle East-Africa Campaign, and Good Conduct medals, "a good war." The cartoons showed humorous moments in camp, the convoy overseas "with 185 men packed in space for 35," and had visual jokes about his best Army buddy, Paul Tryantoffoulos, a massive Greek-American of such girth that two G.I.s were photographed, each standing in one leg of Paul's empty G.I. trousers. The man was as big as a bear, with legs the size of a tree. How did he get through basic? The Army must have wanted Paul's skill set badly. His unofficial role in the 3908th was listed as "Diplomat Extraordinaire."
So, adventures, pubs, good food and drink, and a continuous work tempo processing hundreds of thousands of combat photographs.
My father sent my mother V-Mail on VE Day — one of his skilled illustrations — the sun rising triumphantly over a cartooned globe circled by a triumphant B-17 Flying Fortress and the outsize letters "V-E Day."
The V-Mail process itself was extraordinary, American technology accelerating to what would eventually be known as our present "digital age." Millions of postcards were reduced to tiny microfiche to reduce the bulk of G.I. mail coming home, then re-enlarged upon arrival in CONUS, Continental United States.
My father's V-E Day V-mail to my mother, with his deft cartooning and the note, "Dear 'Charlie,' (his pet name for my mother), We're thankful that it has happened at last … and we can celebrate it in thought together, signed Carl.
But my father's time in World War II was not yet done. As he shared with his mother, every unit that participated in the European Theater of Operations was clamoring for its own documentary footage. And many were anxious over plans for the invasion of Japan, my father knew he would be busy in Europe. He wrote he would not be going home immediately, because all the combat soldiers with "points," quite rightfully, would be sent home first. The atomic bombs on Hiroshima and Nagasaki, ultimately, relieved the rest of the dread of invading Japan.
Sometime before my father died a quarter-century ago, at the age of 81 (he would be 105 now), my mother, Charlotte, told me his work in post VE-Europe was editing film taken during the liberation of Nazi concentration camps.
As the Red Army swept on to Berlin, Soviet troops liberated Auschwitz, Treblinka and other ovens of the Holocaust. If it was the Soviets who discovered the biggest and most baleful of Nazi death factories, American troops liberated Dachau, the first camp that modeled for all the others, with crematoria belching smoke as the Americans arrived to railroad cars and streets of corpses. Filmmaker George Stevens, who would direct post-war classics as "Shane," and James Dean's final film, "Giant," was traumatized at Dachau, saying he never, until then, understood what humans were capable of doing to one another. My mother said my father's experience was similar. He was among the film team who edited a record that would be prepared for the coming Nuremberg war crimes trials that saw the worst of the worst Nazis hung for crimes against humanity.
In the vicarious processing of raw, unedited film, my father found his war.
In the dusty storage box, with his series of light-hearted service cartoons I found a final drawing. The film unit's C.O. was a regular Army officer named Grooney. From his cartoon, I witnessed a place my father never spoke of. It was the "Atrocity Room," the film lab where 3908th Signal G.I.s edited Nazi concentration camp film.
The cartoon showed a door with the Nazi SS-style "skull and bones" death's head insignia.
Satirically, the door has a sign placard hung on it that says "The Late Grooney," with a pool of blood spilling under the door, and a scream, "Ah .. h .. h.. h!" peeling forth, and what looks like the smoke of the camp puffing through the open door.
In one cartoon, my father's war was expressed. And that was the part of the war that came into his life after that most glorious of days, VE Day.
It is 71 years later, and as William Faulker noted once about the Deep South, "The past isn't dead … it isn't even past." It is as close as a dusty box in a garage.