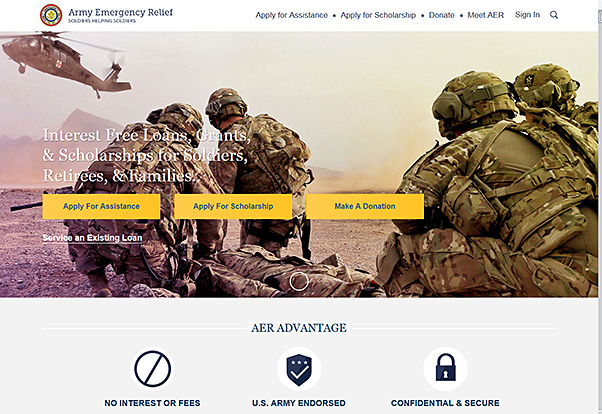 A new Army Emergency Relief website is now up and running with an online assistance tool that is easy to navigate on mobile devices.
"It now works well from a smart phone, tablet, desktop, laptop, whatever device," said retired Col. Guy Shields of AER.
AER conducted a "soft launch" of the website last month to insure that it was working smoothly prior to making an announcement. It was important to work through any issues to insure that the back-end processing of online assistance applications was functional, Shields said. But he added that the new site is now up and running like a champ.
The website offers new features to Soldiers and families that they can easily negotiate, said retired Command Sgt. Maj. Charles Durr, AER assistance officer.
It provides a loan calculator, AER news and videos, and portals to apply for scholarships or loans.
"The thing that I'm really excited about is the online assistance feature — which really is all about providing a more streamlined assistance process for our Soldiers and their families," Durr said. "It will enable them to execute that with ease, anytime, anywhere, by use of any electronic device, and it can be executed securely in a matter of minutes."
Assistance portal
The tool takes applicants down separate paths, he said, depending on whether the user is a Soldier, family member, retiree or survivor.
"There's only six simple steps that are involved in the process, or six clicks and the application is submitted to the nearest AER section," Durr said.
"The flash-to-bang time" from when a Soldier begins the application to when he or she walks out the door with a check has been greatly reduced, he said.
"I would say a minimum of two hours can be knocked off a routine application," he said.
The online assistance tool has been tested for the last three months on the former website.
AER initiated a "soft launch" of the assistance portal on Feb. 22. The new website just went live this week.
"We've been testing this since February to work out the bugs in it," Shields said about the assistance portal.
The majority of feedback has been very positive, Durr said. The assistance portal has dramatically decreased application time for assistance, he added.
"It's all individually dependent on how fast the Soldier will move," Durr said. "Probably the fastest we've seen: a Soldier started an application at 9, and by 11 they had funds in their hands."
The process included sending in the form, getting the commander's signature and coming into the AER office to get a check.
Soldiers in the Army for more than a year no longer need their commander's signature, if they've completed Advanced Individual Training and are not exhibiting risky behaviors, Durr said.
"One of the things we emphasize to commanders is that this new online assistance process is about expediency, not about masking any problems," Durr said. "Those Soldiers that a commander deems it appropriate to review still need to go through their commander's review. It's not meant to circumvent the chain of command in any way."
Instead, Durr said, the new process is about making it easier for Soldiers to get assistance.
Forms used to be filled out in the AER office. Now when the form is sent online, staffers can begin to process it before the Soldier arrives.
Streamlined, fast
"One of the things that we have to do is make sure we're paying attention to what our competitors are doing out there," Durr said. "Many of them have a very streamlined and simple process."
Achieving that streamlined approach, Durr said, was the impetus for creation of the new website.
"We hope this will be attractive to Soldiers and get more of them in the door, in lieu of pushing them out to predatory lending institutions," Durr said.
Title loan companies, pawn shops, payday lenders, and other non-traditional lenders in the U.S. sometimes charge up to 36 percent interest, Shields said.
"The worst of the worst are the online, off-shore lenders," he said, who sometimes charge a 2,000-3,000 percentage rate … "They're totally unregulated."
AER, on the other hand, charges no interest and no fees on their loans. In fact, depending on the need, sometimes AER provides a grant that doesn't even need to be paid back.
Upgraded systems
AER has also been working on upgrading its information systems. It recently completed the Defense Information Assurance Certification and Accreditation Process, allowing its systems to interface with DOD sites such as the Defense Finance and Accounting Office.
LeRoy Lundgren, deputy director of Cybersecurity for Army G-6, was instrumental in helping AER get through the process, according to retired Lt. Gen. Robert Foley, AER director.
"His efforts ensured that AER had continued access to various DOD and Army systems which are required to efficiently take care of Soldiers and their families," Foley said of Lundgren.
Foley presented Lundgren the AER 2015 Jack Ritchie Distinguished Service Award for his "many significant contributions to AER information systems, improving the ability to protect Soldier and Family personally identifiable information and personal health information," according to a released statement.