Nov. 18, 1930: The Boeing XP-9 made its first flight. The XP-9 was the first monoplane fighter aircraft produced by Boeing. It incorporated sophisticated structural refinements that were influential in later Boeing designs. The sole prototype exhibited unsatisfactory characteristics with its lack of pilot visibility directly leading to its cancellation.
The XP-9 was designed in 1928 to meet the requirements of a U.S. Army request for a monoplane fighter. Its primary contribution to aircraft design was its semi-monocoque construction, which would become a standard for future aircraft.
Boeing employed the structural features of the XP-9 into their contemporary P-12 biplane fighter when the P-12E variant incorporated a semi-monocoque metal fuselage structure similar to that of the XP-9.
The undercarriage arrangement of the P-12C had also been first tried out on the XP-9 and then transferred into the production model. The prototype XP-9 had impressive stats on the specification sheet, but it quickly became apparent that its largewing, which was placed atop the fuselage directly in front of the pilot, obstructed downward visibility so badly that simple landing maneuvers were hazardous.
Test pilots at the Army Test Center at Wright Field, Ohio, found that the XP-9's inherent instability was so severe that immediate modifications were requested to increase the size of the vertical tail. An enlarged vertical tail surface with smooth metal skinning was introduced, but failed to affect any significant improvement, and this revised XP-9 was grounded for instructional airframe use in August 1931, after only 15 hours of test flying, due to the impossibility of its being landed safely.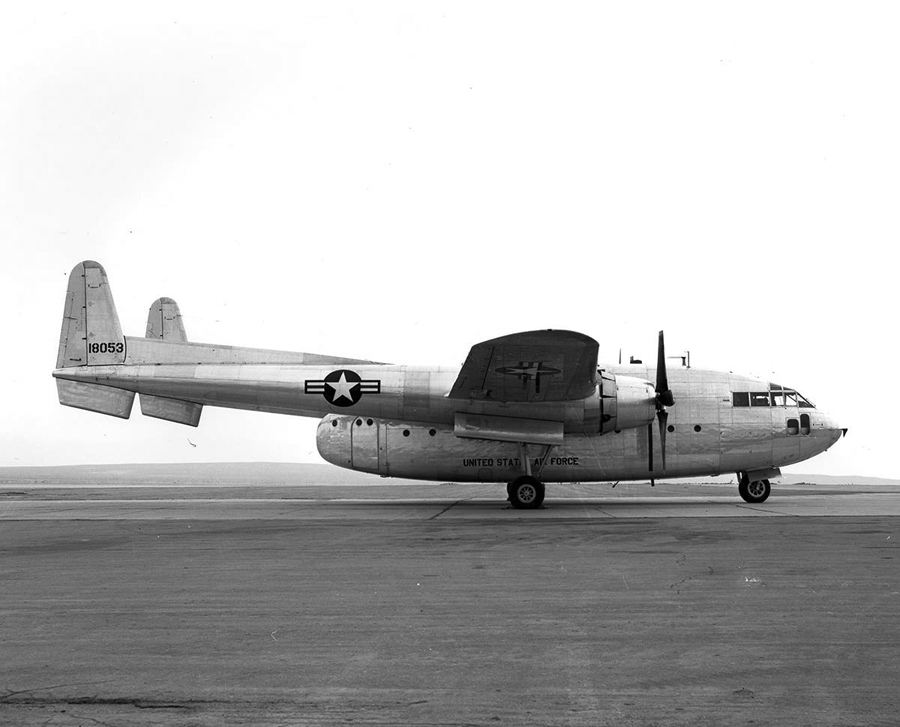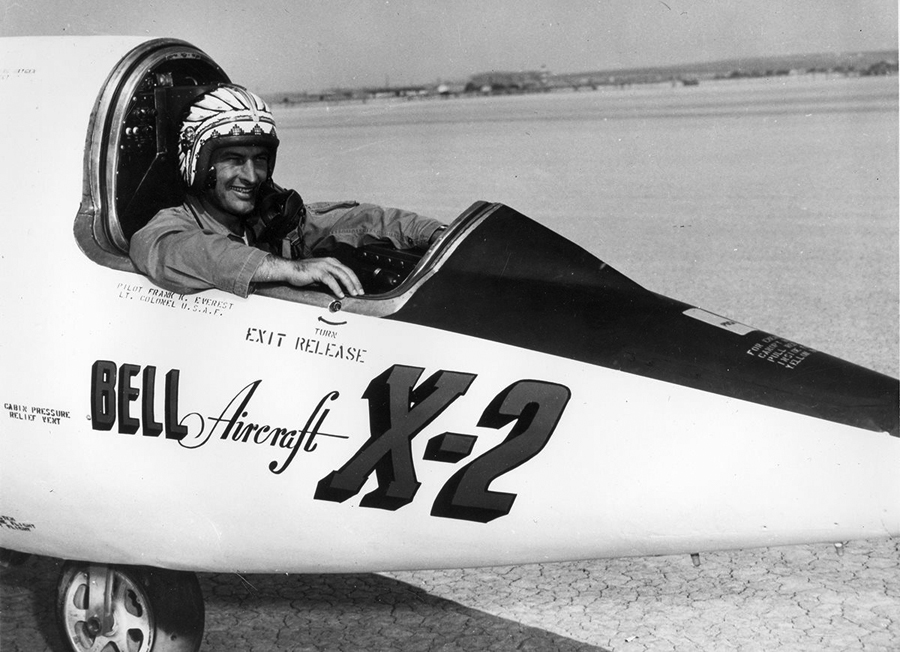 Nov. 18, 1955: Maj. Frank Kendall "Pete" Everest made the first powered flight of the Bell X-2 research rocketplane at Edwards AFB, Calif. The rocketplane was airdropped from a Boeing EB-50D Superfortress. Only one 5,000-pound thrust rocket tube ignited, but that was enough to accelerate "Pete" Everest to Mach 0.992.
The X-2 was a joint project of the U.S. Air Force and the National Advisory Committee on Aeronautics, the predecessor of NASA. The rocketplane was designed and built by Bell Aircraft Corporation of Buffalo, N.Y., to explore supersonic flight at speeds beyond the capabilities of the earlier Bell X-1 and Douglas D-558-II Skyrocket. In addition to the aerodynamic effects of speeds in the Mach 2.0–Mach 3.0 range, engineers knew that the high temperatures created by aerodynamic friction would be a problem, so the aircraft was built from stainless steel and K-Monel, a copper-nickel alloy.
Everest joined the United States Army Air Corps shortly before the United States entered World War II. He graduated from pilot training in 1942 and was assigned as a P-40 Warhawk pilot, flying combat missions in North Africa, Sicily, and Italy.
He was credited with shooting down two German airplanes and damaging a third. Everest was returned to the United States to serve as a flight instructor. He requested a return to combat and was then sent to the China-Burma-India theater of operations where he shot down four Japanese airplanes. He was himself shot down by ground fire in May 1945.
Everest was captured by the Japanese and suffered torture and inhumane conditions before being freed at the end of the war. After the war, Everest was assigned as a test pilot at Wright-Patterson Air Force Base, Ohio, before going west to the Air Force Flight Test Center at Edwards AFB. At Edwards, he was involved in nearly every flight test program, flying the F-88, F-92, F-100, F-101, F-102, F-104 and F-105 fighters, the XB-51, YB-52, B-57, and B-66 bombers.
He also flew the pure research aircraft, the "X planes:" the X-1, X-1B, X-2, X-3, X-4 and X-5. Everest flew the X-1B to Mach 2.3, and he set a world speed record with the X-2 at Mach 2.9 which earned him the title, "The Fastest Man Alive."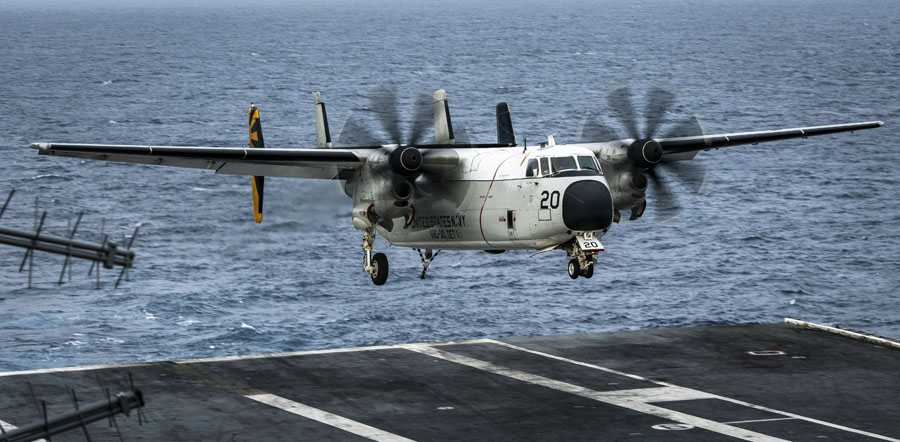 Nov. 18, 1964: The Grumman C-2 Greyhound made its first flight. The Greyhound is a twin-engine, high-wing cargo aircraft, designed to carry supplies, mail, and passengers to and from aircraft carriers of the United States Navy. Its primary mission is carrier onboard delivery (COD). The aircraft provides critical logistics support to carrier strike groups.
The aircraft is mainly used to transport high-priority cargo, mail, and passengers between carriers and shore bases, and can also deliver cargo such as jet engines and special stores. The U.S. Navy is in the process of replacing the Greyhound with CMV-22B Osprey. In this photograph, a U.S. Navy C-2A lands on the flight deck of the USS Nimitz in July 2020.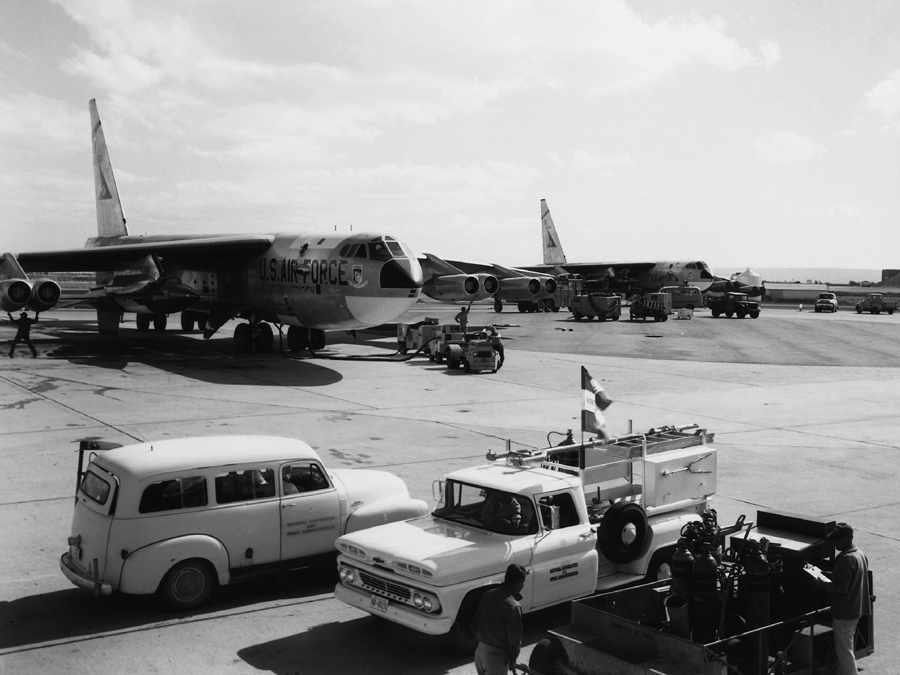 Nov. 18, 1966: On Flight 175 of the research program, Maj, William "Pete" Knight flew the newly modified North American Aviation X-15A-2, 56-6671, to Mach 6.33 at 98,900 feet. This was just 11 years, to the day, since Pete Everest made the first powered flight in the Bell Aircraft Corporation X-2 rocketplane, with more than 6 times an increase in speed.
NASA made an attempt to launch two X-15s, -671 and -672, using the NB-52A 52-003 and NB-52B 52-008. However -672, the number three ship, had to abort the mission. Balls 8, the NB-52B, flown by NASA test pilot Fitz Fulton and Col. Joe Cotton carried 56-6671 to the launch point over Mud Lake, Nev., approximately 200 miles to the north of Edwards AFB. Knight and the X-15 were dropped from the pylon under the right wing of the B-52 at 1:24 p.m., local time.
He ignited the Reaction Motors XLR99-RM-1 and began to accelerate with its 57,000 pounds of thrust. Since this was to be a high temperature test flight, it was planned to fly no higher than 100,000 feet. The denser atmosphere would result in greater aerodynamic heating of the rocketplane.
With the two external propellant tanks carrying an additional 1,800 gallons of liquid ammonia and liquid oxygen, the engine ran for 2 minutes, 16.4 seconds. The rocketplane had accelerated to Mach 2. The external tanks emptied in about 60 seconds and were jettisoned. The tanks were equipped with parachutes. They were recovered to be reused on later flights.
The X-15, now about 25,000 pounds lighter and without the aerodynamic drag of the tanks, continued to accelerate. At its highest speed, the rocketplane was travelling approximately 6,500 feet per second, more than twice as fast as a high-powered rifle bullet. Its surface temperatures exceeded 1,200 degrees Fahrenheit. Knight landed the X-15 on Rogers Dry Lake at Edwards. The duration of this flight had been 8 minutes, 26.8 seconds.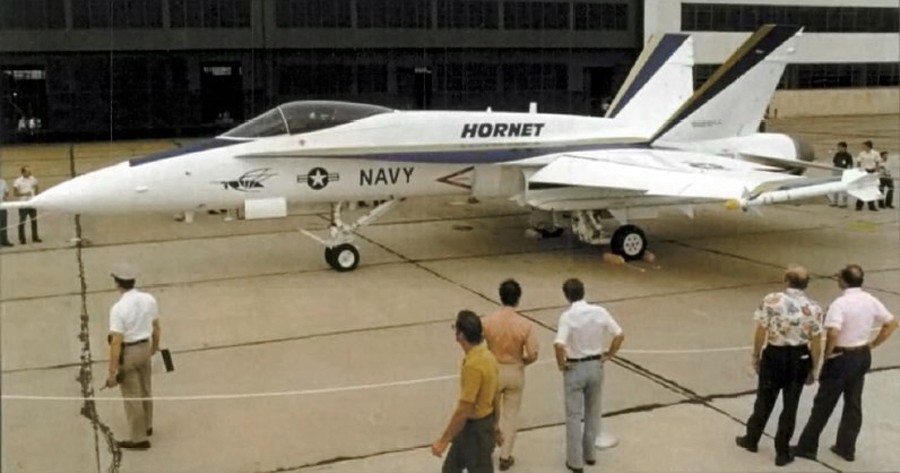 Nov. 18, 1978: The McDonnell Douglas F/A-18 Hornet made its first flight. The Hornet is a twin-engine, supersonic, all-weather, carrier-capable, multirole combat jet, designed as both a fighter and attack aircraft (hence the F/A designation).
Designed by McDonnell Douglas (now part of Boeing) and Northrop (now part of Northrop Grumman), the F/A-18 was derived from the latter's YF-17 in the 1970s for use by the U.S. Navy and Marine Corps.
The Hornet is also used by the air forces of several other nations, and formerly, by the U.S. Navy's Flight Demonstration Squadron, the Blue Angels. The F/A-18 was designed to be a highly versatile aircraft due to its avionics, cockpit displays, and excellent aerodynamic characteristics, with the ability to carry a wide variety of weapons.
The aircraft can perform fighter escort, fleet air defense, suppression of enemy air defenses, air interdiction, close air support, and aerial reconnaissance. Its versatility and reliability have proven it to be a valuable carrier asset, though it has been criticized for its lack of range and payload compared to its earlier contemporaries, such as the Grumman F-14 Tomcat in the fighter and strike fighter role, and the Grumman A-6 Intruder and LTV A-7 Corsair II in the attack role.
The Hornet first saw combat action during the 1986 United States bombing of Libya and subsequently participated in the 1991 Gulf War and 2003 Iraq War. The F/A-18 Hornet served as the baseline for the Boeing F/A-18E/F Super Hornet, its larger, evolutionary redesign.

Nov. 19-20, 1945: A Bell-Atlanta B-29B-60-BA Superfortress named Pacusan Dreamboat, piloted by Col. Clarence Shortridge Irvine and Lt. Col. G.R. Stanley, flew non-stop and unrefueled from Guam, the largest and southernmost island in the Mariana Islands of the Western Pacific, to Washington, D.C. The four-engine heavy bomber covered the 8,198 miles in 35 hours, 5 minutes. It set a Fédération Aéronautique Internationale record for Distance in a Straight Line: 7,916.01 miles.
Pacusan Dreamboat was modified specifically for a series of long-distance flights. A standard production B-29B, a light-weight variant of the Boeing B-29 Superfortress, it did not have the four power gun turrets with their .50-caliber machine guns. A radar-directed 20 mm cannon and two .50-caliber machine guns in the tail were the only defensive weapons.
Much of the standard armor plate was also deleted. It weighed 69,000 pounds empty, and 137,000 pounds fully loaded. Pacusan Dreamboat was further lightened. The tail guns were removed, and the tail reshaped. It had an empty weight of 66,000 pounds. Its takeoff weight on this flight was 151,000 pounds. Pacusan Dreamboat carried a 12-man crew and 10,000 gallons of gasoline.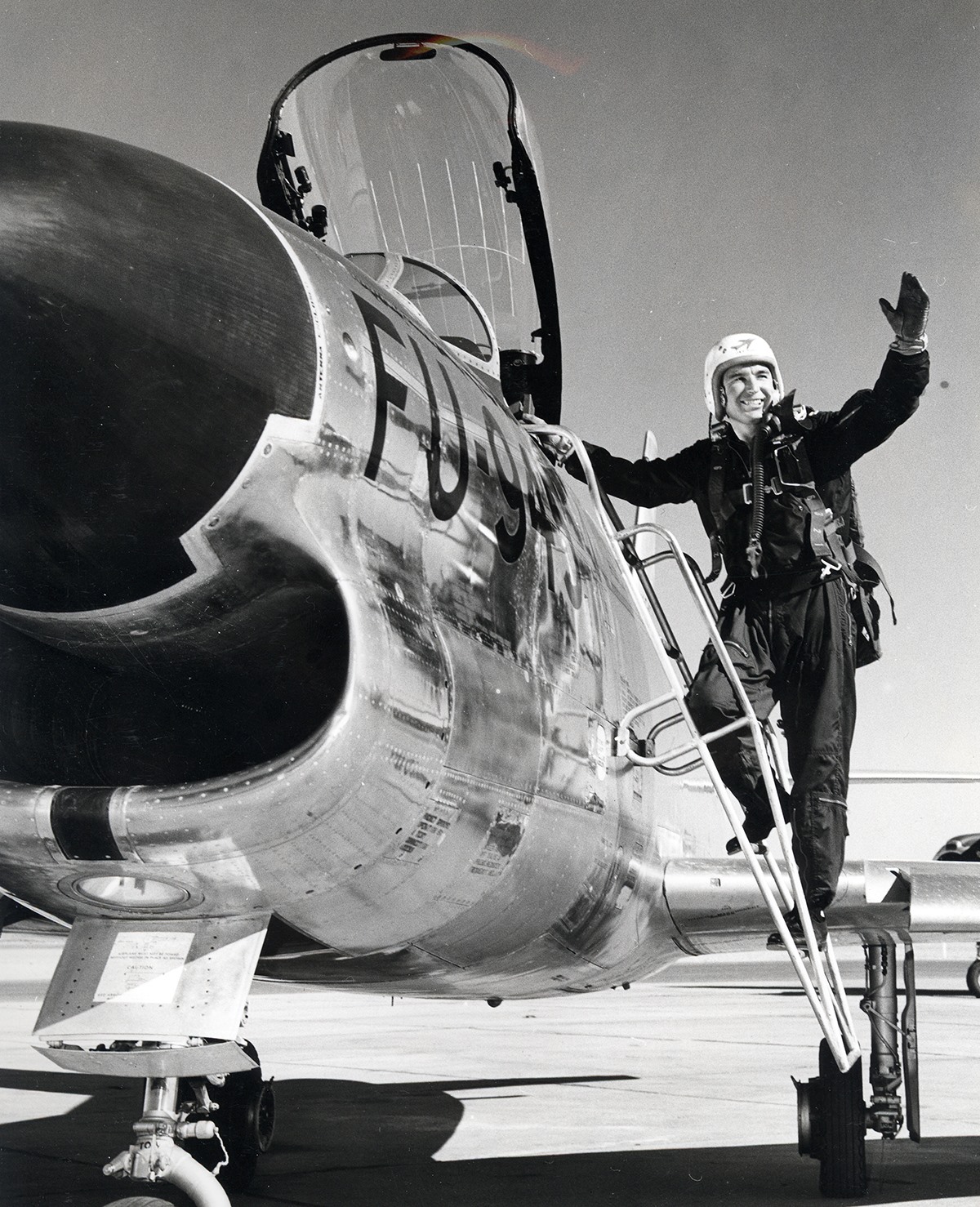 Nov. 19, 1952: Air Force Capt. James Slade Nash, a test pilot at Edwards Air Force Base, Calif., flew a North American Aviation F-86D-20-NA Sabre, 51-2945, to a Fédération Aéronautique Internationale (FAI) World Absolute Speed Record at the Salton Sea, in the Colorado Desert of southeastern California. Operating out of Naval Air Station El Centro, Nash flew four passes over a 3-kilometer course at an altitude of 125 feet.
The official average speed was 698.508 miles per hour. He was awarded the FAI's Henry de la Vaulx Medal for achieving the World Absolute Speed Record. The record-setting F-86D, 51-2945, was damaged in a ground collision with a Douglas RB-26C Invader, 44-35942, on Oct. 29, 1953, at K-14, Kinpo, Korea.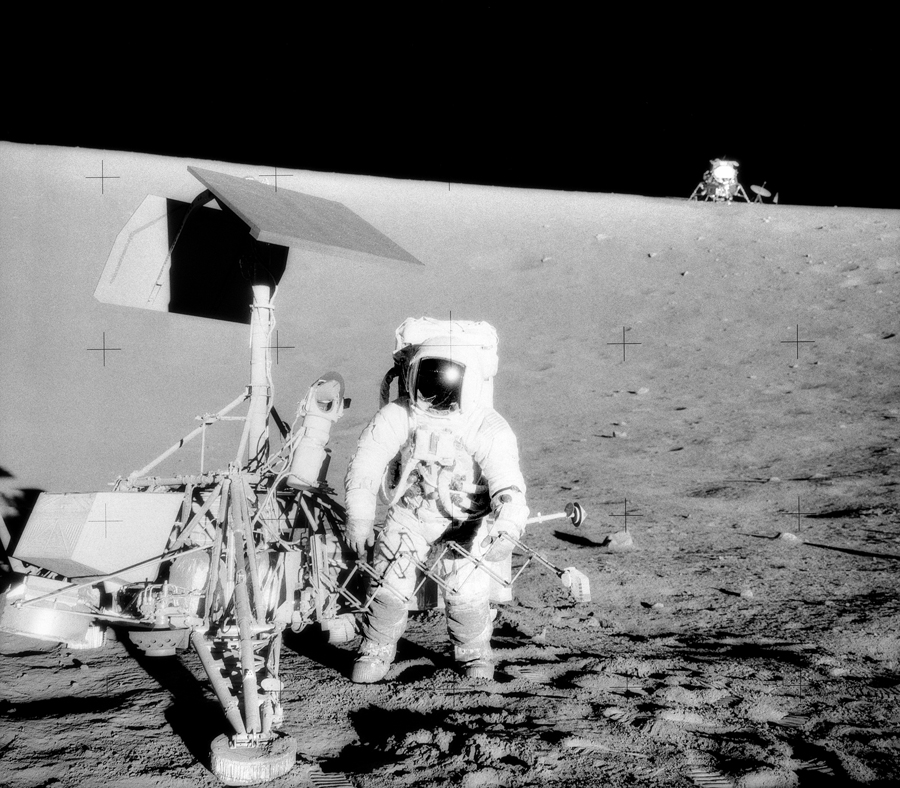 Nov. 19, 1969: Apollo 12 astronauts Charles Conrad and Alan Bean made the second manned landing on the moon.

Nov. 19, 1975: The first U.S. Air Force Red Flag exercise started at Nellis Air Force Base, Nev. Red Flag is a two-week long exercise held several times a year and aims to offer realistic air-combat training for military pilots and other flight crew members from the United States and allied countries.
The origin of Red Flag was the unacceptable performance of U.S. Air Force fighter pilots and weapon systems officers in air-to-air combat during the Vietnam War in comparison to previous wars.
The 64th and 65th Aggressor Squadrons flew T-38s and then F-5 Tiger II aircraft using Soviet tactics and markings to simulate Soviet, Warsaw Pact and Soviet client air forces' tactics and operations. Initially a fighter only exercise, today's Red Flag integrates the entire spectrum of U.S. Air Force, joint, and coalition aircraft and space capabilities.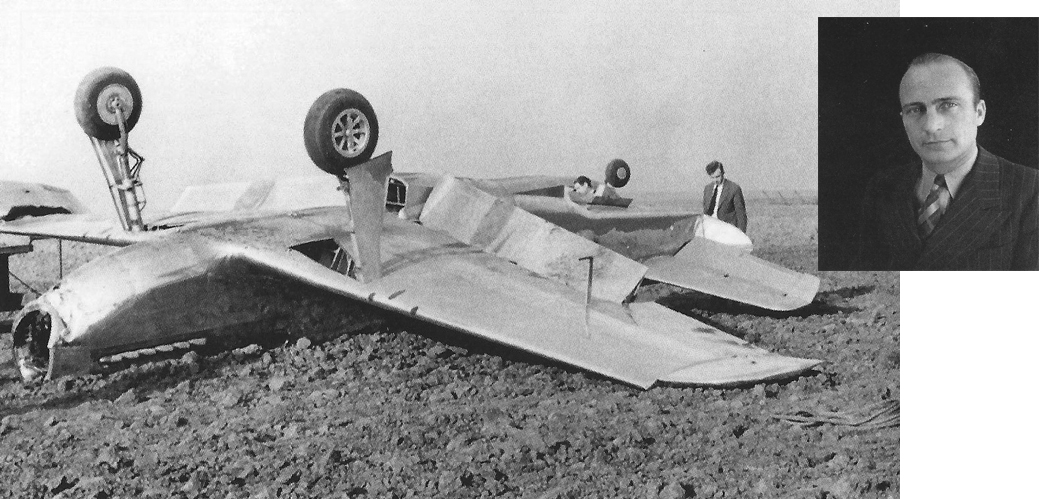 Nov. 20, 1940: North American Aviation's Chief Test Pilot, Paul Baird Balfour, made his first flight in the NA-73X, the prototype for a Royal Air Force fighter, the Mustang Mk.I. Vance Breese was the freelance test pilot who made the first seven flights in the new airplane.
Breese claimed to have made a bet with North American executives that Balfour would crash the prototype on his first flight. This flight was scheduled to be a high-speed test.
Edgar Schmued, the designer, offered to show Balfour around the airplane aircraft. "Before this flight, I asked Balfour to get into the airplane and go through the routine of a takeoff and flight. He responded that one airplane is like another and he would not need the routine check out."
The ground crew started the aircraft's 1,150 horsepower Allison V-1710-39 liquid-cooled V-12 engine at 5:40 a.m. and let it warm up to normal operating temperature. When it was restarted just prior to Paul Balfour's flight, "it was a little hard to start," according to Olaf Anderson, the airplane's mechanic.
Balfour took off from Mines Field (now Los Angeles International Airport) at about 7:10 a.m. After about 12 minutes of flight, the Allison stopped running. Balfour was too far from Mines Field to make it back to the runway. He landed in a plowed field west of Lincoln Boulevard. When the tires hit the soft surface, the prototype flipped over.
Balfour was not hurt and was able to crawl out of the upside-down wreck. The Civil Aeronautics Board report described the damage as "engine housing broken, both wingtips damaged, tail surfaces damaged, top of fuselage damaged, and other miscellaneous damage." The NA-73X had accumulated just threehours, 20 minutes of flight.
Vance Breese won his bet.
According to the C.A.B. investigation, the engine had stopped due to fuel starvation when Balfour neglected to select another tank. The prototype was taken back to the factory and rebuilt. It would become the famous Mustang, one of the most significant aircraft of World War II.
Balfour continued to work for North American Aviation, testing the NA-40 and NA-40B prototypes and the B-25 Mitchell medium bomber. He later served in the U.S. Air Force.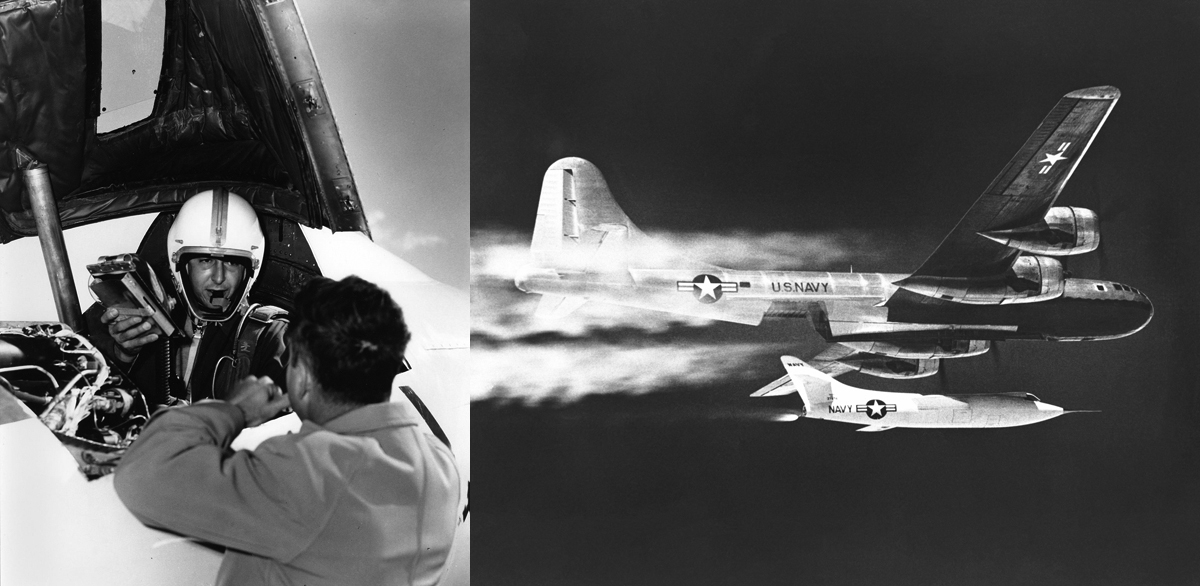 Nov. 20, 1953: Scott Crossfield, a National Advisory Committee for Aeronautics (NACA) test pilot, flew a Douglas D-558-II Skyrocket research plane to Mach 2.01 (1,272 mph) at an altitude of 62,000 feet to establish a new unofficial world's speed record.
During takeoff from Edwards Air Force Base, Calif., Crossfield sat behind the flight crew of the Boeing P-2B-1S Superfortress as it carried the D-558-II aloft. As the bomber reached 18,000 feet, Crossfield headed back to the bomb bay, entered the Skyrocket's cockpit and prepared for flight.
The D-558-II was Phase II of a U.S. Navy/Douglas Aircraft Company/National Advisory Committee on Aeronautics joint research project exploring supersonic flight. It was a swept-wing airplane powered by a single Reaction Motors LR8-RM-6 four-chamber rocket engine.
The Skyrocket was fueled with alcohol and liquid oxygen. The engine was rated at 6,000 pounds of thrust at Sea Level. Crossfield was the first pilot to fly an aircraft beyond Mach 2, twice the speed of sound. During his career as a test pilot, he flew the Douglas D-558-II, the Bell X-1, Bell X-2, and North American X-15. He made 112 flights in rocket-powered aircraft, more than any other pilot.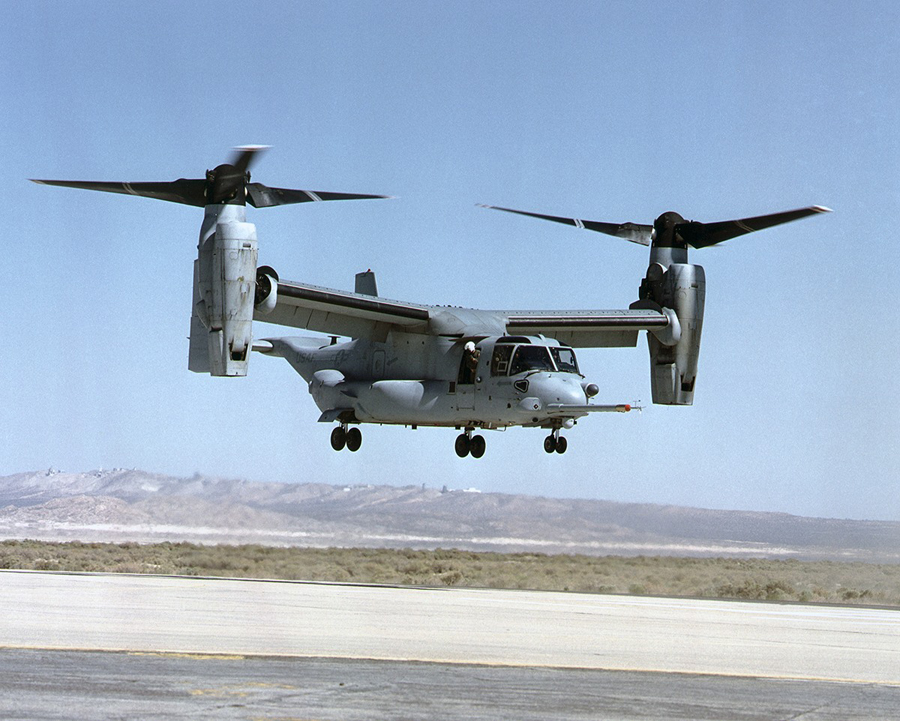 Nov. 20, 2000: The second Bell-Boeing CV-22 Osprey arrived at the Flight Test Center for the start of developmental flight testing.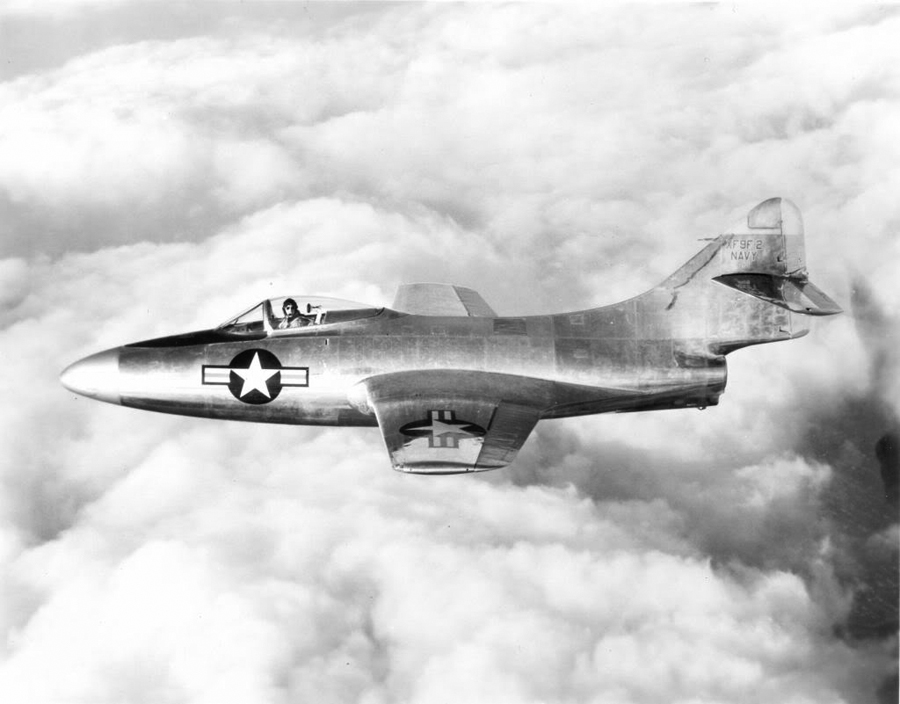 Nov. 21, 1947: The first prototype Grumman XF9F-2 Panther, with test pilot Corwin "Corky" Myeyer, made it first flight. The aircraft took off from Grumman's airfield at Bethpage, N.Y., before landing at Idlewild Airport (now Kennedy Airport).
The XF9F-2 Panther was the first jet-powered aircraft to be built by Grumman, a major supplier of aircraft for the U.S. Navy. It was a single-seat, single-engine, day fighter, designed for operation on the U.S. Navy's aircraft carriers. It was developed from a proposed four-engine XF9F-1 night fighter.
The F9F Panther was flown during the Korean War by such famed naval aviators as Ted Williams, and future astronauts John Glenn and Neil Armstrong. Grumman built 1,358 F9F-2,-3,-4 and -5 Panthers and another 1,392 swept wing F9F-6, -7 and -8 Cougars. Panthers remained in service with the United States Navy until 1958, and Cougars until 1974. From 1952 to 1954, Meyer was head of Grumman's flight operations at Edwards Air Force Base, Calif.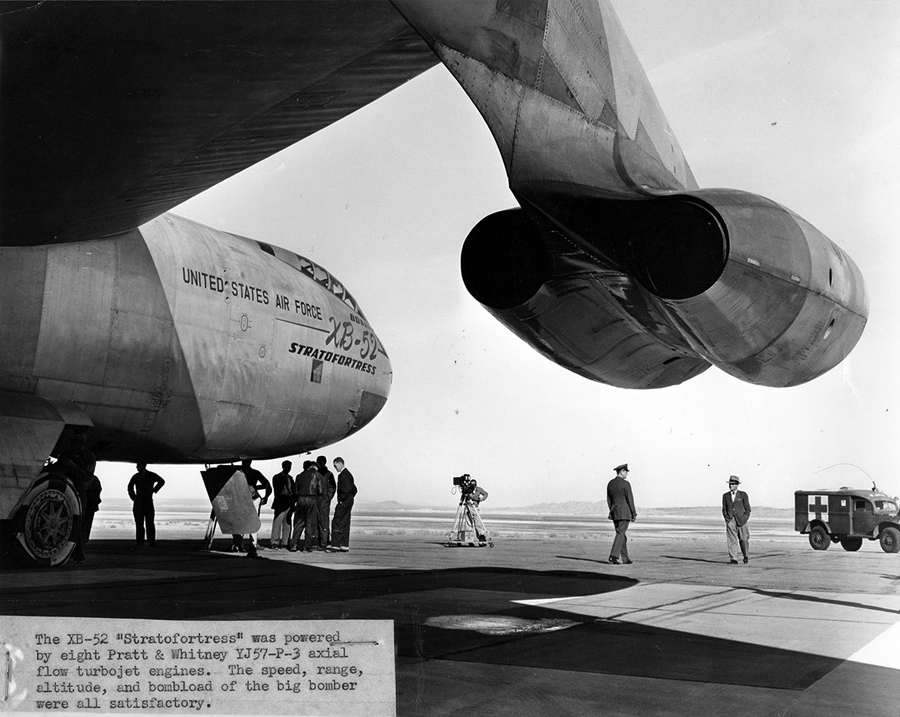 Nov. 21, 1952: The new XB-52 Stratofortress made its first arrival at the Air Force Flight Test Center, Edwards Air Force Base, Calif., for engine calibration and thrust measurement prior to Phase II evaluation. The new intercontinental bomber had made its first flight on April 15, 1952, in Seattle, Wash.

Nov. 21, 1970: Operation Kingpin was a mission to rescue 61 American prisoners of war at the Son Tây Prison Camp, 23 miles west of Hanoi, North Vietnam. There were more than 12,000 North Vietnamese soldiers stationed within five miles of the prison.
The ultra-secret mission was carried out by 56 U.S. Army Special Forces soldiers and 98 airmen aboard 28 aircraft.
Months of intelligence gathering, mission planning and meticulous training preceded the mission. Personnel were selected from more than 500 volunteers. Training was conducted at Duke Field, an auxiliary field at Eglin Air Force Base, Fla. A full-size replica of the prison was constructed, and live-fire training was conducted. Aircraft formations flew day and night, following the precise courses and distances that would be flown during the actual mission.
Two Lockheed C-130E(I) Combat Talons (a special operations variant of the four-engine Hercules transport), call signs Cherry 01 and Cherry 02, each led a formation of aircraft for the raid. The assault group, consisting of a Sikorsky HH-3E Jolly Green Giant, call sign Banana01, and five Sikorsky HH-53B/C Super Jolly Green Giant helicopters (Apple 01-05) carried the Special Forces team.
The second formation was a strike group of five Douglas A-1E Skyraiders (Peach01–05) for close air support. The Combat Talons provided navigation and communications for their groups and illumination over the prison.
Because there was insufficient room to land a helicopter within the prison, it was planned to have Banana 01, flown by Maj. Herbert D. Kalen and Lt. Col. Herbert R. Zehnder, and carrying a 14-man assault team, Blueboy, crash-land inside the perimeter.
The Special Forces soldiers were tasked to locate and protect the prisoners and to kill any guards that might interfere. The larger helicopters first fired on the guard towers with their miniguns and then landed their soldiers outside the prison. The A-1 Skyraiders bombed and strafed nearby foot and vehicle bridges to stop reinforcements from making their way to the prison.
Once inside the prison, it was quickly discovered that there were no American POWs there. The assault forces then withdrew. The total time from the beginning to the end of the assault was just 26 minutes.
One American soldier suffered a gunshot wound to the leg. The crew chief of Banana 01 broke an ankle when it was hit by a falling fire extinguisher during the crash landing. As expected, Banana 01 was written off. Between 100 and 200 North Vietnamese soldiers were killed.
During the withdrawal from the area, North Vietnam fired more than 36 surface-to-air missiles at the aircraft. None were hit, though one Republic F-105G Wild Weasel, 62-4436, call sign Firebird 05, was damaged by a near miss.
This aircraft ran out of fuel just short of its tanker rendezvous and the crew bailed out over Laos. They were rescued by Super Jolly Green Giants Apple 04 and Apple 05, after they had been refueled by an HC-130P Combat Shadow, Lime 02.
Although meticulously planned and carried out, the mission failed because the POWs had been moved to Camp Faith, another prison camp closer to Hanoi. Three days after the raid on Son Tây, they were again moved, this time to the infamous Hanoi Hilton.

Nov. 22, 1944: At Lindbergh Field, San Diego, Calif., a brand new Consolidated Vultee PB4Y-2 Privateer took off on its first test flight. A company crew of six men were aboard. Shortly after takeoff at 12:20 p.m., the left outboard wing of the airplane separated.
The airplane immediately went out of control and crashed near a residential area in Loma Portal, a short distance west of the airfield. The wing panel struck the roof of a house at 3121 Kingsley Street. All six crew members were killed. The house was occupied but there were no persons injured inside.
The wing section was recovered, and the cause of the separation was quickly discovered. 98 of the 102 bolts which secured it to the inner wing section had never been installed. Two workers who were responsible for installing these missing bolts, and two inspectors who had signed off the work as having been properly completed, were fired.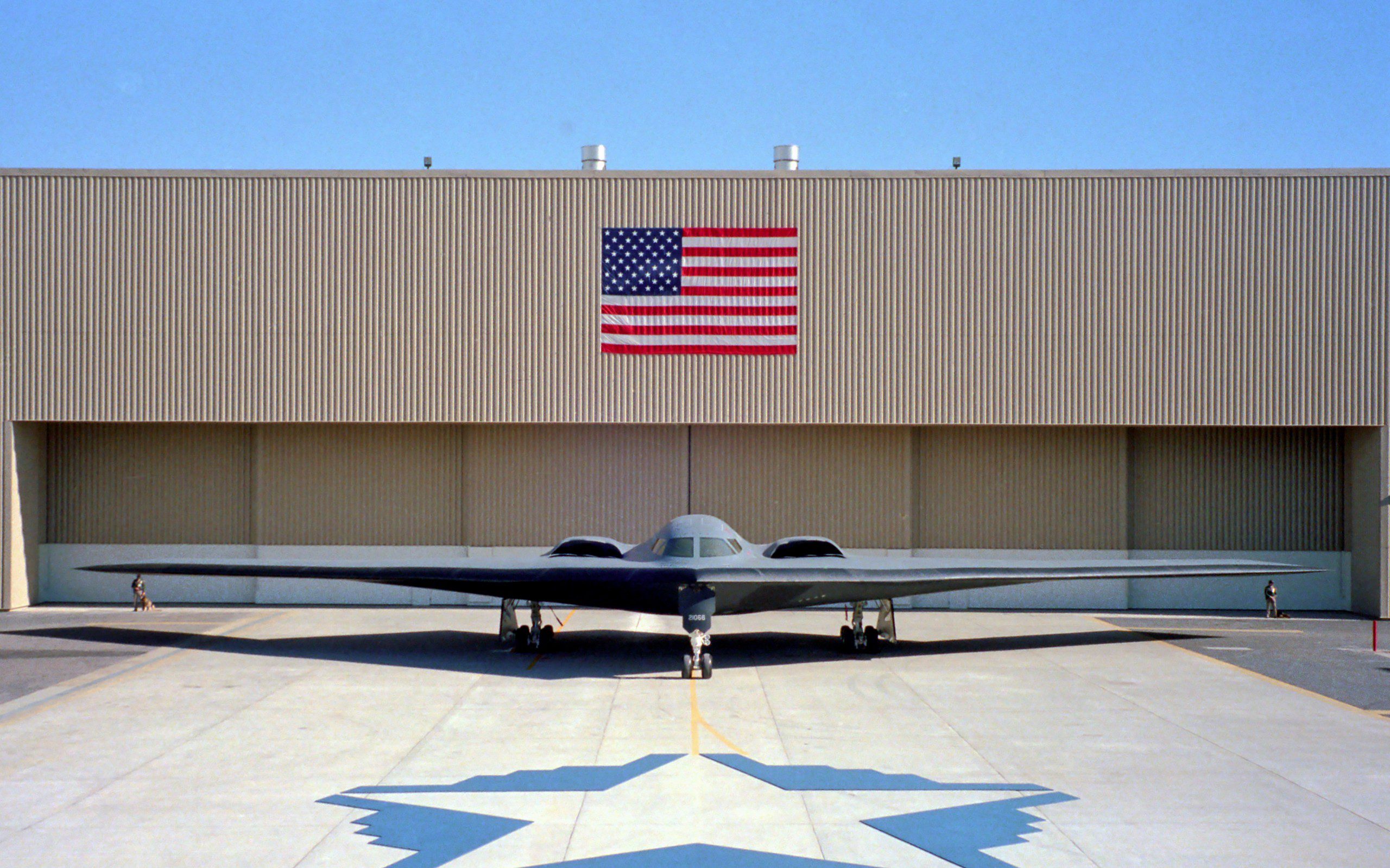 Nov. 22, 1988: The B-2 Spirit bomber was first publicly displayed at U.S. Air Force Plant 42 in Palmdale, Calif., where it was assembled. This viewing was heavily restricted, and guests were not allowed to see the rear of the B-2.
However, Aviation Week editors found that there were no airspace restrictions above the presentation area and took aerial photographs of the aircraft's then-secret rear section with suppressed engine exhausts. The B-2's (s/n 82-1066/AV-1) first public flight was on July 7, 1989, when it flew from Northrop's Palmdale facility to Edwards Air Force Base.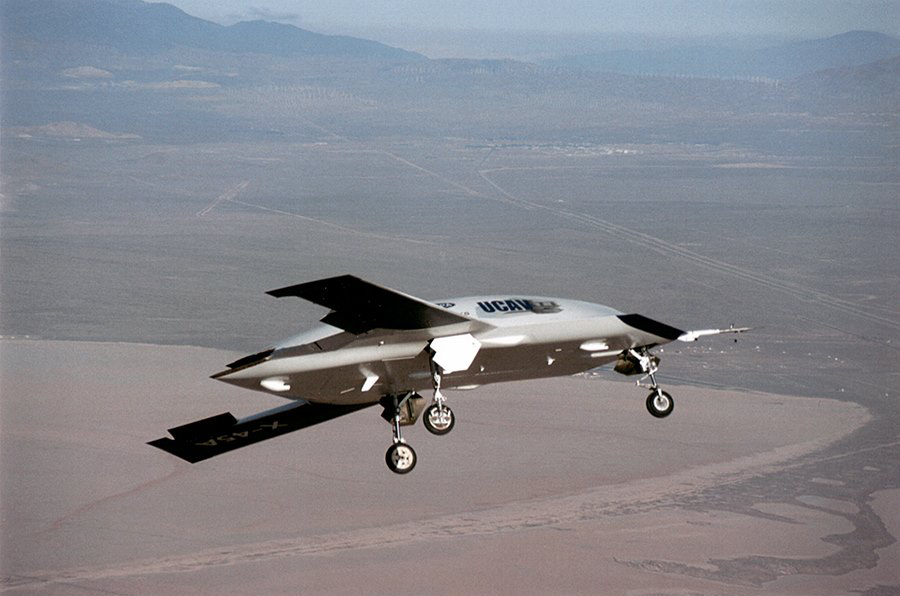 Nov. 22, 2002: The second Boeing X-45A unmanned combat air vehicle successfully completed its first flight, a 30-minute autonomous sortie. After the completion of the flight test program, both X-45As were sent to museums, one to the National Air and Space Museum, and the other to the National Museum of the United States Air Force at Wright-Patterson Air Force Base, where it was inducted on Nov. 13, 2006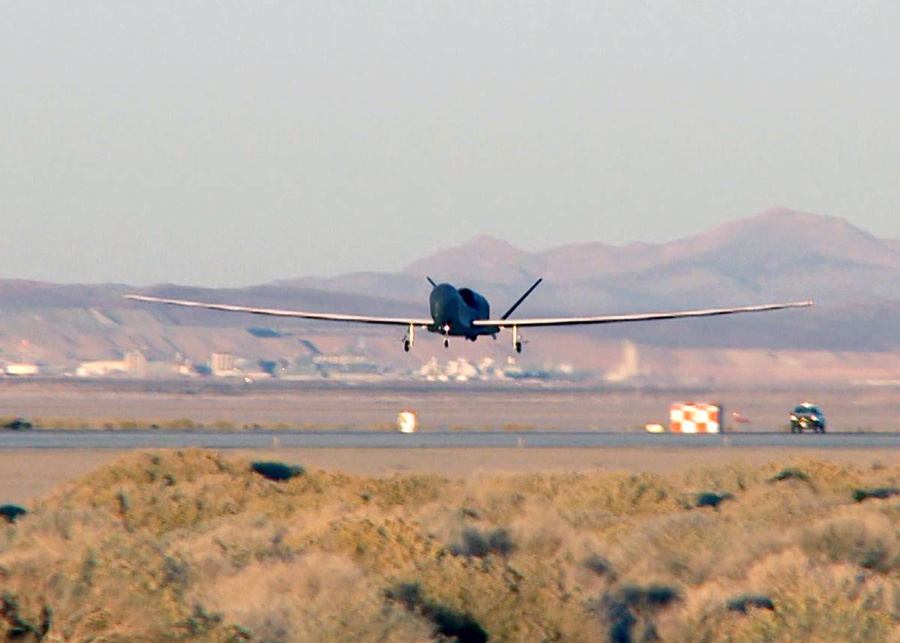 Nov. 22-23, 2010: An RQ-4 Global Hawk unmanned aerial vehicle accomplished a 32-hour flight test powered by the Fischer-Tropsch Synthetic Paraffinic Kerosene fuel along with regular JP-8 fuel. The 412th Test Wing's Global Vigilance CTF's Block 20 Global Hawk lifted off at 4:30 p.m., 22 November, and became the first UAV to fly using the Fischer-Tropsch Synthetic Paraffinic Kerosene fuel.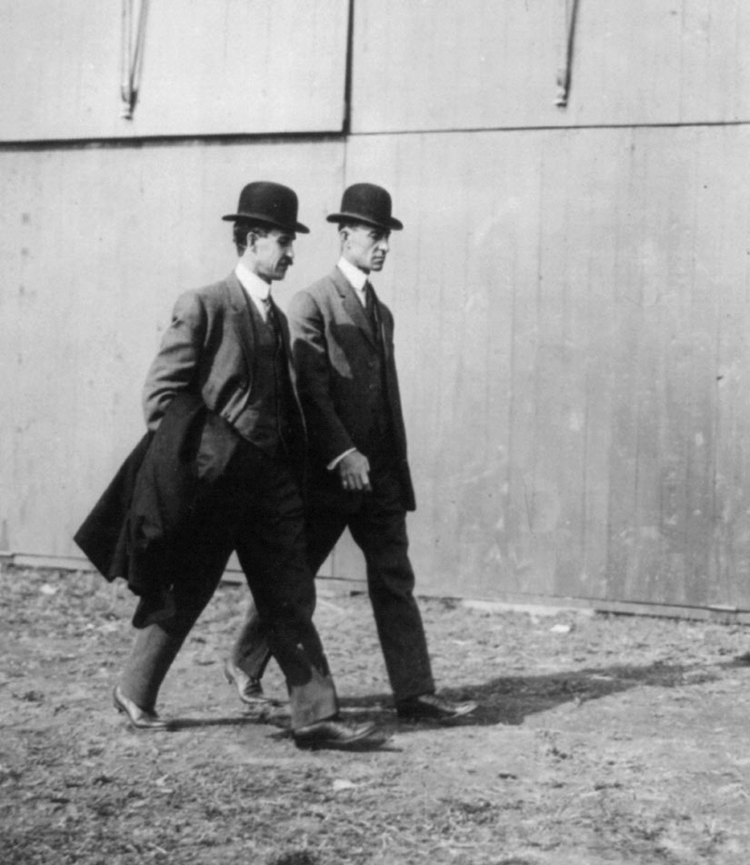 Nov. 23, 1909: Wright Brothers form a million-dollar corporation to manufacture airplanes. The Wright Company was established in conjunction with several prominent industrialists from New York and Detroit. Company headquarters were in New York City, and its factory was in Dayton, Ohio. In 1929, it merged with the company founded by Glenn Curtiss, to become Curtiss-Wright, a business still in existence today.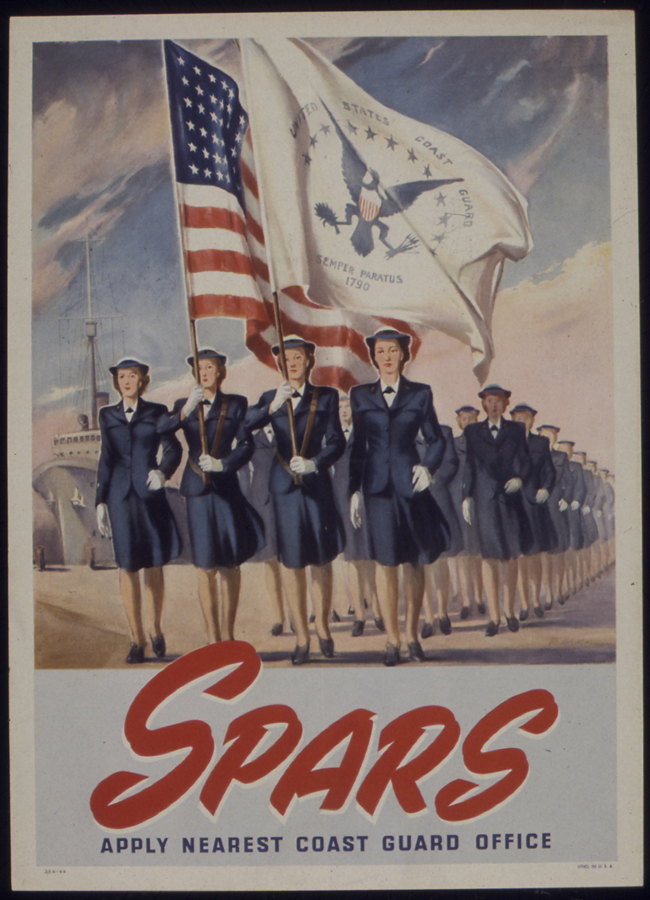 Nov. 23, 1942: President Roosevelt signed legislation authorizing the establishment of a women's coast guard auxiliary, called the SPARS. The organization relieved officers and men for duty at sea by replacing them with women in shore establishments.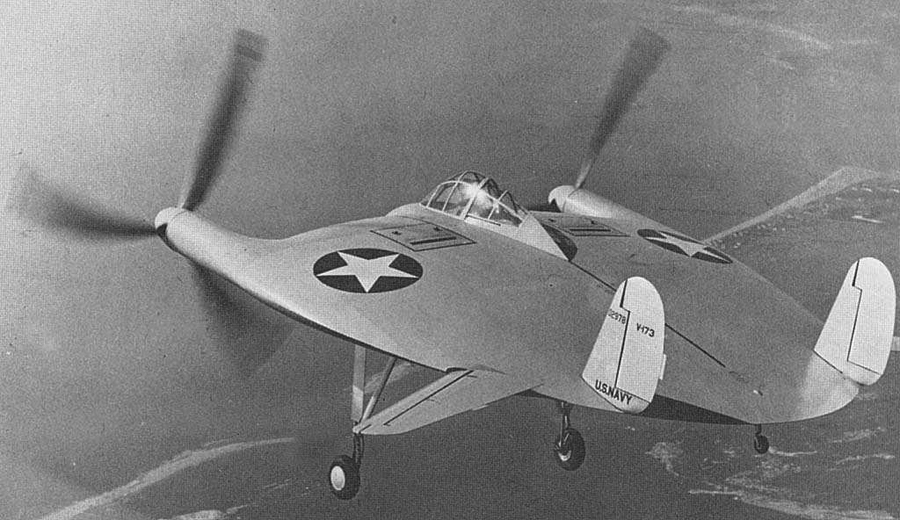 Nov. 23, 1942: The Vought V-173 "Flying Pancake," with Vought Chief Test Pilot Boone Guyton as the controls, made its first flight. The V-173 featured an unorthodox "all-wing" design consisting of a flat, somewhat disk-shaped body serving as the lifting surface. Two piston engines buried in the body drove propellers located on the leading edge at the wingtips. The developmental V-173 made its last flight March 31, 1947. In 131.8 hours of flying over 190 flights, designer Charles Zimmerman's theory of a near-vertical takeoff- and landing-capable fighter had been proven.
This project would be improved upon including the addition of potential armament with the Chance Vought XF5U. This project would improve on many of the weaknesses discovered during the testing of the V-173 prototype.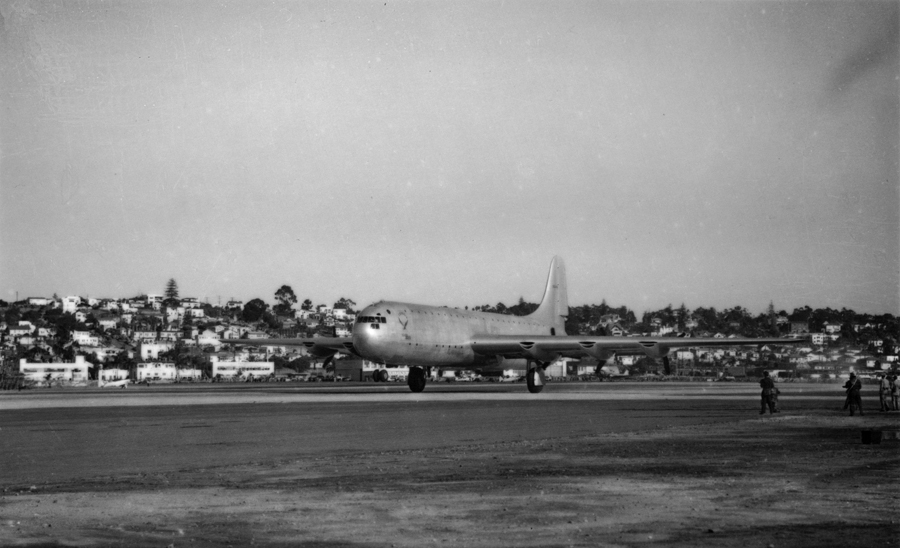 The Convair XC-99 made its maiden flight in San Diego, Calif. The XC-99 was a prototype heavy cargo aircraft built by Convair for the U.S. Air Force. It was the largest piston-engine land-based transport aircraft ever built and was developed from the Convair B-36 Peacemaker bomber, sharing the wings and some other structures with it.
After testing it was delivered to the Air Force on May 26, 1949. The Convair Model 37 was a planned civil passenger variant based on the XC-99 but was not built. The Air Force determined that it had no need for such a large, long-range transport at that time, and no more were ordered. The sole XC-99 served until 1957, including much use during the Korean War.
It made twice weekly trips from Kelly Air Force Base, Texas, to the aircraft depot at McClellan Air Force Base, Calif., transporting supplies and parts for the B-36 bomber while returning by way of other bases or depots making pick-ups and deliveries along the way. During its operational life, the XC-99 logged over 7,400 hours total time and transported more than 60 million pounds of cargo. The aircraft made its final flight March 19, 1957.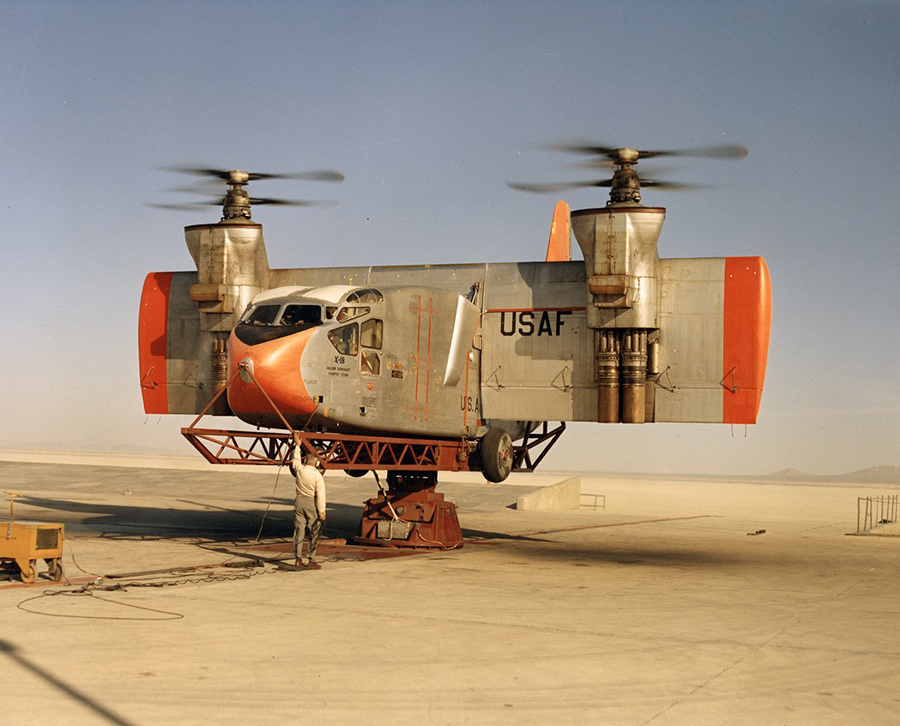 Nov. 24, 1959: The Hiller X-18 V/STOL (vertical/short takeoff and landing) test vehicle made its first actual flight (above 14'), a conventional takeoff piloted by George L. Bright and Bruce Jones. The X-18 was a tilt-wing proof-of-concept vehicle powered by two Allison VT40-A-14 turboprop engines driving contra-rotating propellers. It was designed to explore V/STOL properties in cargo-type aircraft.
For more on the X-18, visit https://www.aerotechnews.com/blog/2021/07/25/hiller-x-18-tiltwing-transport-aircraft-built-from-scavenged-parts/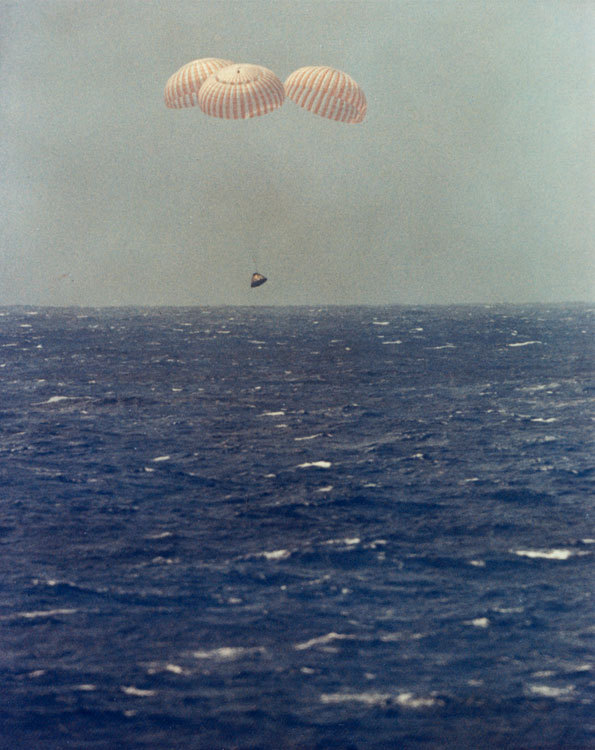 Nov. 24, 1969: The Apollo 12 command module Yankee Clipper, carrying astronauts Charles "Pete" Conrad, Jr., Mission Commander; Richard F. Gordon, Jr., Command Module Pilot; Alan L. Bean, Lunar Module Pilot; landed in the Pacific Ocean approximately 500 miles east of American Samoa.