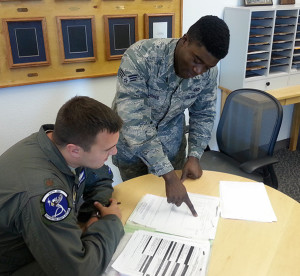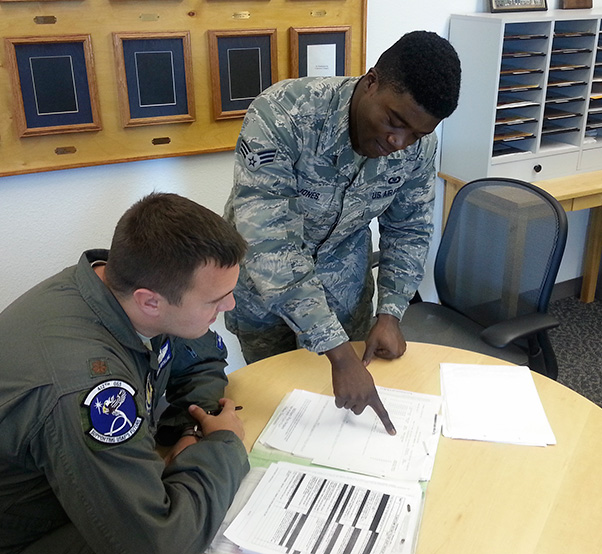 Senior Airman Ronald X. Jones
Aviation Resource Management journeyman
412th Operations Support Squadron
Job description and its impact on the overall mission:  My job description is to input, audit and validate all flying hours and training. I also maintain control and accountability of all flight and parachutist records. Our squadron and host Aviation Resource Management offices here at Edwards support all missions on the ground and in the sky through these processes.
Time in the military: Six years and seven months
Time at Edwards AFB: Six years and two months
Hometown: Miami, Fla.
Hobbies: Gym, traveling, photography
Why did you join the military? I initially joined the military for self-discipline and structure, to travel and for educational benefits.
Where do you see yourself in 10 or 20 years?  In 10 years I see myself with my Ph.D. in behavioral psychology and hopefully starting a family.
What do you do for fun here? I like to go sightseeing in nearby cities like Los Angeles, San Diego, Las Vegas, etc. I like to go hiking and visit museums.
What's your favorite Air Force memory or story?  My favorite Air Force memory would have to be meeting the two members of the world famous "Tuskegee Airmen" at the 2009 Edwards AFB Airshow.
What accomplishments are you most proud of?  One of my greatest accomplishments would have to be receiving the Air Force Materiel Command "Outstanding Aviation Resource Manager of the Year" award in the Airman category.
Who is your role model? My role model would have to be my mom who is a selfless giver, dedicated listener and my constant motivator. Also, Senior Master Sgt. Stokes who has a tremendous amount of job knowledge in our career field and promotes a fair, by-the-AFI-mentality.
How does your job help support the test and evaluation mission here at Edwards?  My job helps support the test and evaluation mission here at Edwards by simply taking care of our aircrew. We verify that all aircrew members are trained on all aircraft procedures before leaving the ground. Once they are trained, we schedule flights based on the mission and qualified aircrew. Once our aircrew members have landed we ensure timely input of all training and flight data.
What is your dream job and why?  My dream job would be me owning my own therapy practice (office) somewhere near a beach.
What do you like most about Edwards? The thing I like most about Edwards is the location of the base. The base is located smack in the middle of multiple major cities, just a few hours away.
If you won a million dollars, what is the first thing you would buy?  The very first thing I would buy is a house for my mother.
What distinguishes Senior Airman Jones from his/her peers? 
"Senior Airman Ronald X. Jones is extremely involved in both the Air Force and local community. He is the treasurer of the Edwards Air Force Sergeants Association chapter and has been exceedingly praised for his hard work and commitment to the organization for more than a year now. He has raised and distributed $3,000 for five AF-wide events aimed at heightening knowledge of Air Force changes. Jones is also the president of the Friends of the Airman and Family Readiness team and was presented with a letter of appreciation by Brig. Gen. Carl  Schaefer, 412th Test Wing commander, for his extraordinary efforts and contributions within that organization. His leadership enabled the organization to provide critical support tools and family functions for the families of EAFB's deployed members.
Jones is a positive and charismatic Airman to have within the unit. He always has a smile on his face and never shy's away from a difficult work load, he handled the HARM shop during a four-month manning shortage ensuring the mission never missed a beat. He continues to impress, both in and outside of the uniform, everyone that he meets and works with, making him vital to his shop, career field and to our Air Force. This distinguishes him from any other senior airmen I know." -Staff Sgt. Alisha Sarginger, supervisor