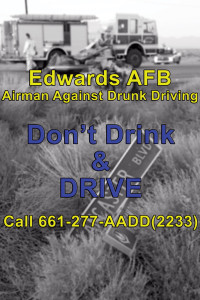 Edwards cares about the safety of its Airmen both on and off duty.
The Airman Against Drunk Driving program reduces drunk driving at Edwards AFB and in surrounding communities by offering people a safe, free, and anonymous alternative.
Safe rides are offered to both military and DOD civilians.
Individuals can call 661-277-AADD or 661-275-AADD to request a ride.
The individual will not have to provide name, organization or rank; it is completely anonymous.
AADD provides service 24 hours/seven days a week.
The areas serviced include Edwards, Rosamond, Lancaster, Palmdale, California City, Tehachapi, Mojave and North Edwards.
Anyone can also volunteer to become a designated driver, military and civilian.
Volunteer drivers will need to provide a good contact number, area(s) they are willing to respond to, and the name of the city in which they live.
If you would like to volunteer, call Senior Airman Kenneth Park at 661-277-2162 or email kenneth.park.3@us.af.mil. You can also contact Senior Airman Anthony Tressler at anthony.tressler@us.af.mil. When emailing, provide your name, phone number, residence location, as well as the cities you would be willing to drive to. The goal is to call volunteers according to their preferences.
Call 661-277-3040 for any questions. DON'T DRINK AND DRIVE. If you need a ride call 661-277-AADD(2233).