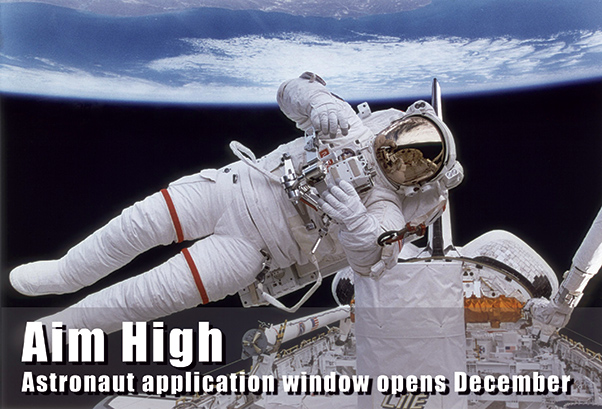 Eligible active duty officers and enlisted members interested in astronaut duty can submit an application package to NASA via the USAJobs [https://www.usajobs.gov] website between Dec. 15 and mid-February, 2016.
Interested Airmen must also submit a separate application package to the Air Force Astronaut Nomination Board using criteria and application instructions spelled out on the myPers website.
To be eligible, active duty officers and enlisted members must be United States citizens, and must hold a bachelor's degree or higher from an accredited institution in engineering, mathematics, biological science or physical science.
"The quality of academic preparation is critical," said Maj. Michael Jungquist, Air Force Personnel Center Operations Staff and Special Duty Career Management Branch chief. "Astronaut candidates are challenged intellectually and physically, so applicants must ensure they are prepared for the challenge."
Following degree completion, members must have had at least three years of progressively more responsible professional experience or at least 1,000 hours as pilot-in-command of a jet aircraft (for pilots).
An advanced degree is desirable and can be substituted for experience, Jungquist said. Applicants must also have a current flying class II physical (completed on or after Aug. 31, 2015), and meet the medical standards described in AFI 36-2205, "Applying for Flying Training, Air Battle Manager, and Astronaut Programs."
Applicants selected for the candidate positions will enter a two-year training and education program, Jungquist said. After the two years, trainees who are selected for the astronaut program will serve a five-year tour with NASA.
The USAJobs astronaut candidate application window is open Dec. 15 through mid-February, and the military application deadline is Feb. 29, 2016. The nomination board will convene in late March and the medical screening panel is expected to convene in early April. NASA officials will announce the selection results in May 2017 and selectees will report to NASA beginning in August 2017.
Complete application procedures and package requirements are available at https://gum-crm.csd.disa.mil/app/login/redirect/home/session/L3RpbWUvMTQ0ODMwMDI3OS9zaWQvM2VVLWZlQ20=.