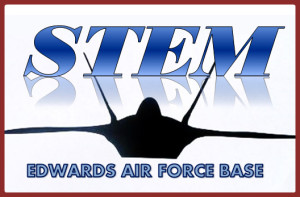 The U.S. Air Force recognizes the critical role that Science, Technology, Engineering and Mathematics education plays in enabling the U.S. to remain the economic and technological leader of the global marketplace, and enabling the Department of Defense and Air Force in the security of the nation.
Being the world's greatest Air Force is not a birthright; the force has technical workforce challenges to overcome with declining "homegrown" talent from the U.S. educational system and world-wide competition for STEM talent.
One of the ways Edwards sustains its heritage of technological superiority is through STEM-related programs that inspire current and future generations of young people to pursue careers in STEM fields.
Humberto Blanco, 412th Plans and Programs deputy director, took on the volunteer role of STEM coordinator for the base last May. Now, he's asking others at Edwards to follow his lead in volunteering to do STEM outreach in the Antelope Valley.
The STEM initiative at Edwards reaches out to K-12 students in the Antelope Valley and is expanding to Helendale, San Diego and UCLA according to Blanco. Volunteers do not need to have any specific set of skills, just a desire to work with students and a passion for STEM.
Opportunities for volunteers range from judging robotics competitions, attending career fairs and guest speaking in local classrooms. One up-coming robotics competition is Dec. 12 and will require judges, referees and security personnel. All volunteers will receive training for the job.
Blanco is also looking for volunteers for the, "UAV Challenge" slated for June 13-17, 2016, where students will compete with hexacopters.
According to Blanco, active duty and DOD civilian employees can use a limited number of duty hours for STEM volunteer efforts with supervisor approval.
"If you take three hours of your time during work, those three hours will be paid to you; you don't have to take them as leave, or sick leave. They will be accounted for as part of your duty hours," said Blanco.
The most urgent need right now, according to Blanco, is to support the day-to-day learning that is taking place in schools throughout the Antelope Valley.
Guest speakers don't have to be engineers – they just have to be willing to share how STEM education relates to their career.
"When you talk about STEM, most people relate that with robotics and that is the 'in thing' right now, but I'm hoping to expand that. I'm looking into math, I'm looking into the sciences," said Blanco.
"The kids want to hear what you have to say. They get excited to see things getting blown up, things flying around, people turning wrenches, they like that. And if we're able to provide them with that, I think it will be a great opportunity for us as an Air Force and to our future leaders."
In addition to providing volunteers for local efforts, Blanco is able to secure Air Force funding for STEM equipment in local programs. The funds may also be used to pay for registration into STEM events where needed.
"[STEM is something] I have always been very interested in. I really like to talk to the kids. I like to provide them with insight into a future that could very well be theirs. Not necessarily to paint them a rosy picture, but to provide them with guidance to alternatives that are out there; alternatives that will make a better life for them and their family. There's a huge need for [STEM volunteers] and to me it is a very rewarding effort."
To read more about STEM programs at Edwards, visit the base website at http://www.edwards.af.mil/stem/index.asp. If you're interested in volunteering, call Humberto Blanco at 661-275-9208; or email humberto.blanco@us.af.mil.