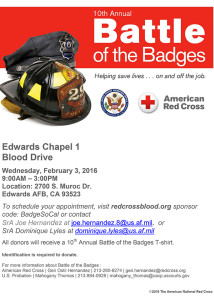 The biggest American Red Cross blood drive of the year is approaching quickly.
The 10th Annual Battle of the Badges is Feb. 3, from 9 a.m. to 3 p.m. in the Chapel 1 Annex. All donors will receive a 10th Annual Battle of the Badges t-shirt. Identification is required to donate.
To schedule an appointment visit www.redcrossblood.org and use sponsor code BadgeSoCal,or contact Senior Airman Joe Hernandez at Joe.hernandez.8@us.af.mil; or Senior Airman Dominique Lyles at Dominique.lyles@us.af.mil.