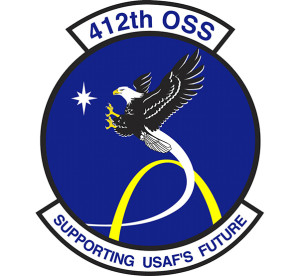 Edwards Air Force Base is located on a desert plateau, at an average of 2,400 feet above sea level bounded on three sides by mountain chains.
These chains have a significant effect on local weather. During the winter season, Edwards can still expect its fair share of winter weather.
For most of the winter season, the Pacific high dominates the weather in the area. On average, this weather pattern provides Edwards with the best possible winter weather forecast. The northeasterly flow from the Pacific high brings cool, dry air to the area. Clear skies, unrestricted visibility, and very light surface winds are the result. Occasionally, the winds near the surface are from the northeast and reach 20-30 knots or more. Typically, the Pacific high maintains itself for 4-7 days before an approaching cold front forces it to shift eastward.
Nearly all rainfall that Edwards receives on an annual basis occurs during the winter and is a direct result of migratory low pressure systems and associated cold fronts traversing the area from the west or northwest. Due to our mountainous terrain, cold fronts tend to have little moisture left by the time they reach the high desert; however, low clouds, precipitation, and strong winds do and can occur when migratory low pressure systems move through the area. On rare occasions snow occurs at Edwards, giving the base an annual snowfall of 1.4 inches a year.
Average high temperatures are 56 to 62 degrees Fahrenheit and average lows are 29-34 degrees Fahrenheit. Temperatures do vary and can fall between the winter extremes of four degrees and 84 degrees. Wind also affects the apparent air temperature. Applied to our local climatology, wind chill can decrease the actual temperature by up to 31 degrees, depending on the actual air temperature and wind speed.
Visit https://weather.dfrc.nasa.gov/index.html for a multitude of weather information including the latest Edwards AFB forecast, observations, climatology, current weather satellite images and wind data from various locations and sources on base. You can also find current recorded weather forecasts via phone at 661-277-2840, which is updated twice daily Monday-Saturday.