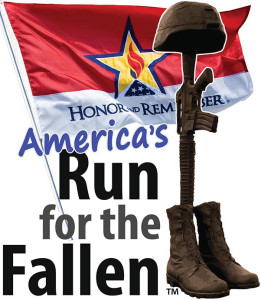 Senior Master Sgt. Paul Valenzuela, Senior Master Sgt. Jared Currie and Master Sgt. Joshua Mullen are working to setup the SoCal Run for the Fallen.
The Run for the Fallen started in 2008 with a team of runners running across America to remember each service member that gave the ultimate sacrifice during Operation Iraqi Freedom.  Each year since, runners from around the world have joined in remembering the fallen. More than 50,000 participants and 200,000-plus miles have been collectively run in remembrance of those that gave their lives.
The mission during the SoCal Run for the Fallen is to raise awareness for the lives of California service members who have fallen post 9/11 to rejuvenate their memories, keep their spirits alive, support organizations that aid California Gold Star Families, and assist in the healing process for those families whose lives have been affected.
Sept. 23-25, a team of runners will embark on a 185-mile run through Southern California.
 At each mile, the run teams will place an American flag with a personal biographical card for each of the fallen California service members.  Each mile ran and each flag saluted will pay homage to those who gave the ultimate sacrifice and to the families they left behind.  The intent is to create a 185-mile long memorial trail through Southern California, adding a local 5K for people that would like to join in remembering the fallen but cannot commit to the longer duration of full event.
We are looking for committee leads for sponsoring/fundraising, closing ceremonies and media, as well as runners and sponsors for the event.
Runners will be running approximately 60 miles each day. We will need a minimum of 60 runners (10 teams of two per day) each team running six mile legs.  We also need a dedicated team of six to follow the runners. This team would be backup for the runners in the event people fall out, don't show, or are not able to maintain the 10-minute mile pace.
If you or someone you know would like to head a committee or be a runner, or for more information, call 661-277-6886.