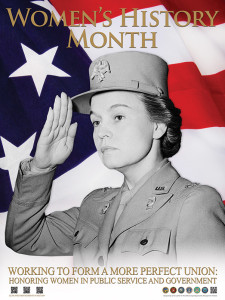 As we close out Women's History Month, a few more facts about women's history for your enrichment.
To gain further understanding of the impact these women had in history, a link regarding the fact is provided.
In 1974, the people of Connecticut elected Ella Tambussi Grasso as their governor. In doing so, Grasso became the first woman to be elected to the position of governor in the United States. She chose to run for the position after a long career in public service and won the election based on her life-long dedication to effective government and the democratic process.
In March of 1999, following several deployments and service in Operation Desert Shield and Desert Storm, Adm. Michelle Howard became the first African-American woman to command a ship in the U.S. Navy aboard the USS Rushmore. In July of 2014, Howard became the 38th Vice Chief of Naval Operations.
Dr. Nancy Grace Roman is one of the greatest American astronomers of this century. She set an example for women everywhere when she broke into a career field that was largely dominated by men at the time. Often called the "Mother of the Hubble," Roman was instrumental in developing innovative concepts in the ongoing expansion of the space program.
Sandra Day O'Connor was only 22 years old when she graduated at the top of her class at Stanford Law School. As a woman, it was difficult to get a job as a lawyer and she was only offered positions as a legal secretary. After working abroad for several years and starting a family, she was able to get a job as an assistant to the Arizona attorney general and later appointed to replace the state senator. In 1981, President Ronald Reagan appointed O'Connor to serve on the U.S. Supreme Court, making her the first female justice in the court's 191-year history.
Betty Mae Tiger Jumper is known among Native American women as the first of her tribe to graduate from high school, read and write English, and learn modern medicine as a nurse. Jumper was later elected to be chief of the Seminole Tribe, thus becoming the first female chief of a federally recognized tribe in America.
Inez Milholland Boissevain gave her life working for the Women's Suffrage Movement. Milholland was a lawyer who also fought for the rights of working class women, spoke out for racial equality, and worked for prison reform. In 1913, she helped plan the Woman Suffrage Parade in Washington, D.C., and she famously led the parade wearing a cape and crown atop a white horse.
Vice Adm. Sandra L. Stosz is a highly respected leader in the U.S. Coast Guard. As the deputy commandant for Mission Support, Stosz handles a diverse set of responsibilities to support a 17,000-person organization. Since her appointment in June of 2015, she is responsible for any and all facets of support relating to the Coast Guard's mission.
Having lost her parents at a young age, Eleanor Roosevelt was able to understand social conditions better than most of her predecessors when she and FDR moved into the White House in 1933. She was known to greet everyone with grace and friendliness and frequently organized her own press conferences, lectures, and radio broadcasts. After the death of FDR, she continued her career and became the American spokesperson in the United Nations.