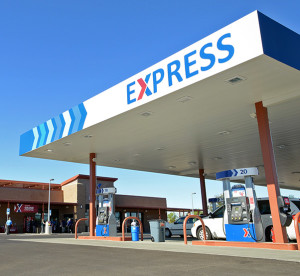 The Army & Air Force Exchange Service is giving military shoppers a reason to look forward to Tax Day by doubling the discount MILITARY STAR cardholders receive on gas.  
From April 15 through April 17, drivers fueling up with a MILITARY STAR card at Edwards AFB gas stations will receive 10 cents off per gallon instead of the everyday 5-cents-per-gallon discount.
"To take some of the stress out of filing taxes, we're giving shoppers an extra reason to come on the installation to discover what the Edwards AFB Exchange has in store this spring," said Charles Eaves, Exchange general manager. "The extra savings at the pump are just one way the Exchange gives back to the military community."  
When drivers use their MILITARY STAR card at the pump, they'll also earn points as part of the new rewards program, which launched this fall. Cardholders earn 2 points for every $1 spent in Army, Air Force, Marine Corps and Navy exchange stores, and wherever else the MILITARY STAR card is accepted. For every 2,000 points earned, shoppers will automatically receive a $20 rewards card.
Every day, shoppers benefit from paying with their MILITARY STAR card. Besides the usual 5-cents-per-gallon discount on gas purchases, cardholders enjoy a 10 percent discount on all Exchange food court purchases year-round and free standard shipping at www.shopmyexchange.com.
For information about the features and benefits of the MILITARY STAR card, shoppers can visit www.MyECP.com.