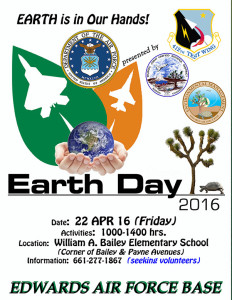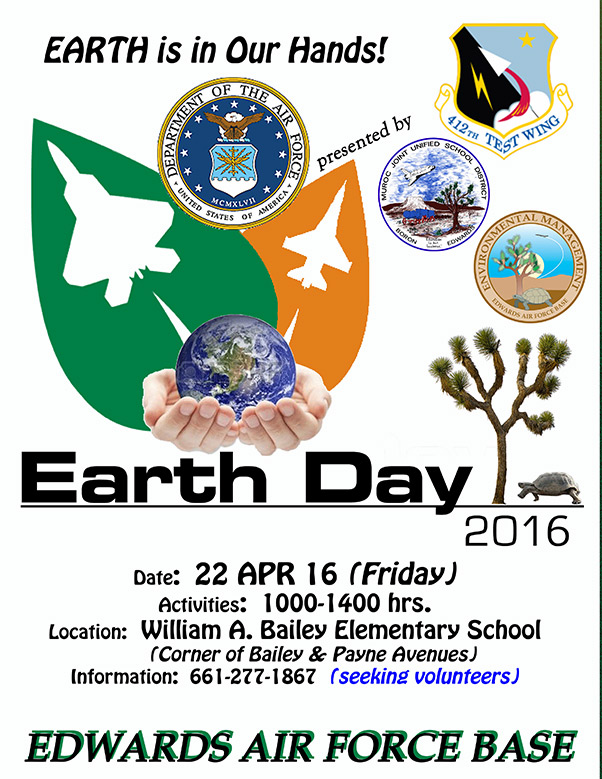 Edwards AFB will celebrate Earth Day April 22 and this year's theme is "Earth is in Our Hands."
The theme for this years' celebration was chosen by school children on base.
The event this year is an elementary student-focused event but is also open to all. It will take palce 10 a.m-2 p.m. at the William A. Bailey Elementary School on the corner of Bailey and Payne Avenues.
The event is hosted by the 412th Civil Engineer Group, Environmental Management Division, in partnership with the Muroc Joint Unified School District.
The day includes a variety of activities showing how our hands can both help and hurt the Earth.
Activities include learning from yesterday's debris in an archeological excavation site, ways to conserve resources (vanpool and alternate energy vehicle transportation), and how the environment is impacted from the law enforcement and firefighting perspectives.
Other activities include water conservation, recycling and trash analysis, hazardous material awareness, hazardous waste precautions, nitrogen ice-cream, solar power, wildlife conservation, and how to live with wildlife in our backyards. There will also be a live desert tortoise (or two), snakes and some static wildlife friends, as well as Natural, Cultural and Environmental Compliance displays.
Activities are sponsored by our Edwards team and many commercial sponsors, schools and organizations that support the Edwards community from outside our military community. The school children will also show their individual thoughts on Earth Day with a poster contest.
Volunteers are welcome. For more information, call 661-277-1867 or email linnea.norby@us.af.mil.