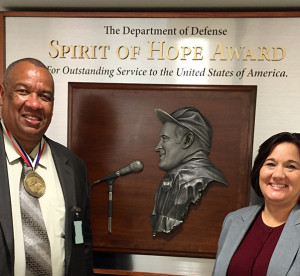 Timothy Bryant, Space Positioning Optical Radar Tracking operations chief, 412th Operations Support Group, Edwards Air Force Base, Calif., was one of five people honored by the Department of Defense as a recipient of the 2016 Spirit of Hope Award, which is given for exemplary service and support to the troops.
Bryant was among five people from the U.S. Armed Forces and one organization recognized Sept. 28, 2016, at a ceremony at the Pentagon in Washington, D.C. Deputy Defense Secretary Bob Work spoke at the ceremony and said the recipients of this year's Spirit of Hope Award are American heroes who have selflessly supported the troops around the world. They are true embodiments of the values of Bob Hope, the legendary entertainer for whom the award is named, he said.
Bryant was the Air Force's nominee for providing "unparalleled service to countless U.S. military veterans and the local community," according to the award announcement. "As the Veterans of Foreign Wars Post 3000 commander, Bryant superbly led the organization in more than $92,000 of fundraising programs supporting outreach assistance for over 12,500 veterans in Southern California. His effort directly saved 32 indigent veterans and their families from homelessness."
"It was a complete surprise to me," Bryant said. "I had no idea that I was nominated for this prestigious award until our unit, the 412th OSS, was notified by Headquarters, Air Force Materiel Command that I was the AFMC-level winner.  Then when I was told that I was the Air Force winner of the DOD Spirit of Hope Award I was just amazed."            
Bryant said he never looked at winning an award for what he does.
"I felt as though something was calling me to make a difference and help those in need.  However, there are so many folks who helped make this award possible, and I would like to thank my wife, Sherree, and daughters, Anais and Regis, who supported and understood what I was doing and the hours involved."
He also thanked 412th OSS commander, Lt. Col. Mark Massaro; Frank Arnold, his supervisor; and friends Rykki Swenson and Larry Pratt, who also supported and understood the passion Bryant had in supporting veterans, their families and community. 
"Finally, is want to thank all veterans, past and present who provide me the inspiration and strength in helping those who need a hand."
Bryant said he and his brother and sister were taught by his parents the importance of giving back to the community and helping people in need. That continued through his college years and during his time in the Air Force.
The award's namesake, celebrity comedian and actor Bob Hope, brought his variety show to military camps and war zones across the globe to entertain troops for almost 50 years. Hope flew millions of miles, headlining 57 separate USO tours from World War II, the Korea and Vietnam wars, Operation Desert Storm and to installations around the world, most often during the Christmas season, Work said.