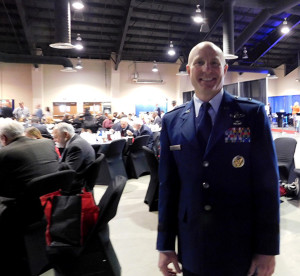 Brig. Gen. Carl E. Schaefer, commander of the 412th Test Wing at Edwards Air Force Base, Calif., spoke to a full house at the Antelope Valley Board of Trade's 45th Annual Business Outlook Conference Feb 24, and told the audience the U.S. Air Force is "fired" up about its future.
The theme for this year's conference was "Fire Up the Future."
He said the Antelope Valley and Edwards is a huge part of that. "Edwards is the birthplace of modern aviation," he said, "and it's the future of air power."
The general told those attending the conference that they are all a part of that future, he said everyone there has some personal connection to Edwards AFB, "Either you work there right now, or you've worked there in the past or you have a mom or a dad or a brother or a sister or a friend that has worked there, or you're supporting the people that work there either through your businesses or schools or universities," he said.
The general went on to say that he and the 12,000 folks that he represents at Edwards all thank the people of the Antelope Valley for their support of the Air Force.
He showed a video of Air Force air power and described a typical day in the Air Force. "The American Air Force is always there, our mission is global vigilance, global reach and global power," he said.
He explained global vigilance is the Air Force's capability to provide intelligence, surveillance and reconnaissance information to decision makers 24-hours a day, 7-days a week.
"Today, right now we are providing information on how we're going to target Syria, and Edwards is a big part of that," he said.
Global reach, he explained, is the Air Force's ability to move men, women, personnel and equipment across the globe all the time, 24/7.
The general explained global power as the Air Force's ability to hold target at risk across the globe, "Today we are dropping one bomb every 8 minutes over Syria, that's what the Air Force is doing in support of the fight against ISIS," he said.
The general talked about past military cuts and said the Air Force has been cut about 40 percent and said they are looking to build that back up.
He talked about the many on-going programs at Edwards and said their mission is test and their goal is to find the unknown.
"You have the finest Air Force on the face of the planet," he told the audience. "It is the envy of every other country in the world and it's made and kept so by the people of Edwards Air Force Base," he said.
Schaefer said flight test is the first step, "The future is on its way at hypersonic speed, we are the 412th Test Wing."