The 412th Medical Group Dental Flight at Edwards Air Force Base, Calif., is excited for its patients due to the arrival of new dental chairs, that were installed April 6, 2017.
Having operational dental chairs is a vital component in achieving the Dental Clinic's mission of providing dental readiness to Airmen so they are ready to fly, fight and win.
"The aging fleet of dental chairs at the Dental Clinic served the mission well for quite some time. However, their retirement was inevitable," said Maj. Tonya Barry, Dental Services chief. "The Air Force funded the significant purchase of 15 new A-dec 500 dental chairs. There were a lot of hurdles to overcome from the date of purchase to the date of installation."
Barry said the de-installation of the old chairs was done in phases by the 412th MDG's Logistics team to minimize patient care impact. The chairs shipped on St. Patrick's Day with a planned installation date of April 6. The Dental Clinic wanted to have the chairs unpacked and installed in one-day to not interfere with treating patients.
"Typically, the installation of 15 dental chairs could command up to three to five days. The Dental Clinic was thankful to Col. Norman West (412th MDG commander) who approved the chairs' installation on a training day. Installing the new chairs on a training day and coordinating with a team that was able to do a one-day installation proved invaluable to minimizing patient care impact," said Barry.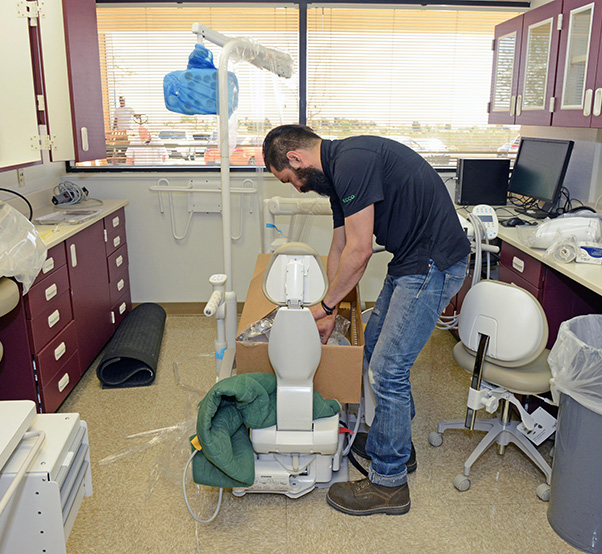 Air Force photograph by Kenji Thuloweit
After a swift and strategic installation, the Dental Clinic was ready again for business April 7 like it had never missed a beat.
"According to A-dec, the 15 new dental chairs will allow us to pamper our patients. Through the science of pressure mapping, the unique cushioning reduces pressure points and provides comfortable support across the patient's entire body.  Additionally, ultra-thin backrests and slim-profile headrests allow providers better ergonomic access to a patient's oral cavity leading to less strain and fatigue."
All of these new bells and whistles are just in time for Retiree Appreciation Day on May 6, when the Dental Clinic plans to provide limited dental exams and radiographs for the first 40 eligible retirees. Those interested in making an appointment can call 661-277-2872.
"Dental chairs can easily be overlooked. However, they are critical to the mission.  Upgrading dental chairs was a significant process improvement. As a result, beneficiaries of the Edwards Dental Clinic will continue to have a safe, trusted dental care and the mission to support dental readiness will continue," said Barry.
Barry said the efforts of many people allowed the Dental Clinic rejuvenation to be possible. Edwards Dental Clinic would like to extend their gratitude to the following individuals for allowing chair installation to be not only a reality, but a success:
 
Col. Norman West, 412th Medical Group commander, Lt. Col. David Huinker, 412th MDG, Capt. Melvin Tsui, 412th MDG, Tech. Sgt. Brandon Tomlin, 412th Medical Support Squadron, Tech. Sgt. Milo Otis, 412th MDSS, Staff Sgt. Matthew Ulrichs, 412th Aerospace Medicine Squadron commander, Staff Sgt. Carlos Aguiniga, 412th AMDS, Lt. Col. Angela Albrecht, 412th AMDS commander, Lt. Col. Richard Baird, 412th AMDS, Maj. Tonya Barry, 412th AMDS, Master Sgt. Christina Harper, 412th AMDS, Tech. Sgt. Felicia Callen, 412th AMDS, Cecilia Hernandez, Veronica Preciado, Jairo Herrera, Ryan Daniels, and Brian Kline.