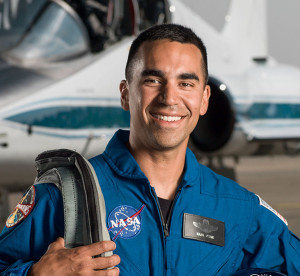 Lt. Col. Raja Chari, commander of the 461st Flight Test Squadron at Edwards Air Force Base, Calif., has been selected by NASA to join the 2017 Astronaut Candidate Class. He will report for duty this August.
Chari relinquishes command the squadron June 9 where he oversaw developmental testing of the F-35 Joint Strike Fighter for the past couple of years. Simultaneously, he served as director of the F-35 Integrated Test Force.
Chari will leave Edwards AFB as a colonel select. He has flown more than 2,000 flight hours in the F-35, F-15, F-16, and F-18 including F-15E combat missions in Operation Iraqi Freedom and deployments in support of the Korean peninsula.
"What this truly means is recognition of all the people I've worked with and the opportunities I was given," said Chari.  "Whether it was pilot training, test pilot school, or even in my current job as the 461st commander, the Air Force has always provided me with a team made up of great and motivated people, mentors and leaders who coached me along the way and let me grow.  I'm more than a little sad to be leaving the ITF and the F-35, but am humbled to have the chance to serve in this new role.  I can only hope to motivate some student out there somewhere to go learn as much as they can with the intent to give back something to this nation.
The Iowa native graduated from the U.S. Air Force Academy in 1999 with bachelor's degrees in astronautical engineering and engineering science. He continued on to earn a master's degree in aeronautics and astronautics from Massachusetts Institute of Technology and graduated from the U.S. Naval Test Pilot School.
Chari is one of 12 new astronauts introduced June 7 who will train for missions into Earth's orbit and into deep space.
The seven men and five women comprise the 22nd class of American spaceflight trainees since 1959. The group is the largest NASA has selected in almost two decades a NASA release said.
The 12 new candidates include six military officers, three scientists, two medical doctors, a lead engineer at SpaceX and a NASA research pilot.
Chari will report for duty in August to begin two years of training as an Astronaut Candidate. Upon completion, he will be assigned technical duties in the Astronaut Office while he awaits a flight assignment, according to NASA.
"It's not something I always wanted to do on a specific day, but rather something that's evolved.  Around eighth or ninth grade the idea of flying and science really caught hold in my mind. Through high school that evolved into a desire to attend the Air Force Academy, and although space was definitely something I'd say I wanted to do, it seemed so ridiculous that really I had my sights set on flying.  Once I was at the academy and especially grad school, I fell in love with engineering and the idea of being a test pilot really took hold.  From that point, the idea of becoming an astronaut didn't seem so ridiculous. But the great thing is I enjoyed every step along the way.  I never felt I was doing something just to fill a square but rather because I really enjoyed it and it just happened to also be one of many paths (the majority of my class is not test pilots) to becoming an astronaut.