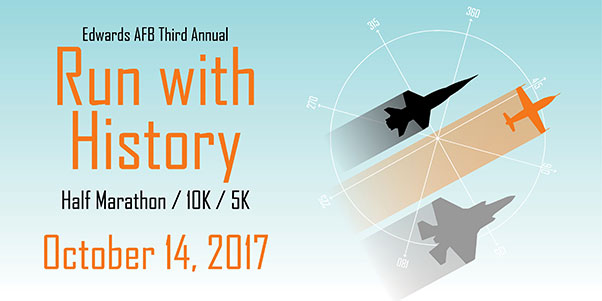 There are still slots available for this year's "Run with History" Half Marathon, 10K and 5K run at Edwards Air Force Base, Calif.
The run will take place Oct. 14 beginning at 7 a.m. Come and run on the world-famous Rogers Dry Lakebed and around the world's largest compass rose. There will also be various aircraft, static displays and historical markers along the route.
Additionally, an exotic car show will be on display for runners and guests to check out and enjoy.
This non-profit event will be open to the public with proceeds from ticket entries going toward the costs of holding the event. Base gates will open at 5 a.m.
Registration ends Oct. 6, so hurry and sign up today for this breathtaking event.
Additional information and registration details are available at https://www.active.com/edwards-ca/running/distance-running-races/run-with-history-half-marathon-10-and-5k-2017. 
Those interested may also call the base fitness center at 661-275-GYM1 (4961).