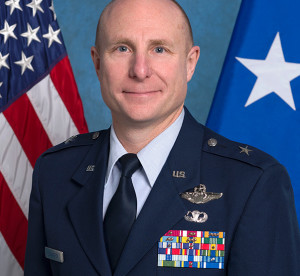 EDWARDS AIR FORCE BASE, Calif. — As Team Edwards pushes through the end of 2017 and leans forward into 2018, I am energized and excited for the challenges that lie ahead.
I almost feel like a kid at Christmastime as we prepare for new programs and continue to deliver combat capabilities across the globe.
In the coming year, we will be expanding missions and capabilities to stay ahead of our adversaries, who continue to advance their own weapon systems at a rapid pace. Next year at Edwards we will:
* Undertake a number of construction projects to support upcoming aircraft developmental program testing.
* Move ahead with KC-46 Phase III and Phase IV testing—the next phase of testing the Air Force's newest aerial refueling capability.
* Construct facilities and expand project planning efforts in support of our Long-Range Standoff Weapon testing.
* Begin planning and construction for our Joint Simulation Environment program, which will greatly enhance our ability to conduct large force testing of our weapon systems. For example, we will be able to combine the F-35 Joint Strike Fighters with other types of aircraft in extremely realistic simulated environments to develop hardware, software, tactics, training and procedures to enhance our combat air forces.
This is just a partial list of many tasks for the 412th Test Wing, but it gives you an idea of what we have coming.
Developing these projects and programs will give us capabilities we don't currently have. These capabilities will be critical for us to continue our mission to provide our nation with the ability to fly, fight and win in air, space, and cyberspace.
At Edwards, we test the spear used by the war fighter. We hone the blade and ensure it will hit its mark every time. This gives the warfighter the best tools at their disposal to conduct the Air Force mission of Global Power, the ability of the United States to hold any target at risk 24/7.
And we are good at our mission.
Team Edwards is a known entity. The Air Force knows it can count on us to deliver war-winning capabilities to the warfighter fully tested and ready for battle. We lead. We work hard. We work smart. We innovate. We deliver. And those hallmarks are emblazoned on our processes and programs. They are part of everything we do.
There is, however, a large hurdle looming that could curtail or derail our progress in these areas. It is – in a word – funding.
Any extended form of a continuing resolution longer than three months or a return to Budget Control Act-level funding poses numerous challenges to the Air Force and will slow or stall the development of these new capabilities at Edwards. The Air Force requires a stable and predictable budget to innovate and take advantage of opportunities or respond to disruptive technologies or to counter disruption. Under a continuing resolution, we are not allowed to start new programs, increase rates of production, or begin new military construction projects. A return to Budget Control Act-level funding would also drive drastic cuts.
Since the mission at Edwards is to test new programs and test innovations that respond to disruptive technologies, it delays our ability to test these important technologies for the warfighter, which ultimately puts national security at risk.
A continuing resolution continues the fiscal uncertainty that has plagued the Department of Defense for the last several years and makes it challenging to efficiently execute our budget. We need multiple years of full defense authorization and appropriations just to attain readiness for our currently tasked responsibilities.
Our mission at Edwards is to ensure the warfighters have the technology they need to deter and defeat our adversaries if called upon. Any continuing resolution slows down our ability to plan for work, execute efficiently, and continues to delay the desired increase in overall readiness of the Air Force.
Whatever the future holds, Team Edwards will rise to meet the challenge. We will leverage every opportunity, and we will press ahead, delivering weapon systems to the warfighter. But we don't operate in a vacuum – our adversaries are modernizing their arsenals at a rapid pace, and we need adequate funding to win that race.
We need to do more than just keep up, we always need to stay one step ahead. With adequate funding, we stay one step ahead of our adversaries and if called upon, we will win. We will ensure our warfighters have the sharpest spear – the most capable and potent weapon systems – fully tested, fully proven and delivered on time.