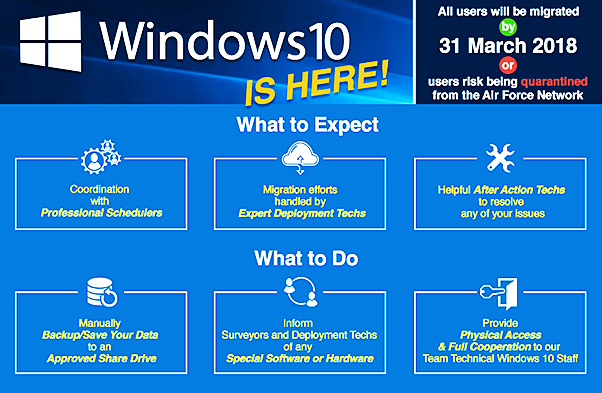 In accordance with the Department of Defense mandate, the Air Force must complete the Microsoft Windows 10 migration by March 31, 2018. Any operating system not upgraded by the deadline will be denied access to the network.
Windows 10 is not compatible with many systems currently in the Air Force inventory, resulting in the need to replace a significant number of computer hardware.
To minimize downtime during the migration, users should take the following steps:
1) Manually back up their data to a shared drive or DVD discs
2) Make a list of any special computer software or hardware the technician will need to install
3) Be patient, the upgrade will take 1-2 hours to complete
"The Windows 10 migration is critical to Air Force readiness," said Lt. Col. Brian Snyder, Windows 10 lead action officer, cyberspace strategy and policy.
"It introduces a number of new security features; making it the most secure Windows version to date. Additionally, base and organizational leadership must ensure communication/cyber squadrons are provided all the support and availability necessary to guarantee success."
The security features allow software patches to install faster, making it less obtrusive to Airmen while its ability to counter emerging cyber intrusion makes the networks safer. This will have a positive security impact on the protection of DoD and special access programs, mission systems, as well as strategic, tactical, and research, development, testing and evaluation systems.
"In cyberspace…every Airman is an operator. They need to be aware of cyber threat and do their part by being prepared for the Win10 migration," said Bill Marion, deputy chief, information dominance and deputy chief information officer. "The long term benefit is not just about defending the Air Force against the cyber threat, but having a reliable and capable computer to accomplish the mission."