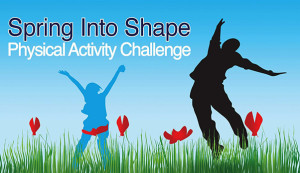 Learn how to feel and function better with Air Force Materiel Command's Spring into Shape physical activity challenge.
This challenge is a command-wide initiative designed to promote physical activity for the workforce.
Spring into Shape encourages participants to engage in various forms of physical activity such as brisk walking, muscle toning, fitness classes, and yard work. Benefits of regular physical activity include reduced body fat, lower cholesterol levels, and improved muscular strength and endurance. Civilian Health Promotion Services is conducting the SIS challenge.
Participants who enroll in the SIS challenge will receive a FREE foam roller at the official check-in with CHPS. Regular use of a foam roller offers many of the same benefits as a massage, including improved mobility and flexibility, and reduced inflammation.
How to participate in SIS:
* Federal civilian employees and Active Duty members are eligible to participate.
Enroll at AFMCwellness.com, between March 20 and April 18.
* Print your SIS confirmation email and complete the initial check-in with CHPS staff between April 2 and April 18 to finalize enrollment and receive your free foam roller.
* Perform physical activity and log your minutes on the AFMCwellness.com Activity Log from April 9-May 18. The goal is to complete and log at least 600 total minutes (10 hrs.) of physical activity.
* Attend the CHPS education class, "Get up and Get Moving'', between April 9 and May18.
* Attend a final checkout with CHPS between May 21 and June 1, to receive your completion award.
Participants who complete the Spring into Shape challenge requirements will receive a Fruit Infuser water bottle.
Contact your physician before beginning any physical activity program to be sure it is safe.
For more information, visit AFMCwellness.com or contact the Edwards CHPS team at 661-277-3667.