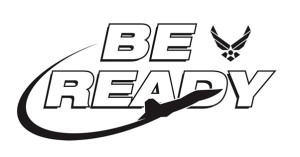 National Preparedness month occurs every September and was created to educate communities on different types of disasters.
It is important for everyone to know what to do before, during and after a disaster.
At Edwards Air Force Base, Calif., we are under constant threat from several hazards and being prepared can save you and your family stress, time, money and even their lives. Do not procrastinate your disaster plans. Get a kit! Make a plan! Be prepared!
Next month the Emergency Management Flight will be at various locations providing vital information on how you can and your family can be prepared for any type of disaster.
 
Things you can do to prepare:
•             Create an emergency kit.
•             Have a family emergency plan.
•             Practice your family emergency plan.
•             Include an emergency kit in your vehicle for when disaster strike away from home.
•             Stay informed by having a NOAA weather radio.
•             Develop and utilize a family communication plan.
•             Keep your important documents together.
 
Places you may see your EAFB Emergency Management Flight include the Exchange at these times:
•             Sept. 4 and 6 from 10 a.m.-2 p.m.
•             Sept. 11-13 from 10 a.m.-2 p.m.
•             Sept. 19-20 from 10 a.m.-2 p.m.
•             Sept. 25-27 from 10 a.m.-2 p.m.
 
Come meet your Emergency Management Flight, Eddie Be Ready Bee and check out the mobile command center. There will be a game, prizes, pamphlets and handouts for those who are interested.
As always, visit https://www.beready.af.mil/ for tips on disaster preparedness.