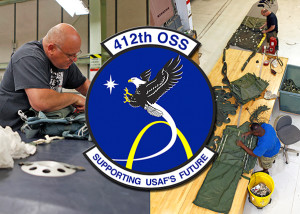 Brig. Gen. E. John Teichert, 412th Test Wing commander, has put out the call to find white space — free time — for innovation.
White space is freed up within your workday to focus on solving problems and innovating. But how do you find white space?  What if your idea does not seem big enough to make a difference?
Collaborate with others to share your solution and solve a small problem for the base.  A critical enabler for big innovation is to attack the small annoyances right in front of you.
But don't stop there!  Edwards AFB employs over 11,000 people. Each time your solution saves Airmen on base five minutes of their time, the base would regain the equivalent of 100 people working an eight-hour day.  Imagine what we could do if we re-invested those hours to implement even larger innovations. The impact to the wing's test capabilities would put us well ahead of the competition.
A perfect example was accomplished by the 412th Operations Support Squadron Airspace Management Office. They automated how they manage, track and report airborne users of the Edwards airspace.  What used to take weeks can now be accomplished in minutes. Not only is this new innovation saving time, it is also providing better data-driven decisions.
 So far, they have saved over 3,000 annual work hours.  For the first time in decades, the 412th OSS is no longer simply managing yesterday's airspace, they now have time to plan for tomorrow's airspace. Their goal is to build an airspace structure capable of testing aircraft of the future.
Never think your small innovation is too small, if you do it right, small improvements can have a big impact.