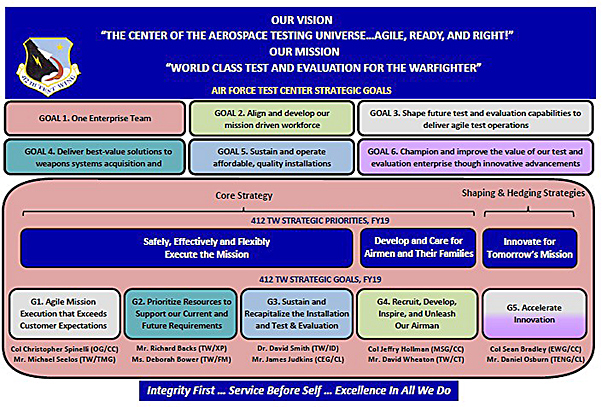 In August, base leadership at Edwards Air Force Base, Calif., came together for its annual strategic planning meeting where each organization was represented to provide inputs and come up with a path forward to meet goals of the Air Force and the National Defense Strategy for the new fiscal year.
The resulting product from that meeting is the Fiscal Year 2019 Test Wing Strategic Action Plan, which was released this past week by Brig. Gen. E. John Teichert, 412th Test Wing commander.
"We intend to use this strategic plan to guide and prioritize our activities as we aggressively tackle its goals, action items, and go-dos," Teichert said in an email to the base workforce.  "We have an established battle rhythm to status these at least monthly."
In the plan, the 412th Test Wing's Core Strategy is to "Safely, Effectively and Flexibly Execute the Mission; and Develop and Care for Airmen and Their Families." An additional shaping and hedging strategy is to "Innovate for Tomorrow's Mission."
The core strategy focuses on the Edwards mission of supporting the warfighter by testing aircraft and weapons systems for the Air Force's Global Reach, Global Vigilance and Global Power capabilities, which involve almost every aircraft type in the service's arsenal.
The shaping and hedging strategy focuses on innovation and emerging technologies, two concepts the 412th Test Wing needs to be in the forefront to ensure the Air Force can fight the wars of tomorrow. Part of accomplishing these goals would be to continue to innovate at the local level and engage the resources outside of Edwards AFB.
"The 412th TW strategy is designed to ensure our intellectual capital, resources and base infrastructure will be directed by what is certain and not disrupted by what is uncertain," according to the plan. "Incorporating the Core, Shaping and Hedging strategies enables the 412th TW to optimize resources, remain relevant during a time of emerging technologies and new mission areas, and engage in outreach across functionally comparable communities."
Outlined in the strategic action plan are five strategic goals for the wing:
G1: Agile Mission Execution that Exceeds Customer Expectations
G2: Prioritize Resources to Support our Current and Future Requirements
G3: Sustain and Recapitalize the Installation and Test & Evaluation
G4: Recruit, Develop, Inspire, and Unleash Our Airman
G5: Accelerate Innovation
Each goal has action items laid out and two senior base leaders to oversee them.
Additionally, the general also has personal priority items he wants his leadership staff to address that include local innovation, civilian hiring timelines and on-base school quality.
"Our leadership team is convinced that this is the right strategic action plan for our wing here at The Center of the Aerospace Testing Universe," said Teichert. "It is thoughtful, impactful, and important.  We will be seeking your input during our journey and will be asking for your help as we tackle this together.  I will keep you updated as we progress throughout the year."
To view the entire FY19 TW Strategic Action Plan, visit https://www.edwards.af.mil/Portals/50/documents/FY19%20Strategic%20Action%20Plan%20-%20Final.pdf?ver=2018-10-24-141849-113.