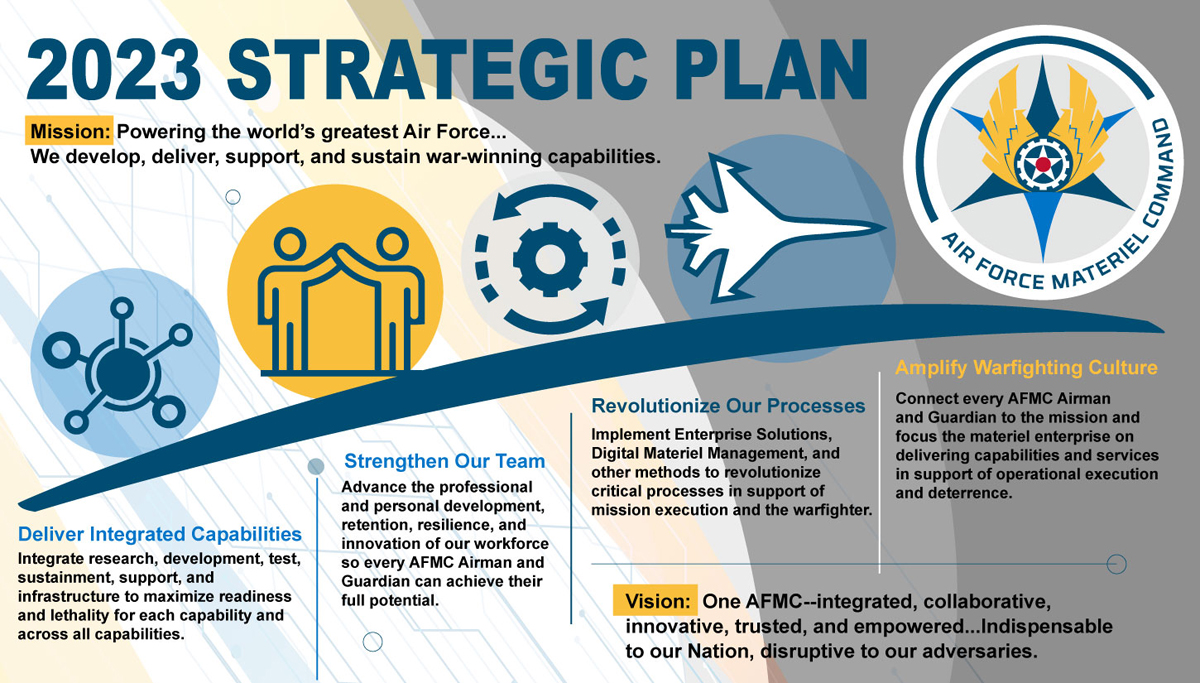 Air Force Materiel Command has released a new Strategic Plan outlining the ways it will work to deliver the advanced, integrated materiel capabilities the Air Force needs to deter aggression and prevail against the modern adversarial threats.
The AFMC plan directly aligns to the seven Department of the Air Force Operational Imperatives and focuses on critical organize, train and equip functions and capabilities delivered through an integrated center construct across the materiel lifecycle.
"The AFMC mission and vision are fundamental to the Department of the Air Force's ability to achieve critical, strategic priorities. We continue to face growing multi-domain threats posed by the People's Republic of China and other technologically advanced adversaries, which run counter to our Nation's interests and the global balance of power," said Gen. Duke Z. Richardson, AFMC Commander. "We develop, deliver, support, and sustain war-winning capabilities to ensure our Nation's competitive advantage. To achieve this mission, our strategy will focus on increasing the organizational fitness and integration of our six centers, strengthening our workforce, and revolutionizing our processes."
The Strategic Plan names four Lines of Effort underpinned by six cross-cutting attributes of speed, strength, endurance, balance, flexibility and coordination. The plan focuses on AFMC commitments to DAF priorities; support of the warfighter; enterprise solutions and digital materiel management; development of the workforce; and innovation.
The four LOEs are:
Deliver Integrated Capabilities – Integrate research, development, test, sustainment, support and infrastructure to maximize readiness and lethality for each capability and across all capabilities
Strengthen Our Team – Advance the professional and personal development, retention, resilience, and innovation of the workforce so every AFMC Airman and Guardian can achieve their full potential
Revolutionize our Processes – Implement Enterprise Solutions, Digital Materiel Management, and other methods to revolutionize critical processes in support of mission execution and the warfighter
Amplify Warfighting Culture – Connect every AFMC Airman and Guardian to the mission and focus the materiel enterprise on delivering capabilities and services in support of operational execution and deterrence
The LOEs connect the AFMC mission and its people directly to the command's stated vision:  One AFMC—integrated, collaborative, innovative, trusted, and empowered…indispensable to our Nation, disruptive to our adversaries.
"Our plan is designed so that all AFMC's talented Airmen can understand where we're going, how we'll get there, and why AFMC's mission is vital to the Air Force and Space Force. All Airmen need to understand where they fit in the overall strategy and what they need to do as they embrace and amplify our warfighting culture," said Richardson. "This warfighting culture is critical to how we accelerate change and seek enterprise solutions to maximize readiness and lethality for the force."
To read the full Air Force Materiel Command Strategic Plan, visit https://www.afmc.af.mil/Portals/13/AFMC%20Strat%20Plan%202023%20%28digital%20copy%29.pdf .
"This Strategic Plan, through its four lines of effort, will guide AFMC to ensure continued success against the pacing challenges of the PRC and other challengers, across the ever-evolving continuum of conflict," said Richardson. "Our Nation and our Department of the Air Force rely on us to deliver war-winning capabilities and the power projection to deter our adversaries. By working as 'One AFMC,' we can power the world's greatest Air Force to fly, fight, and win … airpower, anytime, anywhere."