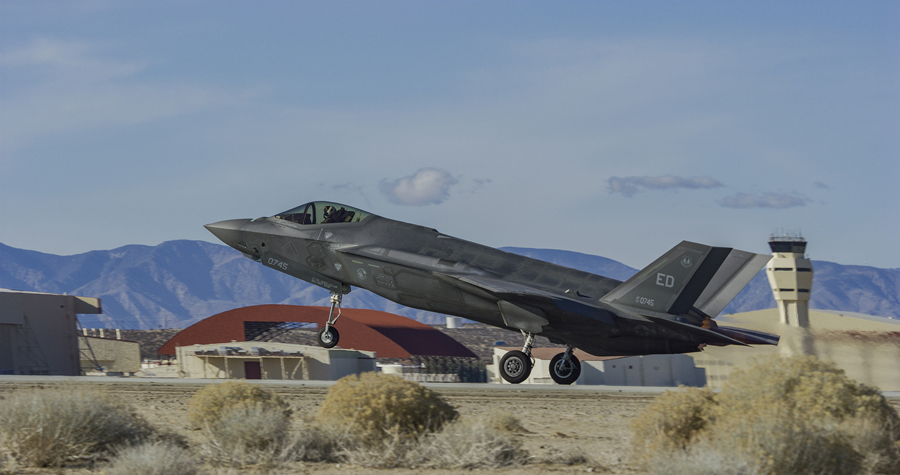 A developmental test team from the 461st Flight Test Squadron conducted the first flight of an F-35 in the Technology Refresh 3 (TR-3) configuration on Jan. 6, 2023, at Edwards Air Force Base, Calif.
Maj. Ryan "BOLO" Luersen, a U.S. Air Force experimental test pilot, piloted the mission in tail number AF-7, a specially instrumented flight test aircraft and the first with TR-3 upgrades installed. He executed a functional check flight profile to verify aircraft airworthiness and system stability. The 50-minute flight, which took the jet to 35,000 feet at speeds just shy of the speed of sound above the Mojave Desert, marked the start of an extensive flight test campaign. Developmental and operational test flights will continue through 2023 to ensure safety and prove warfighting capabilities.
"This is a significant achievement for the F-35 program, said Lt. Gen. Mike Schmidt, program executive officer, F-35 Joint Program Office. "TR-3 is the F-35's critical computer processing electronics upgrade that will continue to provide all our pilots with the capability they need to be successful against any adversary. There is still a lot of work to do and I am confident that our industry partners and government team will get the job done."
TR-3 provides the computational horsepower to support modernized Block 4 capabilities for the F-35 including: new sensor suites, more long-range precision weapons, improved electronic warfare features, more powerful data fusion, and increased cross-platform interoperability. These capabilities provide the warfighter a combat-edge to identify, track, engage, and survive against advanced air, ground, and cyber threats. TR-3 significantly updates core processing power and memory capacity, which will allow the F-35 to run advanced software packed with state-of-the-art warfighting capabilities.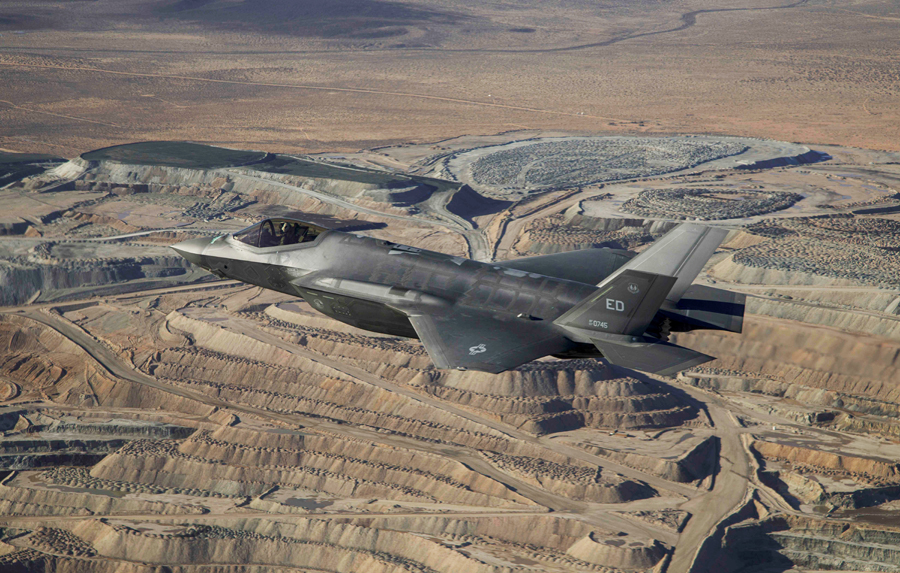 "The F-35 Integrated Test Force at Edwards AFB is proud to have executed yet another first-flight within the F-35 program," said Lt. Col. Christopher Campbell, commander of the 461st Flight Test Squadron and director of the F-35 Integrated Test Force. "Technology Refresh 3 modernizes the computational core of the F-35 air vehicle. Therefore, new TR-3 hardware and software affect nearly every aircraft feature. Today's event was just the start of a comprehensive flight test campaign that will both verify and improve the safety, stability, and performance of the whole F-35 weapon system in this new configuration."
"Today's first flight is an important step in enabling future capabilities to ensure F-35 remains unrivaled across the globe. We look forward to continued collaboration with the JPO and industry partners to deliver TR-3," said Bridget Lauderdale, Lockheed Martin vice president and general manager, F-35 Program. "Our mission is to provide our U.S. service members and allies with an aircraft that will guarantee 21st century security so they can deter and defeat threats and come home safely."
The TR-3 program has overcome technical complexity challenges with hardware and software, and is now on-track to deliver capability to the U.S. and its allies starting in 2023. The government and industry team continue to find innovative ways to ensure delivery of critical capabilities to defeat future threats. Lessons learned in the execution of the TR-3 program will be applied across the entire Block 4 modernization program.
The F-35 is the premier multi-mission, fifth-generation weapon system. Its ability to collect, analyze, and share data is a force multiplier that enhances all assets in the battle space: with stealth technology, advanced sensors, weapons capacity, and range. The F-35, which has been operational since July 2015, is the most lethal, survivable, and interoperable fighter aircraft ever built. The F-35 will serve as the backbone of the U.S. fighter fleet as well as 16 other nations for decades to come.