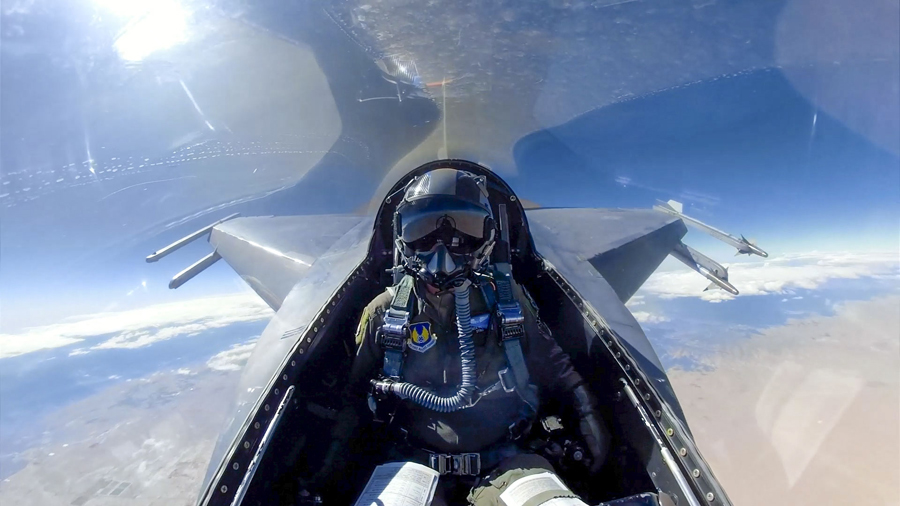 The Flight Test Engineer program was established at U.S. Air Force Test Pilot School in 1973, 29 years after the first TPS class in 1944.
Since initiation of the FTE program at USAF TPS, over 650 military and civilian students from the Air Force, Navy, and foreign military partners have graduated from the program.
As part of National Engineers Week (that ran Feb. 19-25), we get an exclusive look at what it's like to be a U.S. Air Force Flight Test Engineer going behind the scenes within the USAF Test Pilot School.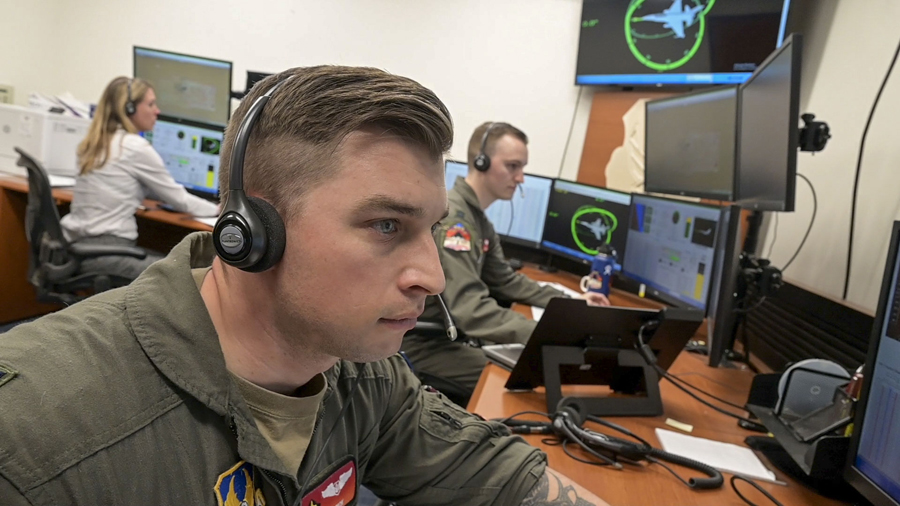 "The goal of the TPS year-long program is to produce highly adaptive, critical-thinking, flight test professionals that will lead and conduct a full-spectrum of test and evaluation of aerospace weapon systems," Jessica Peterson, technical director, 412th Operations Group explained. "To accomplish this goal, FTEs students are exposed to a diverse set of experiences to include over 50 semester-hours of academic courses, numerous control rooms, and over 80 flights in fighter, trainer, remotely piloted, and transport aircraft."
Over the course of the year, the students fly in 80 curriculum sorties.  Four key events stand out in TPS that are a build up throughout the year. These students must pass these key events to become an established flight test engineer.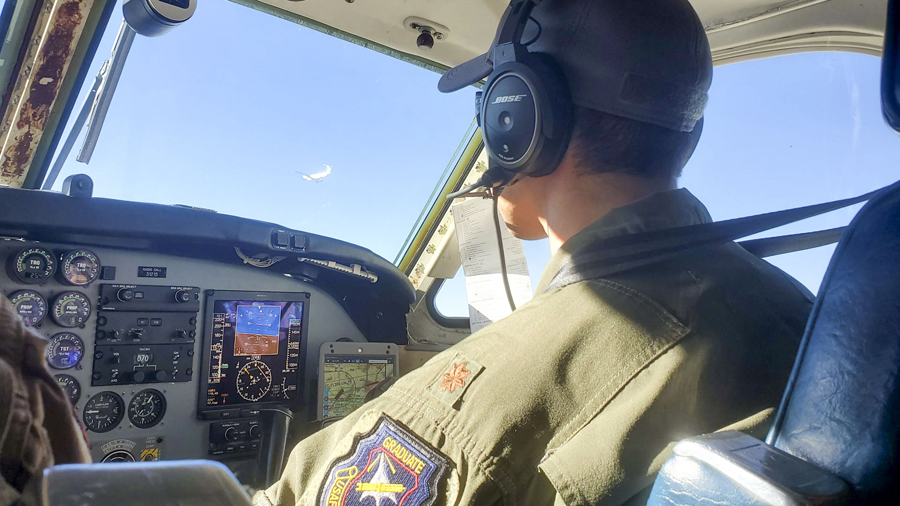 Airborne Test Conduct
The Airborne Test Conduct event, instructed on the C-12 Cargo aircraft, is the first event at USAF TPS where students are instructed on the use of basic test conduct tools such as test cards, a communication plan and collection of flight data.
"The students do test conduct and basic attitude flying for the pilots," Col. Sebrina Pabon, commandant of the USAF Test Pilot School explained. "This is their first time to work as a team, build communication and learn how to safely and effectively run a mission so they can they can do it in a timely manner while collecting all of the required data in a safe manner."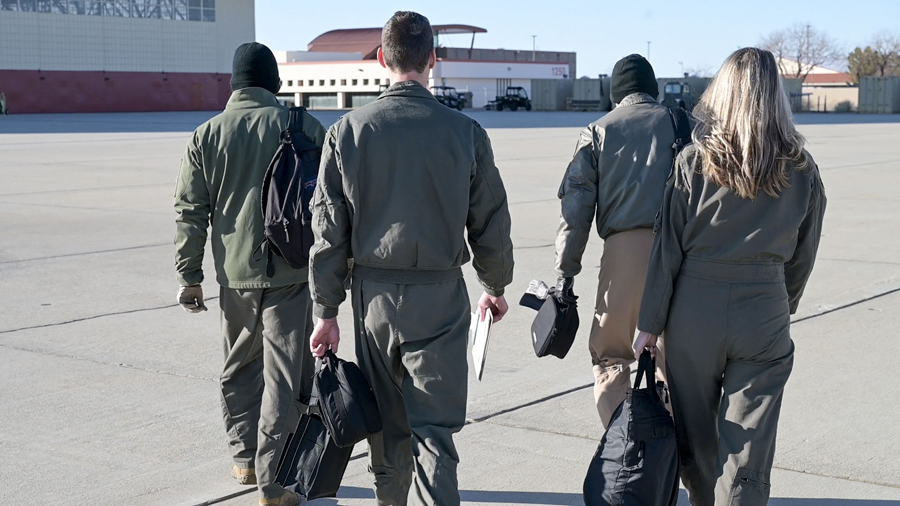 Being only the second TPS Commandant flight test engineer in history, Pabon says test conduct, being the main focus of the mission, is extremely important as a flight test engineer.
"It's getting them used to taking data and making the calls. It's all about that communication," Pabon said.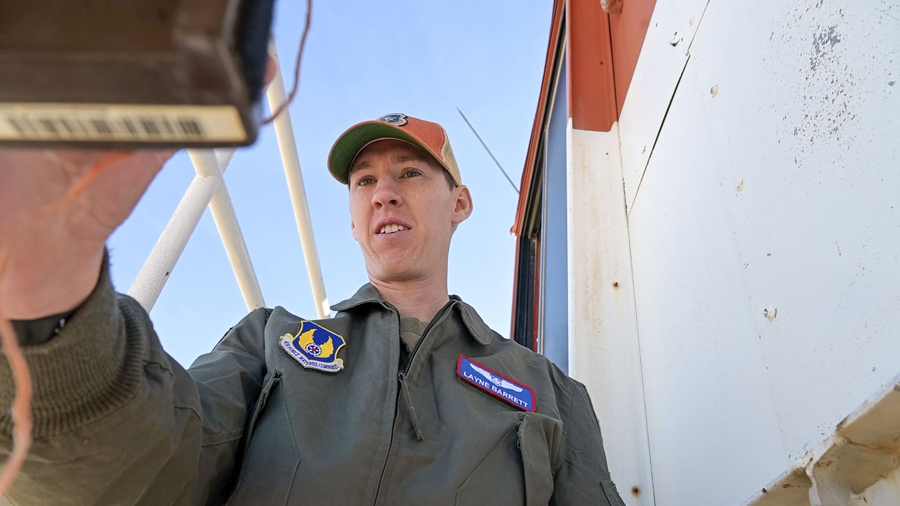 Tower Fly-By
The Tower Fly-By curriculum event is used at USAF TPS to expose students to multiple learning objectives such as safety planning, monitoring of safety critical parameters, use of radio communication, collection of flight and ground data, and the analysis and reporting of flight test results. The student pilots, with an instructor pilot onboard, fly a T-38 or F-16 aircraft at around 200 feet above the ground at speeds ranging from 200 to 600 knots. The event, a traditional method for testing a new air data system on an aircraft, has the FTE students in the fly-by tower on the lakebed at Edwards Air Force Base.
"This is an interesting technique as it gives us very accurate data," Capt. Hadrien Schneider, International Student, USAF Test Pilot School said. "We perform a risk analysis in order to mitigate those risks. Ground collision and bird strike are the key risks we are looking out for during these tests."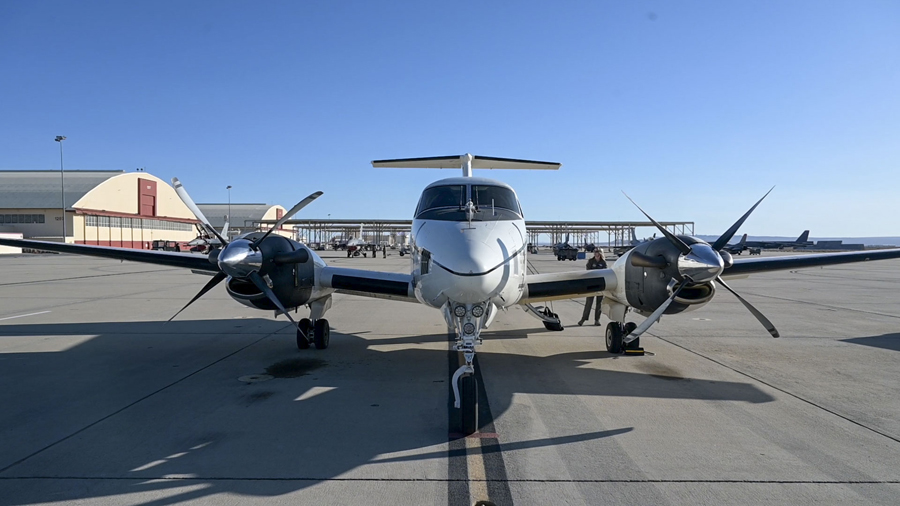 F-16 High Angle-of-Attack Envelope Expansion
The F-16 High AoA event, conducted around the eighth month of USAF TPS, is an event where the students design, rehearse and execute a plan that is representative of "real" flight test.
The students are given a scenario where they have to design a plan to test the flight controls of the F-16 and identify if there are any dangerous scenarios where the aircraft could depart controlled flight. The student pilots, with an instructor pilot in the backseat, execute flight test maneuvers to test the flight controls while the engineers monitor real-time safety critical parameters from the control room and provide feedback to the pilot.
"I always think about the control room as a sports event," Capt. Bobby Torick, a USAF Test Pilot School student, explained. "You do all of this preparation, build up and practice. Then, you go execute and do your sport at the highest level you can. You have your team together and you have put a lot of effort on the front end. Now, it's time to put the headset on, get ready to retrieve data and keep the aircrew safe."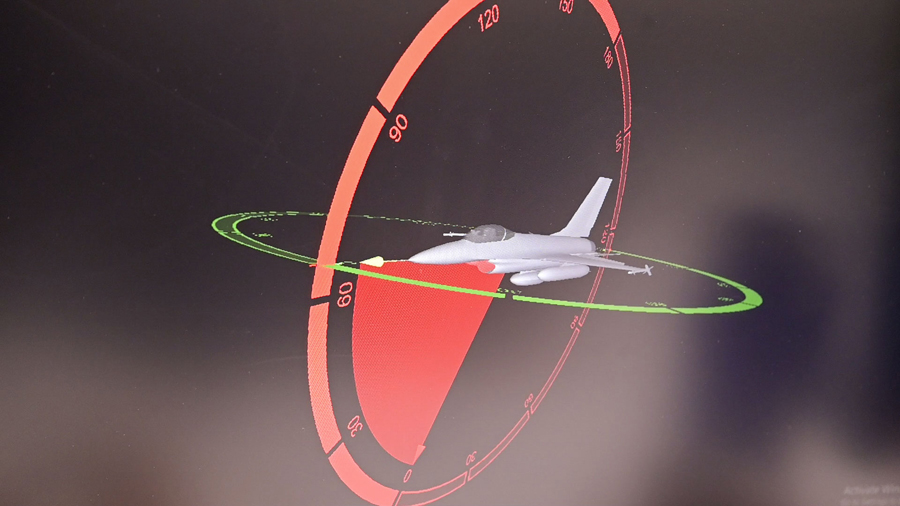 First Flight Event
The last USAF TPS event is the First Flight sortie, flown in the C-12 aircraft with the student pilot and engineer planning for the scenario of the very first flight of a brand-new airplane.
The students are given a made-up scenario, a "C-90" modified aircraft, where they need to determine how to safely take-off, execute flight conditions and return for a safe first landing.
"The priority of every first flight is to land safely," David Vanhoy, TPS technical director, explained. You are working the entire flight to set the airplane up to come back and land safely.
You have predictions that helped prepare you for this. You've practiced in airplanes that are similar. You have a lot of experience now handling unknowns."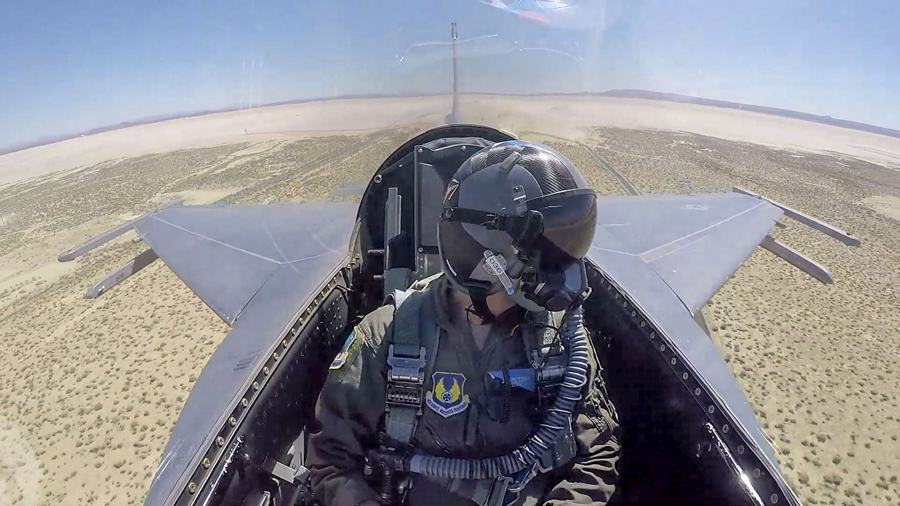 This year-long course at TPS provides engineers with the skillset, toolset, and mindset to be highly adaptive, critical-thinking, flight test professionals. Flight and control room events, expose the students to a diverse set of real-world problems and mission sets. Events like the F-16 High AoA Control Room evaluation and the C-12 First Flight are just a few of the opportunities for students to get a taste of real-world flight test.
For more information on this program and others at USAF Test Pilot school and how to apply, you can visit https://www.edwards.af.mil/Units/USAFTPS/.