The 412th Test Wing received 10 KC-46 Pegasus aerial refueling aircraft from the 22nd Air Refueling Wing, May 11, 2023.
The aircraft were moved to Edwards Air Force Base, Calif., due to a severe weather system scheduled to hit their home base.
The 22nd ARW, based out of McConnell AFB, Kansas, relocated their fleet of aerial refueling tankers including the KC-46 and KC-135 Stratotanker out of state as a precaution due to projected severe thunderstorms May 11, which had the potential for severe winds and the possibility of hail.
"This relocation is made to protect the aircraft from potential damage and preserve McConnell's capability to support its Global Mobility mission," said John Van Winkle, 22nd ARW Chief of Public Affairs.
Edwards, situated in California's High Desert, was able to support within a few hours' notice to receive the aircraft.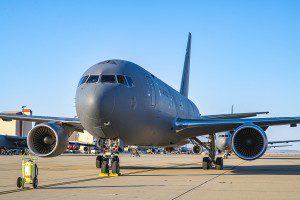 "In the few short hours from getting the call Wednesday [May 10] night to receiving an entire fleet of large aircraft, the women and men of Edwards AFB showed the true mettle and grit to reassure us that they can handle anything that an adversary or mother nature can throw at the United States Air Force," said Col. Grant Mizell, 412th Operations Group Commander.
The effort to move a massive amount of aircraft proved to be a monumental effort that featured teamwork from different organizations on Edwards such as the 412th Operations Support Squadron who manages the Edwards airfield and the air traffic control tower and the 412th†Maintenance Group who facilitated bedding down the aircraft. The coordination also featured the Air Force Reserve Command's 931st Air Refueling Wing to transport the aircraft.
"We get pretty busy here on a regular basis, but when it comes to unique and unusual requests, especially 10 heavy KC-46s coming in, it definitely becomes challenging," said Staff Sgt. Jacob Bolena, Edwards Air Traffic Control Tower watch supervisor. "Being able to take those unique and challenging days and make sure everything is safe and everyone gets on the ground safely, it tests us, but that's what makes us better out here."
While the Edwards tower crew handled the arrival of the visiting aircraft they continued their everyday duties as the Wing kept on with its daily flight test missions with little to no interruptions or delays.
"I'm proud of the flexibility and professional competence displayed by our Edwards AFB team, as they supported a sister military unit during a base relocation," Mizell said. "The ability to operate a fleet of tanker or transport aircraft from anywhere in the world is Air Mobility Command's specialty, and Edwards AFB's ability to support any aircraft on a moment's notice should assure us that the United States Air Force is ready defend America and her interests, every day."