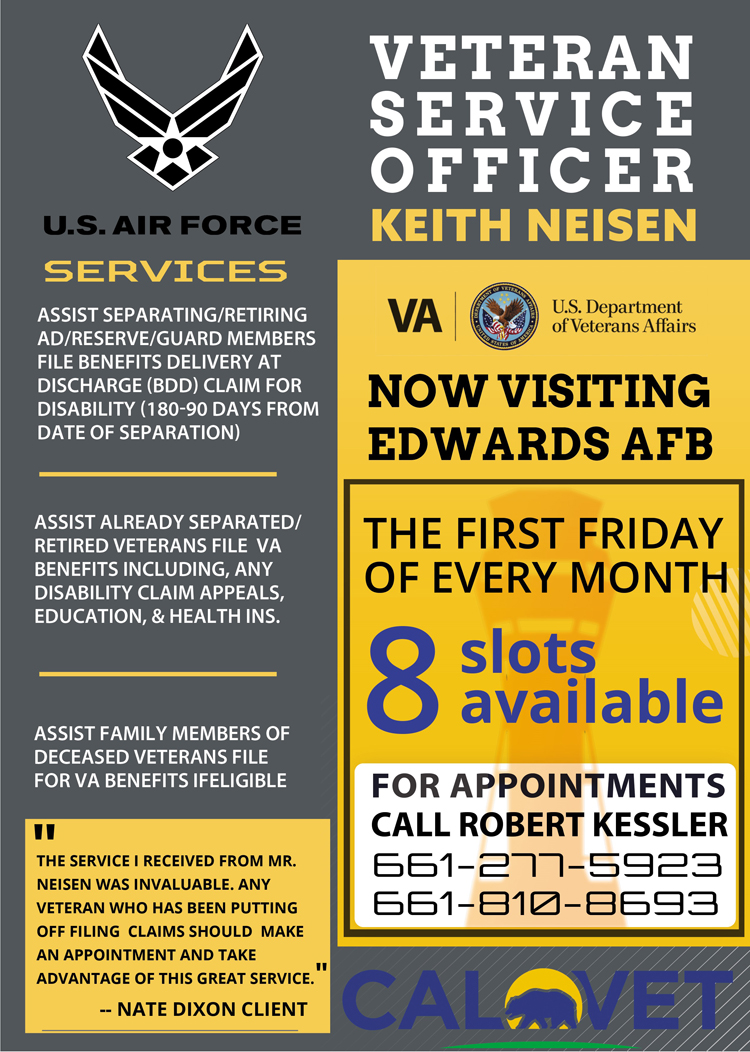 In-person military Veteran Service Office support is now available at Edwards Air Force Base, Calif.
This innovative program aims to provide comprehensive support to military veterans now working as DOD civilians or contractors at Edwards with assistance filing claims for benefits from the Department of Veterans Affairs.
The groundbreaking initiative was driven by the vision of Civilian Employee Support Liaison Robert Kessler. The Veteran Service Officer, Keith Neisen, began his monthly visits to Edwards in early June.
"I'm pretty much like a first sergeant for the civilian side," Kessler said to describe his role.
Kessler, assigned to the 412th Maintenance Group, says his role is to provide Edwards AFB's civilian employees—from any section—with a range of support services. As one half of the newly created CESL pilot program, Kessler serves as a point of contact for civilian employees, providing them information, resources, assistance and often facilitating communication between management and employees. Ultimately, he advocates for the needs and interests of the civilian workforce.
When exploring ways to aid the civilian workforce and provide valuable services, Kessler recalled the numerous roadblocks he personally encountered when filing for his own VA benefits.
"People are much more likely to take advantage of a service if you bring that service to them as opposed to if they have to go get it on their own," Kessler said.
With this principle in mind, Kessler began reaching out to the few VSOs serving the Antelope Valley region, aiming to convince them to bring their services to Edwards.
Keith Neisen, Los Angeles County VSO serving in Lancaster, California, understood the unique challenges faced by veterans in remote and isolated locations and agreed to make monthly visits to Edwards.
Nate Dixon, Director of the 412th Maintenance Squadron and a retired chief master sergeant with 30 years of service, understands the difficulties faced by veterans when filing for VA benefits. Dixon retired from Active Duty in 2010 with a small number of claims but encountered new symptoms several years later. He hesitated to file additional claims due to the daunting nature of the process. However, upon learning that a VSO would be available at Edwards to assist veterans, Dixon promptly made an appointment.
According to Dixon, Neisen's expertise exceeded his expectations. Not only did he help with two new claims, but he also thoroughly reviewed Dixon's entire file, identifying several instances where existing claims had not been adequately addressed. In a mere 45 minute meeting, Neisen facilitated a total of seven appointments at the VA for Dixon, far surpassing what Dixon had anticipated.
"Robert Kessler's effort and initiative to have a VSO come to Edwards to assist veterans in such a convenient way is genius, and the service I received from Mr. Neisen was invaluable," Dixon said. "Any veteran who has been putting off filing claims should make an appointment and take advantage of this great service."
VSO services are free and encompass various aspects of the claims process. VSOs help veterans write and submit their benefits claims, ensuring all necessary information is included to support the claim. Once the claim is filed, VSOs assist them in tracking the claim through the system, providing updates and addressing any inquiries or concerns. In the event of a denied claim, VSOs can also guide veterans in filing appeals to seek reconsideration.
By bringing the services directly to them, the VSO's monthly visits eliminate the need for veterans to navigate the demanding process independently or travel long distances for assistance. The convenience and accessibility of this service provides a much-needed relief for Edwards' veterans who may be discouraged or delaying filing VA claims because of the burdensome process and addresses a specific need of the veteran community working in remote and isolated installations like Edwards.
Interested veterans employed at Edwards are strongly encouraged to coordinate their appointments with Keith Neisen through CESL Robert Kessler. Neisen is available for eight appointments on the first Friday of every month. For more information or to schedule an appointment, veterans can contact Robert Kessler, Civilian Employee Support Liaison, at 661-277-5923 or 661-810-8693.