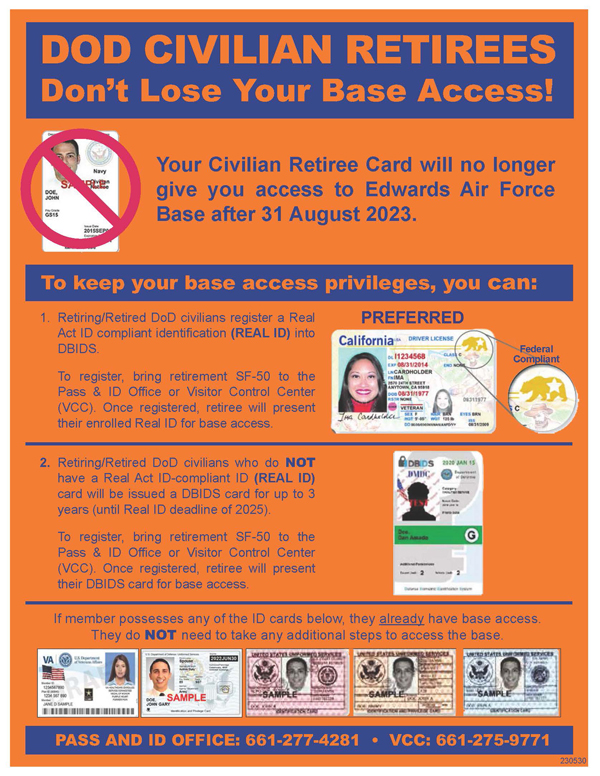 In line with a recent Department of Defense announcement, Edwards Air Force Base, Calif., is set to transition from traditional physical ID cards for civilian retirees to a new, secure digital identification system.
This move aims to enhance both security and ease of access to base facilities and services.
The shift away from physical ID cards has begun and is set to be fully implemented by the end of May 7, 2025. However, it's important to note that according to a DOD memo previously issued retiree identification cards will remain valid until Aug. 31, 2023. From that point forward, all retirees will need to have their REAL IDs enrolled.
"As this transition takes place there are basically two options for DOD civilian retirees to maintain base access," said Col. Jarod Blecher, 412th Mission Support Group commander.
Option 1: Retiring or Retired DOD civilians should register a Real ID Act compliant identification into the Defense Biometric Identification System. To register, retirees should bring their retirement SF-50 to Pass & ID or the Visitor Control Center. Once registered, retirees can present their enrolled Real ID for base access.
"This is the preferred method of access, and all civilian retirees will eventually need to transition to this method," said Capt. Alexander Johnson, 412th Security Forces Squadron Operations Officer.
Option 2: As a temporary measure, retiring or retired DOD civilians without a Real ID Act compliant identification will be issued a DBIDS card valid through June 30, 2024. To register, retirees should bring their retirement SF-50 to Pass & ID or VCC. After registration, the DBIDS card can be used for base access.
Registering a Real ID Act Compliant ID or being issued a DBIDS card from Edwards' VCC or Pass & ID only grants the cardholder access to Edwards AFB. Retirees will need to register separately at each DOD installation they wish to access.
It's worth noting that there will be no changes to Military Retiree ID cards.
Edwards AFB continues to provide extensive support for all retirees, including those needing help with VA benefits as mentioned in last week's post. This transition to Real ID is no different.
"Our team will be on hand to provide guidance, answer questions, and help retirees navigate this new identification process," Blecher said.
For additional information, contact the Visitor Control Center at 661-275-9771