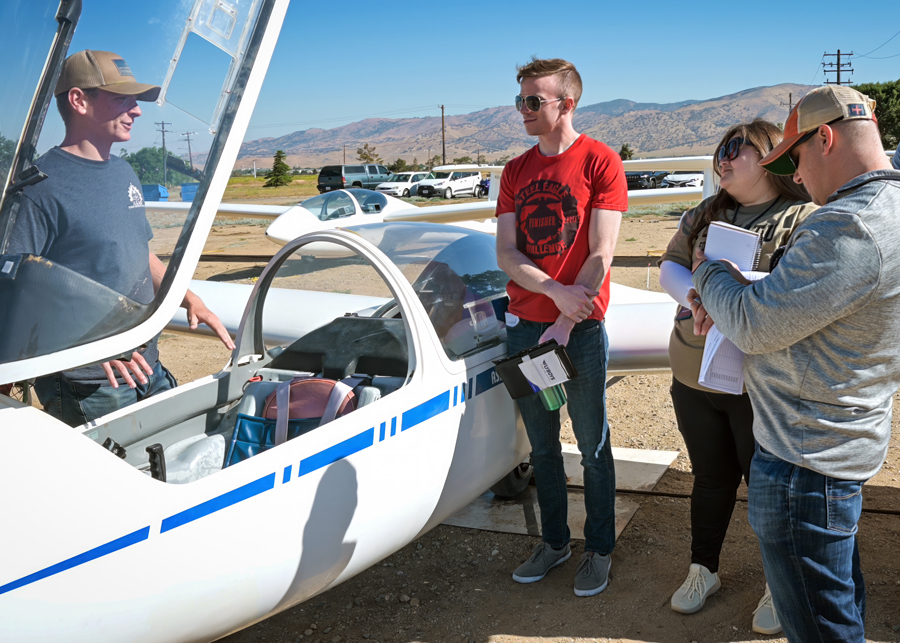 A group of 412th Test Wing engineers became the first group to take part in the Wing's Glider Orientation Program after their inaugural flight from Mountain Valley Airport, Tehachapi, June 22, 2023.
The program is designed to better integrate and immerse newer engineers into the Edwards Air Force Base, Calif., flight test mission.
"The great thing about doing the airmanship program is it's a very cost-effective way to get a number of our engineers really amazing flight experience so they can understand the flight mission better," said Col. Grant Mizell, 412th Operations Group Commander. "What we find is getting an engineer airborne and giving them that appreciation for air sense and getting that training very early on makes them far more effective as we move forward in their engineering career field. We also find this incredibly beneficial and motivational to our engineers."
The Edwards AFB engineers spent two days in the program; the first day covered basics of flight and flight controls in a classroom environment while the second day featured a practical exercise onboard two different types of gliders.
"Getting the experience of being in the back of a glider and seeing what it takes to collect the data and being in the glider itself, while you collect data, you feel a little bit more the stress," said Vanessa Gonzalez, 411th Flight Test Squadron sensor fusion engineer.
For the practical exercise, the students were given flight test cards and were tasked with recording the time and rate of climb of their aircraft every 100 feet while their glider was towed up to altitude. The students then released the tow cable and were given a basic flight demo by the glider instructor pilots.
The demo featured clearing turns, steep 45-degree turns, side slips, and even straight-ahead stalls. The maneuvers demonstrated some key performance characteristics of the two very different gliders; a sleek Schleicher ASK-21 glider and an older 1960's-era Schweizer SGS 2-33.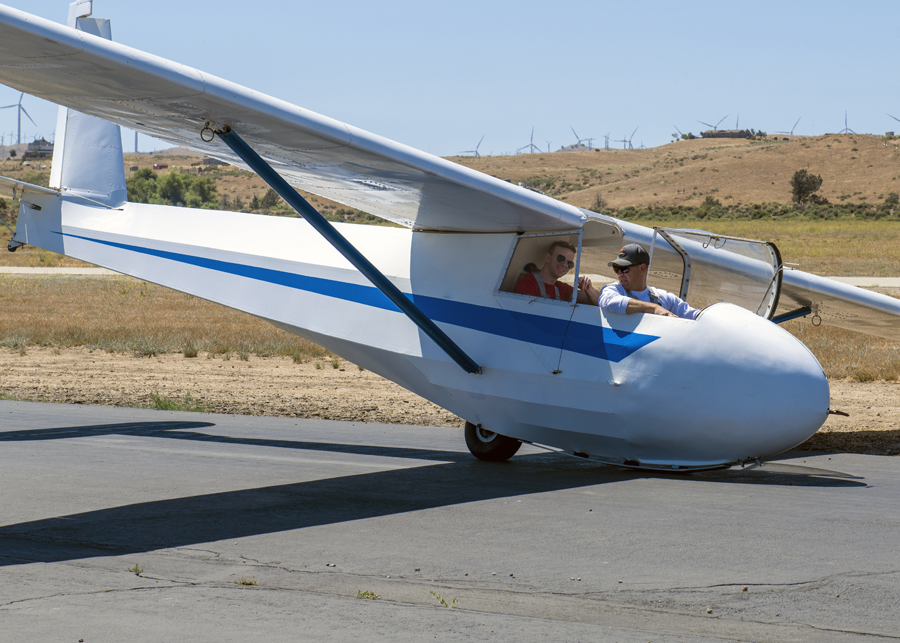 "You definitely appreciate all those notes that the pilots are taking while things are happening," Gonzalez said. "The instrumentation is collecting data and you want to make sure you're capturing all the information so it's definitely higher stress."
The opportunity to fly and conduct a test sortie provides the engineers an appreciation for the pacing of the mission and a better understanding of how fast they had to collect data and what the most effective way to collect that data is. Lastly, they start to understand the larger picture, from writing test plans to execution, then to data analysis, Mizell said.
"They get a lot of air sense by watching what's happening in the aircraft as they run the test cards," Mizell said. "But the other big piece is they get to see what data is collectible, what they can collect, and what is very difficult to collect."
The Glider Orientation Program is currently available to 412th Operations Group personnel, both military and government civilians, with eight open slots per class and two classes potentially scheduled until the end of fiscal year 2023. Interested personnel should keep an eye out for emails requesting for volunteers for the program, Johnson said.
"We love bringing all of our teammates up here to get up in the air and really appreciate that flight test mission," Mizell said. "When somebody gets to see it from inside the cockpit, when a teammate gets to see what it's like to fly the airplane airborne, they have so much more situational awareness and so much more effectiveness in their job and quite frankly, is a whole lot of fun."