Edwards Air Force Base in Southern California's Mojave Desert emerged mostly unscathed from the recent encounter with Tropical Storm Hilary, demonstrating its robust preparedness and resilience in the face of rare adverse weather conditions.
"About a dozen buildings had some level of damage, mostly minor," Lt. Col. Ryan Price, 812th Civil Engineering Squadron commander and base Emergency Operations Center director said. "The most extensive damage was to wing headquarters including the 412th Operations Group heritage room. Minor flooding and isolated power outages were reported in the housing area as well. But, maintenance crews are working around the clock to get all of our facilities back in pristine condition."
As the storm approached the Southern California region this weekend, the Edwards Weather Station closely monitored its path, providing ample time for the base to prepare. Edwards AFB, known for its critical role in testing and evaluating advanced aerospace technologies, took extensive measures to safeguard its personnel and infrastructure.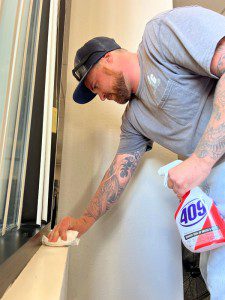 Almost 2 inches of rain fell on Edwards during the tropical storm. The base enacted a comprehensive plan that included securing equipment and aircraft, reinforcing structures, and coordinating with local authorities to ensure the safety of base residents. Additionally, measures were taken to safeguard against potential flooding and power outages.
"Our focus today was assessing, prioritizing and mitigating the damage to facilities, responding to areas of flooding and working the few utility outages we had going on," Col. Joel Purcell, 412th Civil Engineering Group commander, said.
Col. Doug Wickert, 412th Test Wing commander, commended the coordinated efforts of the base's emergency response teams and maintenance crews.
"As we continue to assess the base, continue to feed all facility damage information to CE, and any mission impacts up through command channels," said Wickert. "I saw good work this weekend. It was an impressive response across the team."
Facility managers who find additional maintenance issues are encouraged to report these issues to the 412th Civil Engineering Group Control Center at 661-277-3330. For emergencies, call 911 from a landline, or 661-277-4541 from a cell phone to reach Edwards AFB emergency services. Base residents with immediate issues in the housing area are encouraged to contact Mayroad at 661-385-6060.
As of 2 p.m., Aug. 21, State Highway 58 remains closed both ways due to flooding damage. Check the status of road and highway information in the area and find alternate routes at https://dot.ca.gov/.
As the remnants of Hilary continue to move away from the area, base residents and workers can take pride in its effective preparation and execution of safety measures, according to Col. Jarod Blecher, 412th Mission Support Group commander. "What we've done these past days really serves as a testament to the importance of readiness and coordination in safeguarding critical assets against the forces of nature," he said.