A test team from the Global Power Bombers Combined Test Force recently began research into human factors integration as part of the B-52 Stratofortress Commercial Engine Replacement Program, at Edwards Air Force Base, Calif.
Flight instrumentation on the B-52 will be updated to coincide with new engines during the CERP. The new instrumentation will include new digital gauges paired with updated engines that provide flight crews with vital information during flight. The team of test pilots and engineers are testing which gauge cluster best suits air crews' needs. "The team is using an innovative approach to get both quantitative and qualitative data to take a look at what is the best picture of how to manage the eight engines on a B 52 for the warfighter," said Lt. Col. Scott Pontzer, 419th Flight Test Squadron commander and GPB CTF director.
The test team is looking at both the readability of presentation of those gauges and how accurately a human can interface with the throttle position and interpret if there's a malfunction with the gauge with the goal of providing the crews with the right amount of information at critical times, Pontzer explained.
"Flying the airplane is the first step and using it as a weapon system is the ultimate step," Pontzer said. "So if I can lower workload for the pilot and if I can present that in a timely fashion, I can lower that overall task on the brain…so we can fly the asset so that we can employ the asset and that's the ultimate goal: to use a B 52 as a weapon to secure our nation's future and deter aggression." The team provided a group of test pilots with three different prototype gauge clusters. The pilots were each then given time to fly a simulator with the different prototypes. "We are actually measuring their performance on these displays and we're getting really good comments too, because now they've actually seen what the displays look like," said Maj Darin Flynn, B-52 test pilot, 370th Flight Test Squadron. "That'll help us to select, hopefully the best design choice for the B 52."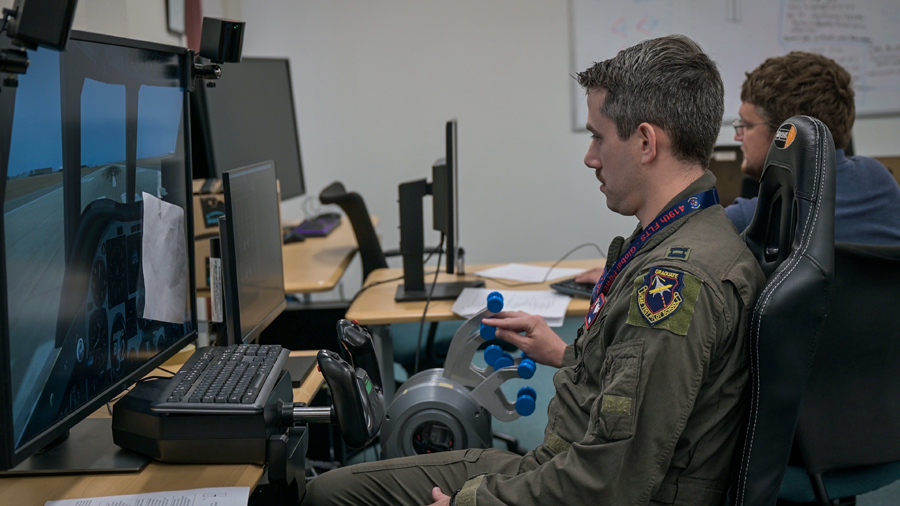 Flynn originally came up with the concept of visualizing the prototypes on a computer screen to give test pilot a better understanding of the gauges. He said providing the test pilots with a visual representation of the protypes that included animated gauges have proved vital to the test effort.
"We are getting great feedback and it is actually surprising how a lot of people had one idea in their mind what they thought was the best display and then they actually see it in action. They're like 'oh, that was actually terrible, I like this other design a lot better,' which just goes to show how important it was to have these actual animated mockups of the real displays," Flynn said.
Dicarie Williamson, a Human System Integration Engineer at the Air Force Test Pilot School, lent his expertise in the field to the team. Williamson's own research and knowledge on the human factors helps bridge the gap between aircraft systems and human capabilities. "Ultimately, we're looking for a margin that allows the operator enough time and understanding of the system to make the right decision," Williamson said. "More times than a little bit, we find ourselves overcompensating for flaws in a system and as humans, we need to be able to understand what that looks like how we can engineer margin and buy ourselves some time specifically, when you are thousands of feet away from the ground or you stand to employ a weapon system that may potentially harm friendly. Whatever the situation may be, we have to create some margin for ourselves in the systems that we use to implement and how we fight."
Pontzer said the early integration between human factors and aircraft systems within the B-52 CERP have been beneficial. Besides flight crews, the team also intends to interface with aircraft maintainers to get their feedback on the new updated digital instrumentation and how it could affect maintenance procedures. "It is awesome," Pontzer said. "We can solve problems before they ever become problems. Being on the leading edge, between Boeing, the 418th FLTS and TPS, all of us working together to use robust systems and proven test methodologies to make good decisions is awesome for the war fighter."