The U.S. Air Force Test Pilot School at Edwards Air Force Base, Calif., graduated its Enlisted Test Fundamentals Course on Aug. 25, 2023.
Though taught shortly in 2012 and 2018, a sustainable course idea was rebirthed in 2019 and came to fruition in 2021 as the Enlisted Test Professionals Course has since evolved in both name and curriculum.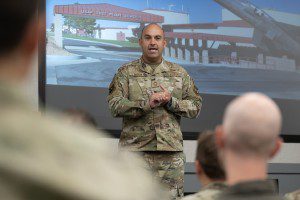 ETFC is a four-week course designed explicitly for enlisted members directly engaged in evaluating developmental, experimental, or operational test programs. The training is divided into four main learning categories: integrated exercises, academics, simulators, and laboratory instruction.
In the Air Force, Airmen are trained and expected to have tactical expertise and operational competence from the day they join the service. When they are brought to Test, a new challenge occurs.
"We bring them to a wide gap along their road and ask them to cross with only the tools and skills we gave them," said Tech. Sgt. Joseph Fromm, ETFC course manager. "So, they problem-solve, make decisions, plan, and build. They begin a process that is sometimes frustrating and tiring but never quit because the mission of Test on the other side of that gap is too important. Because somewhere, an Airman is being trained to trust their system. They are being trained in the same way we all have been. So, we will find a way to cross that gap and deliver readied systems for those Airmen."
To do that, ETFC aims to provide enlisted testers with a common set of skills, knowledge, and mindset to bridge the gap between the operational and test worlds.
The new course is comparable to enlisted weapons courses, such as Advanced Instructor Course, and graduates are eligible for the 9IT Special Experience Identifier."
"The NCO is the backbone of our armed forces. This course integrates developmental and operational testers across numerous MAJCOMs, which supply our operational Air Force with a highly effective weapon system," said Chief Master Sgt. Timothy Wieser, Air Force Test Center command chief. "The practical expertise these amazing NCOs contribute with technical prowess keeps us ready for peer competition."
In its evolution since 2021, students are exposed to more technology with artificial intelligence, machine learning, intro to software, and cyber testing, along with modeling and simulation exercises. More tours to locations in California such as the Air Force Research Lab, Global Reach CTF, Benefield Anechoic Facility, and Grey Butte Field Airport for MQ-9 testing with Electro-Optics and IR lessons, allow for a fully hands-on immersion. Students are also exposed to test conduct and communication principles through leading F-35A performance test execution while managing a control room in real-time.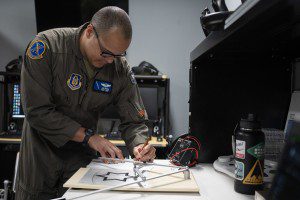 Immersion tours are taken to organizations developing, testing, and producing aerospace vehicles and equipment. End-of-week progress evaluations, student briefings, and a comprehensive Test Management Project, which includes the development of a test plan, safety plan, data analysis, report writing, and oral presentation of project findings, are required for course completion.
Additionally, EFTC boasts groundbreaking Model-Based Human Systems Integrations exercises where students collect human performance supply-and-demand data for the operation of various sUAS in an urban environment.
During the ceremony, Col. James Valpiani, of the United States Test Pilot School, addressed the class.
"The patch that you wear on your shoulder, the reason we have given you this education, is not so that you can be the smartest tester in the room," he said. "The reason that you have this patch and this education is so that you can lead; so that you can develop a culture of test amongst a group of people who may know nothing about test."
The ceremony's guest speaker, Chief Master Sgt. Lindsay Moon, 412th Operations Group senior enlisted leader, echoed the importance of developing enlisted test leaders.
"We need you to be a leader," said Moon. "To be driving the process, to be better, to be efficient, to do the right thing, to not cut corners. In doing those things, you'll be allowing your team to excel and allowing our Nation to continue to be the best Nation in the world… to be the best Air Force in the world."
To participate in the course, no Air Force Specialty Code is specified as a requirement; however, an enlisted tester with some background and exposure in test and acquisitions organization or engaged in aerospace/aerospace-related testing is the target. The course is designed for E-7s and below however, E-8s and above are considered case-by-case.
Courses are planned to run tentatively twice a year (February and August), depending on scheduled events and resources. Due to the format and focus of the course, each class is limited to 12 attendees.
Those interested in participating in the course should click here to apply.