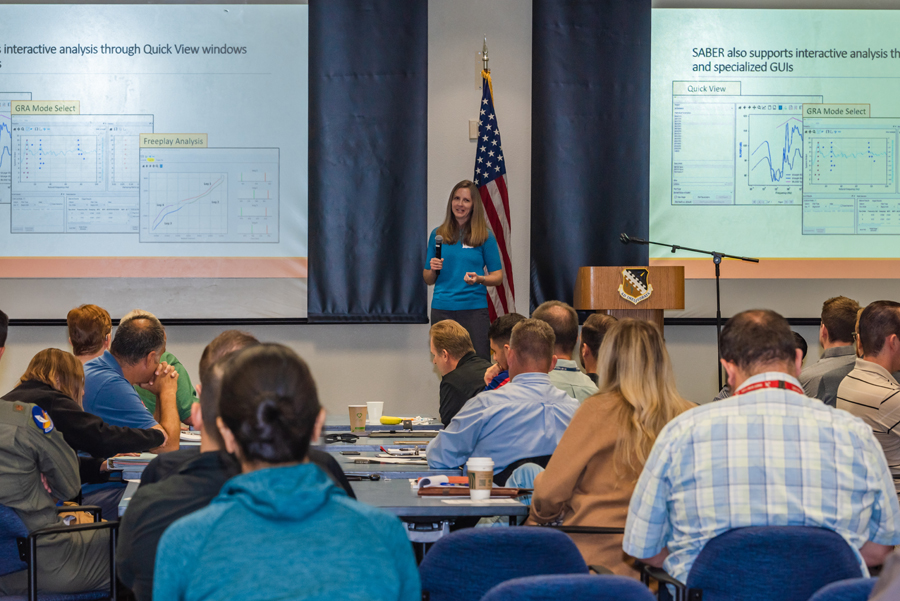 The 412th Test Wing hosted a new type of first: the Data Analysis Tool Summit at Edwards Air Force Base, Calif., Sept. 12-13., 2023.
The summit featured presentations from a mix of teams and technical disciplines to foster discussions on the current and future state of data analysis tools and scalable/shareable developments in all things data analysis.
"The in-person event provided a forum to break people out of 'silos' and share what they're working on," said Dan Osburn, 412th Test Wing technical director. "The technical discussions over the last couple of days helped identify how we can continue to tackle removing obstacles and support the great innovation happening among our discipline engineers and computer scientists."
Osburn explained that timing of the event matched perfectly with the recently released white paper on Digital Materiel Management by the Air Force Materiel Command.
The white paper, titled An Accelerated Future State, outlines the command's intent, from invention to modification, by using the power of models, data, and infrastructure. This approach enables an accelerated and synchronized delivery of integrated capabilities.
To achieve DMM's potential, AFMC is implementing six key initiatives and dedicating resources to them to drive change.  The initiatives are:
o Structuring and securing data
o Modernizing IT infrastructure
o Providing access to DMM tools
o Training the digital workforce
o Instilling a digital-first culture
o Developing digital strategies
Osburn believes that the DATS touched on all six initiatives, but primarily focused on initiatives 3-6.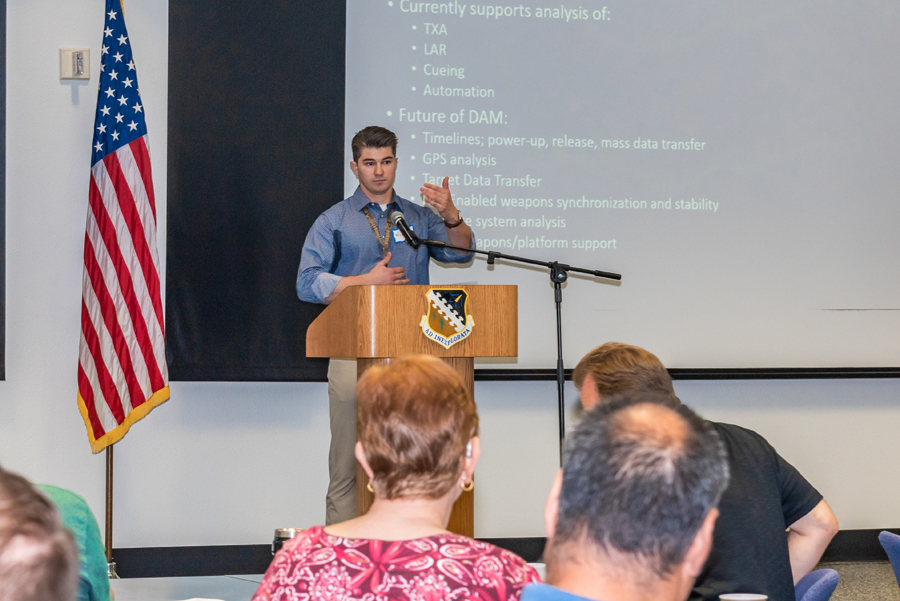 "We must deliver our test results at the speed of relevance by designing, sustaining, and modernizing them in an integrated digital environment," Osburn said.
One of the highlights from the briefs included a software tool that enables creating and sharing time-synced videos from multiple displays or multiple aircraft to communicate system deficiencies more clearly to all stakeholders, Osburn said.
"Posting a visualization video with fewer words describing the anomaly is like the old saying, 'a picture is worth a thousand words.' This has huge future implications to effectively and precisely communicate a deficiency entered in the Joint Deficiency Reporting System," Osburn explained.
Another highlight was software that was developed in-house that can pull text out of an Adobe PDF Interface Control Document file and convert the text file into formats that can then be exported to analysis tools. This software has the potential to save hundreds of hours of manually inputting over 20,000 lines of code.  This removes the potential of translation human error and more importantly, frees up critical manning hours for pure analysis and removes the preparation work for analysis to commence.
Showcasing it at the summit let other engineers know that this tool exists. This process improvement is a tool that engineers throughout the Test enterprise could utilize. Attending the summit was beneficial for the engineers there who may not normally have interactions with their peers in working different projects or organizations.
"It was important for me to attend because I find that our work as engineers here on base tends to keep many of us sequestered from one another; working in our own silos," said Ben Katz, 771st Flight Test Squadron. "Meanwhile, there are brilliant engineers making huge innovative steps in test and evaluation, especially with respect to data analysis tools. This summit created a great opportunity and platform for many of these engineers to leave their silos, share their work with interested engineers and leadership, and connect with individuals working on similar projects."
Katz, an F-35 Developmental Test Engineer within the F-35 Integrated Test Force, explained that one of the points he took from the summit was that he believes engineers encounter problems that have likely already been solved by engineers in other squadrons.
"If we want to improve as a test organization, we need to be more transparent about our development efforts so that we can learn from one another, build on what is already being done, and deliver the highest quality test and evaluation to our warfighter." Katz said.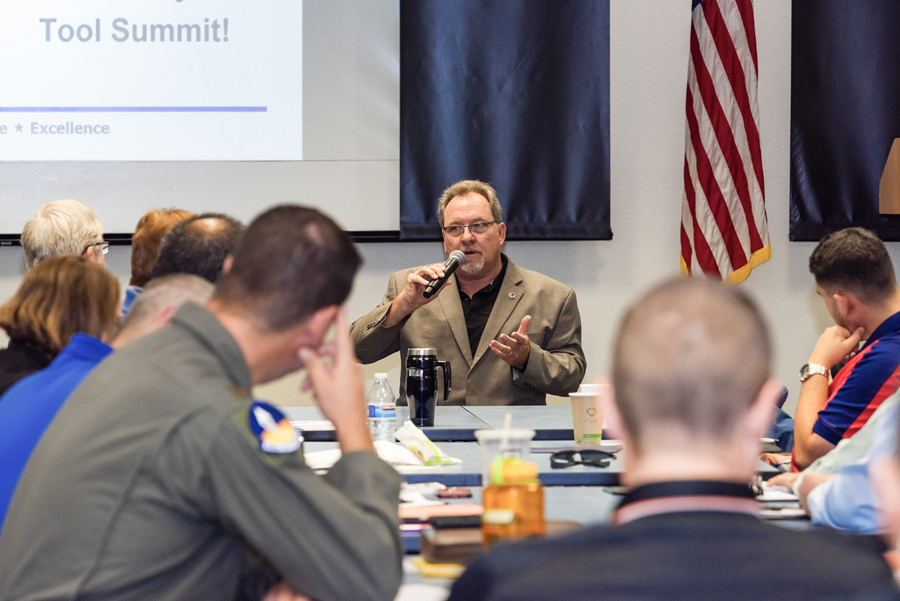 The possibility of more inter- and intra-base collaboration is what 812th Test Support Squadron computer scientist Jessica Jordan said she is looking forward to.
"The Data Analysis Tool Summit was a valuable opportunity to meet other developers and share ideas and best practices," Jordan said. "It was energizing to learn about the great work going on across the base, and I am eager to collaborate with other developers to align our efforts as we move forward."
Stephanie Loete, 412th Test Wing technical assistant, started early planning for the summit in June.  She believes organizing the agenda to reflect the diversity of analysis within the Test Wing helped to maximize participation and facilitate in-depth technical discussions.
"We have an incredible brilliant work force that need forums for clear collaboration and barrier removals so the analytical culture can accelerate and drive us into a purely digital thread ecosystem," Osburn said.