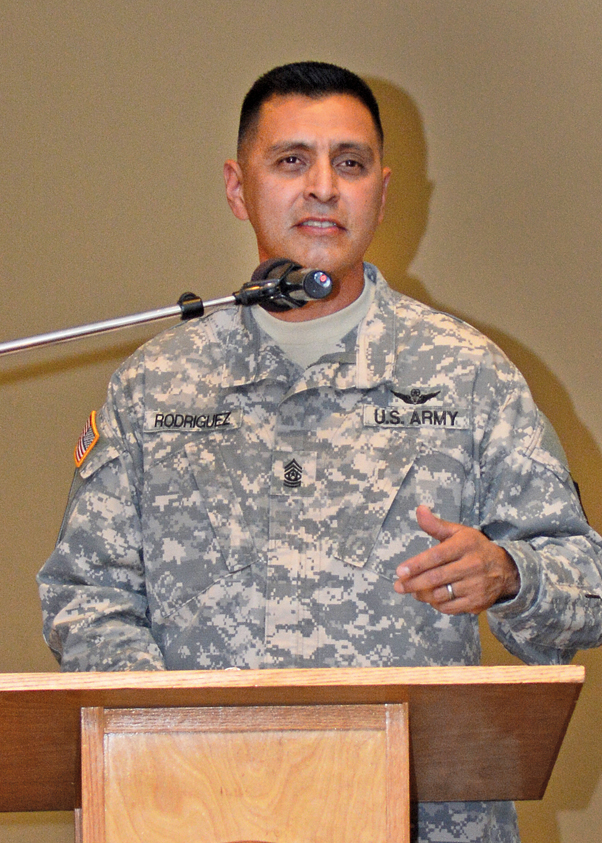 National Training Center and Fort Irwin leadership, Soldiers and community members celebrated Hispanic American Heritage Month at a ceremony here, Sept. 30.
The nation and the Army recognizes the observance from Sept. 15 to Oct. 15 and this year's theme is "Hispanic Americans: Energizing our Nation's Diversity."
At the celebration, a battalion command sergeant major related his personal and family experiences in defining the term Hispanic, and whether he considers himself that classification.
In his opening remarks, guest speaker Command Sgt. Maj. Albert Rodriguez of 2916th Aviation Battalion, 916th Support Brigade, stated a question he asked himself when preparing for his presentation: Am I a Hispanic?
He researched the definition of Hispanic and discovered it included speaking the Spanish language. Because he doesn't, he explored his past further and learned his mother did not teach him Spanish, so he wouldn't have an accent and have to experience racism as she did growing up in Oxnard, Calif.
Rodriguez said he also grew up in Oxnard and had a fairly normal childhood. His mother, however, told him of water fountains and restaurants for whites only when she was a child. She also told him about the Mexican side of the Oxnard public library.
Rodriguez also explained in the late 1930's the Repatriation Act deported American citizens of Mexican descent, because they were taking jobs from "real Americans."
"So what is a real American?" Rodriguez asked. "I would offer that one definition would be an individual who fought and died for this great country."
The senior non-commissioned officer stated two uncles fought and died in World War II and the Vietnam War. His mother's brother, U.S. Army Pfc. Tino Acevedo, received a Purple Heart fighting in France and after recuperating, went back to the fight and was killed in Germany in 1945. His dad's brother, U.S. Army Sgt. Manuel Rodriguez, served in Vietnam and was killed in 1967. Both had been Mexican immigrants.
"Both of these men, Sgt. Manuel Rodriguez and Pfc. Tino Acevedo, fought and died for their country, this country, our great country," Rodriguez said. "I'm proud of what they did and what they went through. I'm proud that I can carry on a piece of their names with me, and most of all, I'm proud that I can even say I'm related to these two great Americans."
Returning to his original question, Rodriguez asked rhetorically, "do I consider myself a Mexican-American, a Hispanic American?"
"The answer is no," Rodriguez said. "I'm a proud American, that's of proud Mexican descent."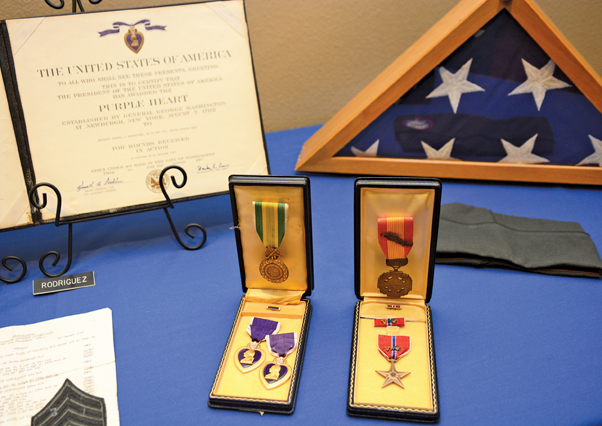 Purple Heart medals and additional awards of U.S. Army Sgt. Manuel Rodriguez were displayed. He served in Vietnam, where he was killed in 1967.