FORT IRWIN, Calif. — July 4 is a day where families come together to celebrate our independence and honor those who serve or have served in the United States Military. The Blackhorse Regiment participated in events across southern California to celebrate July 4 and boost morale and patriotism amongst the Troopers. Post Commander, Maj. Gen. Jeffery Broadwater, was invited to be honored at the Los Angeles Dodgers game and had the opportunity to throw the ceremonial first pitch for the July 4 game against the San Diego Padres. Troopers of the Horse Detachment, Regimental Headquarters and Headquarters Troop, Regimental Support Squadron, 11th Armored Cavalry Regiment, participated in a dismounted Joint Military Service color guard. While the colors were being displayed, soldiers from various units on Fort Irwin, California, had the distinct honor to display the United States flag across the Dodgers Stadium outfield. The game ended with a Dodger victory and fireworks to celebrate our Independence Day.
Blackhorse Regiment also had Troopers from the Horse Detachment participate in the Santa Barbara July 4 parade. These mounted Troopers rode in the parade, displaying the Regimental colors and the Regimental battle flag on horseback and kept the tradition of the cavalry regiments alive while in attendance. The Troopers engaged with the spectators and offered an insight of life within the Army and a cavalry regiment. The spectators met the horses upon completion of the parade, where the horses were fed apples and carrots. As 1st Lt. Avery Smith, Officer in Charge, Horse Detachment said, "It's a great opportunity, we enjoyed being there representing the 11th ACR."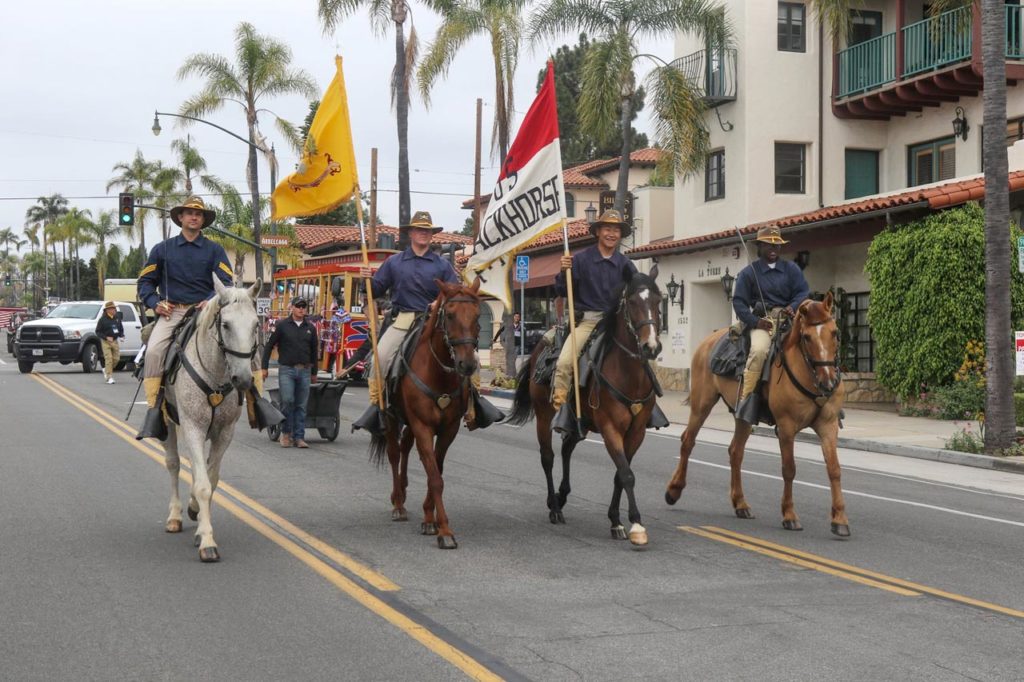 The 11th Armored Cavalry Regiment stayed busy throughout this July 4 as Chaplain (Cpt.) Anselmo Brillon, 2nd Squadron, 11th Armored Cavalry Regiment, accompanied by Blackhorse Troopers, assisted at the California Veterans Home, Barstow, Calif. The Troopers assisted the Veterans Home with facilitating a July 4 carnival for the veterans. This event was comprised of different games including; corn hole, a dunk tank, and a handful more. The Troopers interacted with the veterans, playing games alongside them, and discussed the veterans' military service over lunch. Towards the end of the day, the Troopers assisted the California Veterans Home with gathering everyone outside to watch the celebration fireworks.