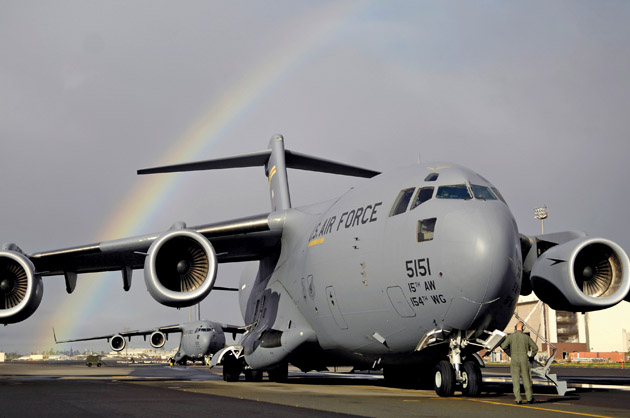 The U.S. Air Force will perform a demonstration of the massive C-17 Globemaster III. It is a large military transport aircraft developed from the 1980s to the early 1990s by McDonnell Douglas and commonly performs tactical and strategic airlift missions, transporting troops and cargo throughout the world. Additional roles include medical evacuation and airdrop duties. It was designed to fulfill some of the duties of the Lockheed C-5 Galaxy, freeing the C-5 fleet for outsize cargo.
The main mission of the demo team is to showcase the capabilities of the C-17 Globemaster III.
An air show profile is not much different from what C-17 pilots perform during real-world missions across the world. However, an air show demands that the demo team take its flying to the next level with precision and speed in putting on a proper demonstration for crowds. Although the profile is not much different from an operational mission, it is very fast-paced.
A C-17 demo team is made up of a four-person team. Being a member of the demo team requires a high level of experience in the C-17, meeting training requirements and senior leadership approval. Veteran pilots who have been instructors, evaluators or aircraft commanders are selected. Training begins in a C-17 simulator and extends to flying the profiles and ground training, all to ensure safety and precision flying.