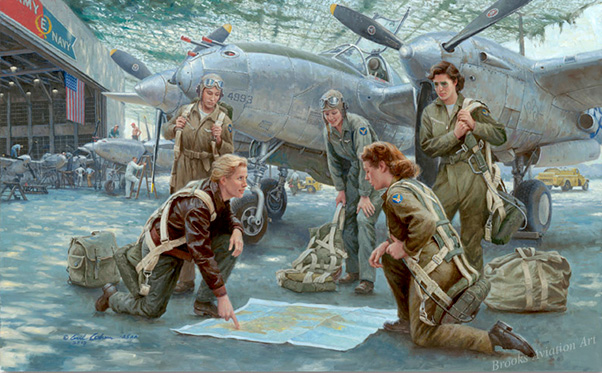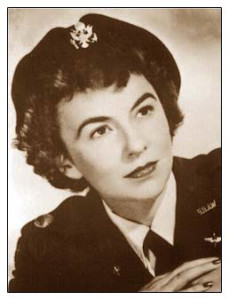 Spending time with the Aerotech crew this weekend at their production retreat to plan for the future I was inspired by all the great ladies that make the publication what it is today — a success!
So in their honor here's a story I hope they will appreciate, and make them smile along with you the readers!
Driving down Highway 14 from the Antelope Valley to the LA basin, you will pass the Eternal Valley Cemetery in Newhall. Looking up to the very top of the hill, right under the American flag and as close to the sky as you can get, rests one great lady that was born to fly; and boy did she ever fly!
Mary Lou (Colbert) Neale was born Oct. 6, 1914, in Alaska to Rear Adm. Leo Colbert, and his wife, Florentine. From her very first breath, Mary Lou was setting herself on a path for a life of adventure and daring.
In World War II, Mary Lou became the first Wasp (Women's Airforce Service Pilot) to sign up for flight training and before long she found herself in the cockpits of all the hot American fighters rolling off the production lines.
Not able to fly combat missions, she and her stable mates had the task of getting those fighters to the front lines. As such, all those planes leaving for war torn Europe had to get to the East Coast so they could be packed, put on ships and sent on their way.
So here is where our story starts. After her funeral, her lifelong Husband Ray (who was an instructor in the Army Air Corps) shared a story of his love Mary Lou that left us all with a smile.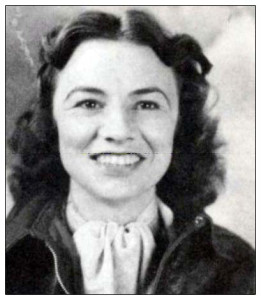 Mary Lou had acquired a shiny new Lockheed P-38 Lightning to ferry from the West Coast to New Jersey where all the planes being sent overseas were being prepared. So off she went heading into one of the greatest stateside aviation nightmares of World War II.
As she was approaching Kansas City, all planes were being instructed to land anywhere from Chicago to New Orleans. There was a complete blanketing of the East Coast from the Mississippi to the Atlantic with a thick cloud covering!
Days came and went, and frustration set in as pilots wanting to get back in the air were stuck on the ground with clipped wings. After four days, the weather finally cleared and Mary Lou took to the skies to complete the last leg of her journey, as did hundreds of others!
In a control tower on the coast of New Jersey the operations crew had no idea the trouble that was heading their way in a mass migration of hundreds of brand new warbirds.
With topped off tanks, Mary Lou was confident that this flight would be no different from the others she had flown but she never expected the insanity that she was about to get into on the East Coast.
Calling in for landing instructions, she was told to hold in a pattern a great distance from the field and to be aware of heavy air traffic in the vicinity of the airport.
The tower was now trying to get hundreds of aircraft on the ground and they were being overwhelmed. Quickly the landing pattern was expanded to three — with an inner pattern and two outer patterns — and the pilots were to fly from one to the other until they ended up in the home pattern. This worked great except just getting the pilots into the outer pattern was just as much a nightmare.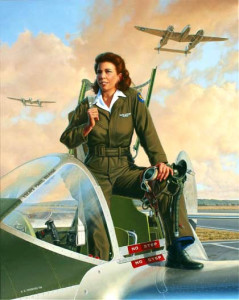 Mary Lou kept calling in for landing instructions with the answer continuing to be "hold position we will advise."
This went on for quite a while and Mary Lou, keeping an eye on her fuel gauges, started to get nervous and was now calling in more often — always being told the same thing.
So the time came where fuel was now a real problem and she made the call she didn't want to make, declaring a fuel emergency. Thinking this was her ticket to get down, she was still met with the same response and now the sweat was really starting flow in that Lightning's cockpit.
Desperation and a thirsty airplane put Mary Lou into a "Whatever it takes" mentality and so she keyed her microphone and in a true 'Mary Lou in desperation' voice told the tower "This is Lockheed P-38 declaring a fuel emergency, I'm a women and I'm nine months pregnant!"
After a moment of silence a voice came on her radio and said, "Lockheed P-38 declaring a fuel emergency this is the base commander and I want to know who authorized you to fly in your condition?"
A frustrated Mary Lou pushed her mic button and replied, "With all due respects sir, but I wasn't in this condition when I entered your damn endless landing pattern!"
Mary Lou was cleared right in and, as she coasted to the end of the field in a sea of tired pilots and their planes, a jeep showed up to take Mary Lou to headquarters for what she thought was going to be very sharp dress down. But that never happened and, not wanting to push her luck, found the next quickest flight back to the West Coast!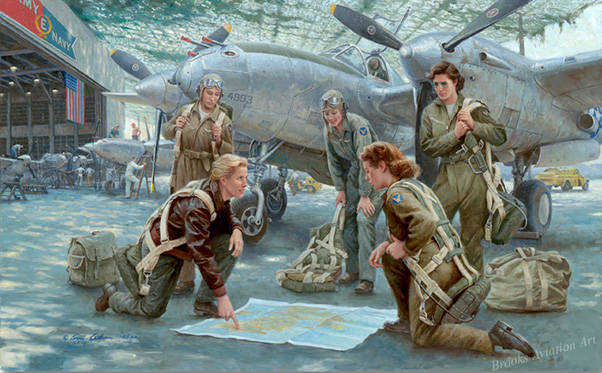 Mary Lou is typical of those women pilots of World War II that, even though they were shortchanged by the system, managed to get the most out of those few years of flying the very best of American production and being a part of a program that would define them for the rest of their lives.
So next time you're stuck on the "14" in the Newhall Pass and your frustration starts to get the best of you, look over to the top of that hill and that American flag at Eternal Valley and remember the best of our nation, Mary Lou, and how, even under pressure in a desperate situation, a humorous line saved the day and generations later put a smile on our faces.
Till next time Bob out …