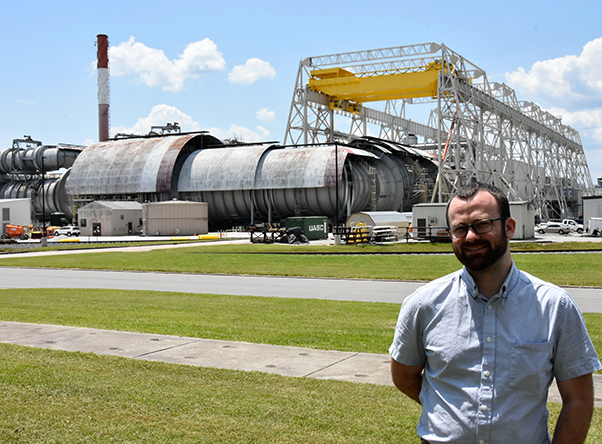 Although Robert Duff is still settling into his new job at Arnold Air Force Base in Tennessee, he is eager to see what opportunities await him.
"I'm really excited to start wrapping my mind around new challenges," he said. "It excites me and inspires me."
Taking on challenges is nothing new for Duff.
During the two years he spent pursuing his associate degree from Chattanooga State Community College, Duff was homeless. Without a stable place to lay his head at night after a day of classes, Duff rented rooms, crashed on couches and sometimes slept in his car.
"It was hard," Duff said. "It was just the hardest thing I've ever done in a way. I pushed through it, and I luckily had a lot of people who met me along the way, saw my work and really thought I was doing something good and supported me."
Duff was born in Fort Hood, Texas. His father served in the U.S. Army, as did his grandfather and brothers. Duff expected to follow suit. However, around the age of 13 Duff was diagnosed with Type-1 Diabetes, which precluded him from joining the military.
It was also around this age that Duff and his family, after years of moving around, settled in Ooltewah, a suburb located near Chattanooga. After graduating from high school, Duff struck out on his own to "figure life out." Duff said he felt "directionless" and "purposeless" at this point in his life and was not optimistic about his future.
Duff's outlook began to change after he was introduced to a Department of Labor program designed to help participants prepare for college and achieve personal success. Attending college had always been a goal for Duff. He was inspired and, after completing the program, enrolled at Chattanooga State Community College to seek an engineering degree.
Duff knew things could be difficult as he did not have financial support from his family.
"I was basically on my own to figure out my future, and it made for a really challenging experience," he said.
This was compounded by his diabetes. Duff had to pay several hundred dollars each month for medicine. Realizing he could not afford rent, medicine and the costs associated with his education, Duff was faced with a difficult decision.
Duff opted to remain in college, even if it meant he'd have no place to stay. He immersed himself in school. He took a job as an advertising manager at the Chattanooga State newspaper. He joined numerous school clubs and got to know student leaders. He connected with educators, fellow students and others across the campus.
"I was trying to spread my connections out and trying to find opportunities," Duff said. "Weird enough, there was a lot there. People would reach out to me sometimes. Sometimes I just happened to bump into them… I jumped at every opportunity I walked into. It was crazy how some of them transformed into something much bigger and greater."
Some of these connections paid off in the form of a temporary place to stay. Duff said he lived with a variety of people. Some situations were good. Others were not. For Duff, it was about doing what was necessary to accomplish his goal of graduating.
"It was a really big gamble, and it paid off," he said.
Duff earned his Associate of Applied Science in Electrical/Electronic Engineering Technologies for Automated Control Systems from Chattanooga State in May 2012.
The Monday after his graduation, he began work as a maintenance technician. He also found a place to live.
Duff had his sights set on a bachelor's degree and, after taking a semester off following his graduation from Chattanooga State, he began classes at the University of Tennessee at Chattanooga. For much of his time at UTC, Duff worked as an applications engineer at a company in Chattanooga.
He graduated from UTC in early May, earning a degree in Electrical Engineering. He accepted an offer at Arnold and began his new job of Instrumentation, Data and Controls Engineer on July 1, less than two months after graduating.
Duff said completing college and landing a good career once seemed impossible. He said hard work, sacrifice and adopting the right mindset made it possible.
"I really wanted it, and I grabbed for it," Duff said. "And I think there are more people who can get it. If I had this much luck, I think there are more people who can reach for it than currently do. This isn't a matter of being a genius. This isn't a matter of being gifted in any way. This is a matter of committing to something and investing in yourself.
If you make that choice and you're really committed enough, you can get there."
Duff currently lives in his own home in Red Bank, located near Chattanooga. He is engaged to his longtime girlfriend, and the couple is planning to marry next fall.
Duff said he grew greatly as a person during his time in college and believes his job at Arnold will provide the chance for additional growth. The opportunity is all the sweeter for Duff because of the adversity he overcame to get here.
"I think with the right attitude and hard work you can really do a lot," he said. "The American dream, as cliché as that may sound, is definitely a real thing in my opinion. I feel like I've achieved it out here. This is beyond what I expected."
Duff said he hopes others are inspired by his story, especially those feeling hopeless or that there's no point in trying to better their situations.
"I did feel that way and was in some really rough situations, especially for the length of time it took," he said. "There were points when I did feel like I was wasting my time, but it paid off.
"I think it's easy to fall into a slump and not think there's a way out. But there is."