BUCKEYE, Ariz. — You're standing in an open door of an aircraft soaring 12,000 feet above the ground. You have put your full trust into the person strapped to your back, who you've known for less than two hours, to bring you back down to Earth safe and sound. The count begins. "Out…in…out." The floor of the aircraft is no longer supporting your feet and a hurricane-like wind relentlessly rushes up and over your body. Between the wind, the newfound freefall sensation, and the adrenaline rocketing through your veins, you're trying to remember and execute everything your instructor told you to do while in this moment. Before your body is fully acclimated to the feeling of having no control, the canopy opens, and what started as a race to the ground below, is now just a relaxing and controlled glide to the airfield where you began your ascent.
Earlier this month, 25 Airmen from Davis-Monthan Air Force Base were given the opportunity to tandem skydive with members from the 98th Flying Training Squadron located at the United States Air Force Academy, Colorado Springs, Colo.
The 98th FTS consistently visit Marana and Buckeye Ariz., for training, so the support from agencies at local military bases is vital to their mission.
"Throughout the year, a lot of people from installations in Arizona, including Davis-Monthan, go out of their way to help us," said Master Sgt. Jason Nyman, 98th FTS parachute jump instructor. "So this is our way of saying thanks."
Airmen were divided into groups of four and were educated on the entire skydiving process, from putting on their flight suits, to ensuring they properly brace during their landing.
During the process, the instructors pay close attention to the Airmen's demeanor, particularly in the first few moments of boarding the aircraft.
"From the time we put them in the harness, you can read the person's body language to tell if they're nervous, excited or even overexcited," Nyman said. "I'll always talk to them to try and calm them down, because when you consider what we're doing, you could get seriously injured."
Thoughts among the Airmen varied throughout the skydiving process. Especially when they realized they would not be landing in the same aircraft in which they were ascending.
"The experience is absolutely unparalleled by anything out there," said Senior Airman Matthew Shoup, 355th Civil Engineering Squadron explosive ordnance disposal apprentice. "When you're going up, you're just trying to convince yourself of what you're about to do. You look at the door and you realize you're going to jump out of it."
According to Nyman, in order to apply to become an instructor, it is required to have a minimum of 200 jumps, so they know all too well about how the tandem jumpers are feeling.
"Every ounce of you is asking 'What am I doing? Why am I going to this door?'" Nyman said. "But now that we've provided you with all the training you need, do you have the courage to step outside that door and out of the aircraft?"
Parachute instructors call this the "Stand in the Door" moment.
"You're scared to death but now you're going to understand how you react when you're terrified," Nyman said.
Finally, one by one, each Airman duck-walks to the rear of the aircraft with their instructor strapped to their back, and takes that memorable leap out the door.
"The best part was getting up there and just letting yourself go," Shoup said. "In those few moments you're falling out of the aircraft, the world is just spinning around you and you're just watching everything fly away."
After his first ever tandem skydive, Senior Airman Deondre Sanders, 355th Fighter Wing administrative specialist, was still buzzing while he explained what it felt like to jump out of an airplane.
"It was amazing to be able to see the world below from a bird's eye view while in a freefall and not have any control whatsoever," he said. "If there was a feeling associated to walking on water, this is what it would feel like. It's that surreal."
The instructors perform more than 200 solo jumps per year at multiple locations across the U.S., but they always have a moment they look forward to during tandem jumps.
"My favorite part is after I open the canopy, when I hear the first words that come out of their mouth," Nyman said. "All that raw emotion comes out right there in that moment as a result of ripping through the atmosphere at 120 mph, and then slowing down to a 30 mph glide."
After the jumper gets all of their emotion out, they can never say thank you enough Nyman said.
"Thanks to the Air Force Academy, the 98th Flying Training Squadron and all the instructors for taking time out of their schedule to show the Airmen of D-M an experience of a lifetime," Sanders said. "Their display of true leadership and confidence in their safety processes, and pride in their job made this an experience that I will be able to tell my children and grandchildren."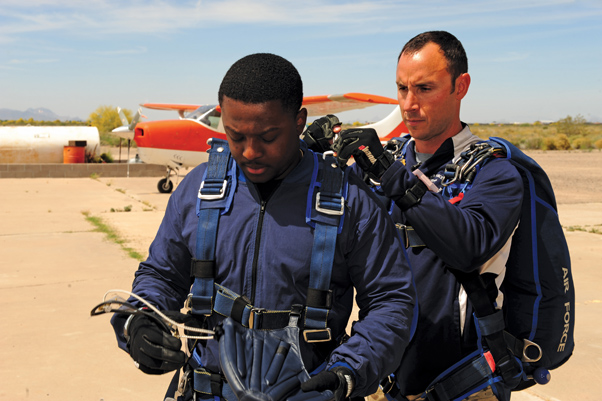 (U.S. Air Force photo by Airman 1st Class Chris Drzazgowski/Released)