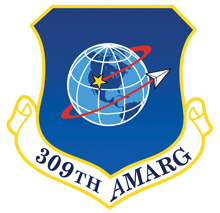 Mission: Aircraft preservation is its best-known mission element. In a typical year, AMARG performs reclamation of systems and parts to support customer requirements that average $500 million. Many of these systems are no longer in production, but are expected to remain in operational use until 2040 and beyond; thus, a ready supply of parts is constantly required.
Description: AMARG is a modern, specialized facility within the Air Force Materiel Command structure providing a broad range of aerospace maintenance and regeneration support services to the Defense Department's joint and allied warfighters. AMARG, aligned under the Ogden Air Logistics Complex at Hill AFB, Utah, is a major industrial facility, occupying 2,600 acres (four square miles) and managing an inventory of approximately 4,000 aircraft representing approximately 80 different weapon systems. It also stores 650,000 line items of aircraft production tooling to build aircraft components prior to assembly.
History: AMARG traces its heritage back to 1946 when the 4105th Army Air Base Unit was established to store and manage vast numbers of surplus World War II aircraft, but the group has since evolved. Today, AMARG has five major mission elements in direct support of the warfighter — the highly skilled 620-member workforce restores aircraft to flight capability; performs limited depot-level maintenance, complementing the air logistics complexes; and, accomplishes aircraft parts reclamation. These are in addition to its historic storage and disposal functions.