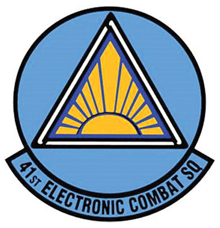 Mission: Conducts operations designed to degrade the transfer of information essential to command and control of enemy weapons systems and other resources. The squadron also conducts mission qualification training for EC-130H flight crews, mission crews and support personnel.
Vision: Provides war-fighting commanders with combat-ready EC-130H Compass Call aircraft and aircrews trained to execute electronic attack and information warfare strategy.
Description: There are 147 active-duty aircrew and support personnel and one civilian member. The EC-130H Compass Call is a specially modified C-130H aircraft that carries a combat crew of 13, providing an airborne electronic attack capability to the combat air forces improving survivability of ground and air forces by targeting enemy communications, navigation and radar systems.
Nickname: Scorpions